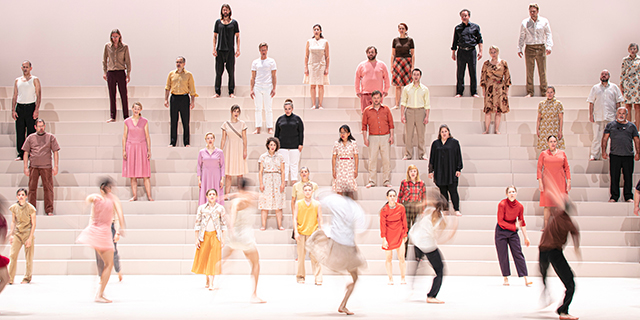 MOZART'S REQUIEM, choreographed by award-winning Örjan Andersson, was performed for sold-out theatres in autumn 2019 earning praise from audiences and critics alike. This autumn the performance is back on
Malmö Opera's
(SE) beautiful stage.
Lingering on the steps of a world that is neither life nor death. On the threshold, deliberating the two conditions. Here Örjan Andersson has created a sensuous and rich work for Skånes Dansteater, Malmö Opera Chorus, and Malmö Opera Orchestra. Join them in one of music history's most mythical and beloved works.
Örjan Andersson embraces Mozart's monumental
Requiem
and lets dancers, singers, and musicians sweep you through darkness, joy, sorrow, and gratitude. Together with Bente Lykke Møller (scenography and costume) and others, he creates a dazzling dance experience, full of life.
Find out more about Andersson Dance at
madeintheweb.com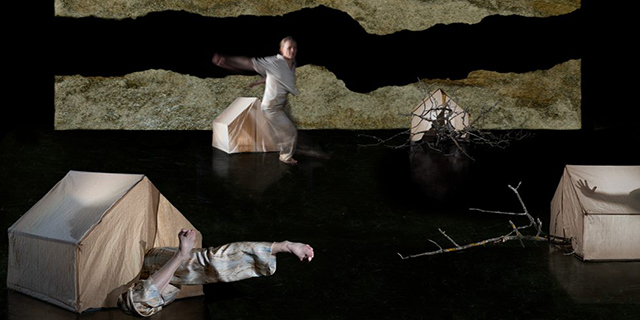 MIRAGE is an emotional reflection on the imbalance of our nature and man's own inability to save it. Helena Franzén returns to her great source of inspiration, nature, the dancing bodies, and the rapture of nature and its inner life. But she also depicts the lurking catastrophe - climate change that threatens our entire existence.
It depicts our insecurity, powerlessness, and guilt when we try to take responsibility for our planet and approach nature in new ways. The performance digs into the feeling of lack of power and the question of whether our efforts really make a difference. On individual versus collective responsibility. The evening is an emotional journey through space, music, and choreography where you will explore on an emotional level your relationship with nature and the importance of taking responsibility for your own actions.
Premiere on
12 Oct 2023
at Dansens Hus Elverket, Stockholm (SE), with additional performances on
13 and 14 Oct 2023
. More info and the full credits
here
. With the support of the Cultural Council, Stockholm City's cultural administration.
Learn more about Helena Franzén at
madeintheweb.com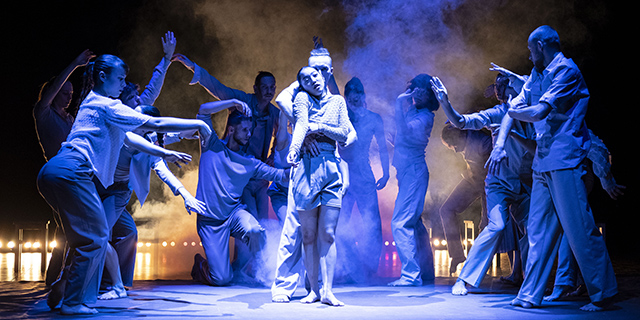 JSK is getting ready for a worldwide tour in the next few months, as well as two new premieres. Destinations include Armenia, Panama, Mexico, Italy and Turkey, in addition to venues in Norway!
THE LOFT
will perform at High Fest in Yerevan, Armenia.
THE MINISTRY OF UNRESOLVED FEELINGS
will tour Panama and Mexico as a part of the Cervantino Festival among other venues.
MADE IN OSLO
will visit Istanbul and
A DANCE TRIBUTE TO THE ART OF FOOTBALL
will perform at Scenario Pubblico, Catania in Sicily (IT).
JSK is also premiering two new co-productions in September!
ROULETTE
with The National Drama Theatre in Vilnius, Lithuania. The first joint production was
THE DOOR
in 2018 which received four prestigious awards. Second one for Polish Dance Theatre's 50th anniversary –
THE HAT
in Poznan, Poland. Ten years ago, JSK co-created
CZTERDZIÉCI
for their 40th anniversary. See more in the full touring list
here
.
Find out more about Jo Strømgren Kompani at
madeintheweb.com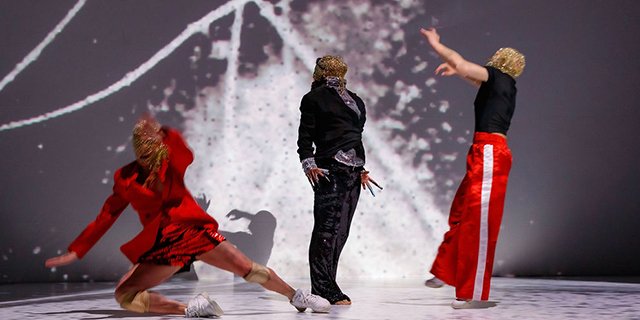 TITANAS is a meeting between Sol Picó, Natsuki, and Charlotta Ofverholm, three dancers and choreographers who have only their extensive careers, created from a place of maturity, experience, and the energy that all three share. A choir of twelve women accompanies the journey of these warrior goddesses who carry as their banner freedom from norms and archetypes.
Tourdates:
24 Oct 2023
Tarragona (ES),
2-5 Nov 2023
Mercat des Flors
, Barcelona (ES).
Charlotta Öfverholm is choreographing the newly written opera MELANCHOLIA at the Royal Swedish Opera in Stockholm (SE). The opera is composed by Mikael Karlsson and the libretto was written by Royce Vavrek. Premiere on
7 Oct 2023
. Read more
here
.
Learn more about Charlotta Öfverholm at
madeintheweb.co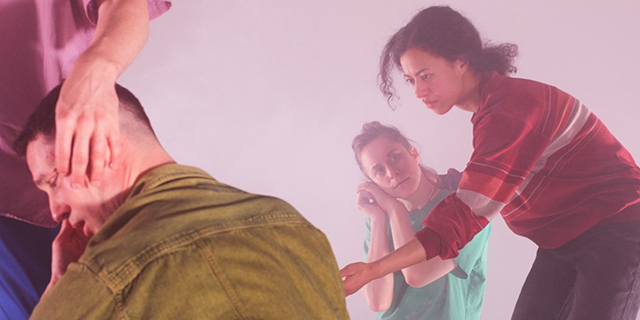 photo: Märta Thisner
Ingenious maths, existential march, and nostalgic intensities are set in motion in choreographer Björn Säfsten's new work AND SO WE'RE GONE for four dancers at Elverket.
AND SO WE'RE GONE is partly based on repeated patterns of walking and partly an intense flickering of expressions creating an equilibristic choreography approached with humour, seriousness, and imagination. On stage, geometries, rituals, and everydayness are contrasted with situations like memories, or are they fantasies, intensities of a life lived and a life lost? Björn Säfsten continues to challenge the abstract and concrete at the heart of the movement in a work that wants to explore our sensible experience of time.
Plays at Dansens Hus Elverket
26-28 Oct 2023.
For the full credits list, additional information, and tickets - go
here
. Supported by The Swedish Arts Council, The Swedish Arts Grants Committee, and Stockholm Stad.
Read more about Björn Säfsten at
madeintheweb.com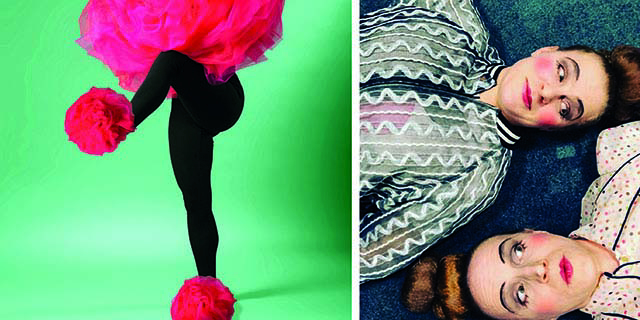 photo: Mats Åsman and Sosso Harryson
MARMALADE will perform for family audiences in a public show on
16 Sept 2023
at the Västerås Concert Hall. More information and tickets
here
.
I'M THINKING ABOUT, Claire Parsons Co.'s much-appreciated performance created in collaboration with The Dance Museum in Stockholm (SE), will be presenting two additional performance periods this fall. I'M THINKING ABOUT tells the story of the iconic Swedish Ballet (Svenska Baletten), active in Paris in the 1920's. It is a dance tour through the museum exhibition, where the audience is invited to follow along with the performers and dance pedagogue Klara Berggren as guides. I'M THINKING ABOUT will be performing at The Dance Museum in Stockholm (SE)
12–24 Sep 2023
and
1–5 Nov 2023
. More info and tickets
here
.
"Her delightful performance Im Thinking About draws direct nourishment from an avant-garde playfulness and we thank The Dance Museum for the initiative." Ann-Marie Wrange, Danstidningen # 3, 2022 (SE)
Learn more about Claire Parsons Co.at
m
adeintheweb.com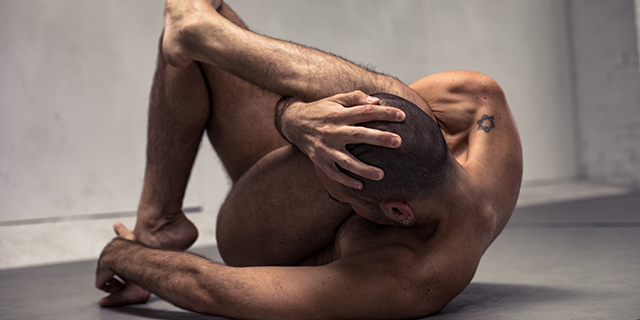 On
14 Oct 2023
the choreographer and dancer
Israel Aloni
will be performing the full-length solo piece MY BODY MY NATION at Redbergsteatern in Göteborg (SE). The performance is part of the
Judiska Salongen
program.
After the performance, Israel Aloni will have a conversation with Karin Brygger - a poet and cultural writer, assistant professor in Aesthetics, Media and Storytelling, about the corporeality of Jewish identity and history. The performance and talk are presented in an intimate setting with a limited amount of tickets available. If you would like to attend the event, please contact
Israel Aloni
. More info available
here
.
Find out more about ilDance at
madeintheweb.com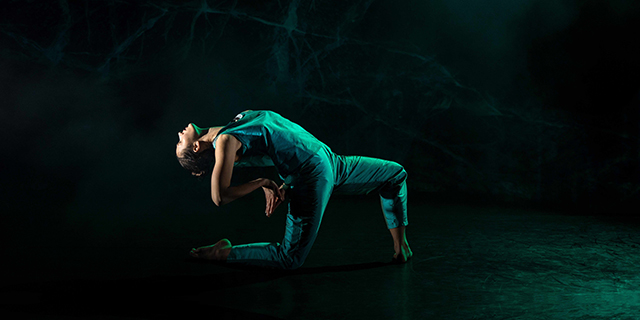 Virpi Pahkinen and her dancers journey into the hydrosphere, embodying transformations of water. Their movements may meander, as silent as snowfall, or roar and flow before settling in the secretly structured, still clarity of a snow crystal. The municipalities of Järfälla and Upplands Bro near Stockholm (SE) will be visited in October by the performance WIND VIGIL by Virpi Pahkinen Dance Company.
"A purifying bath for the mind. A powerful artistic experience and an intuitive chemistry lesson combined."
Eskilstuna Kuriren (SE)
"Enchanted frost flowers. Virpi Pahkinen's "Vindvaka" is a swirling study in ice.
" Dagens Nyheter (SE)
Tour dates:
5 Oct 2023
Kulturhuset
, Upplands Bro,
7 Oct 2023
Järfälla kulturscen, Jakobsberg.
The Swedish dance magazine Danstidningen has published an interview with Pahkinen about the show CHANGE - which was built from a kaleidoscopic and playful idea where five choreographies, musical scores, and light designs are interchangeable. CHANGE premiered at Stockholm City Theatre in spring 2023.Text by Margareta Sörenson and great photos by José Figueroa. Find out more in
Danstidningen
.
"I often rehearse in silence, and when I timed the choreography parts, I realized that they are very precise and become equally long. That's when I had the idea to expose choreography to light and music randomly. Would it be totally confusing and impossible?"
Virpi Pahkinen
Learn more about Virpi Pahkinen at
madeintheweb.com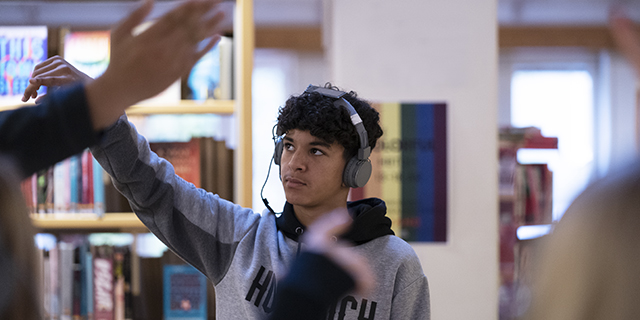 I'M THINKING OF YOU lets you discover or rediscover the library as a place. As a participant, you are invited to follow instructions through headphones and interact with the library environment in both expected and unexpected ways. You will be given the opportunity to perform covert acts of resistance and discover secret messages right in the middle of a public space.
The piece is available for individual lending for a five-year period at 11 libraries in Sweden where it is installed in a site-specific version. Anybody can at any time, through a QR code, listen to the soundtrack and perform the piece.
This autumn the piece is being reworked for touring, and can soon be played in any library. It will be available in Swedish, English, and Arabic. I'M THINKING OF YOU can play both as a school performance for classes and as a family performance. From 10 years. Read more
here
. Listen to the site-specific piece
here
.
Find out more about Johanssons Pelargoner at
madeintheweb.com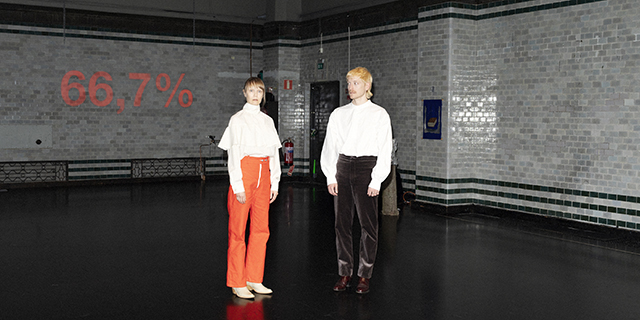 Heilborn's comical piece inspired by Tolstoy's classic Anna Karenina 37 HOURS & 3 MINUTES is showing at Espoo theatre in Tapiola, Espoo (F)
6-7 Oct 2023
. Read more
here
.
"As with Tolstoy's narrative technique, Heilborn remains in constant contact with the source of her inspiration. But just like in a complexly constructed Tolstoy novel, this performance is completely impossible to encapsulate. It is, however, extremely funny."
Cecilia Djurberg, Aftonbladet (SE)
- The performance had its opening night only weeks before Russia began its unprovoked attack against Ukraine. We hope that it can now serve us in our important and difficult conversations about our relationship toward Russian culture,
director Gunilla Heilborn says.
The solo MERKURIUS with Kristiina Viiala on stage is playing at 4+4 DAYS IN MOTION in Prague (CZ) on
14 Oct 2023
. More info
here
.
"Kristiina Viiala's excellent on-stage portrayal of the awkwardness and fragility of the seekers. It is hard to imagine a perfect expression of anxiety and compulsive fears relating to the past and present, characterized by the same degree of empathy as humor.
" Västerbottens-Kuriren (SE)
Find out more about Gunilla Heilborn at
madeintheweb.com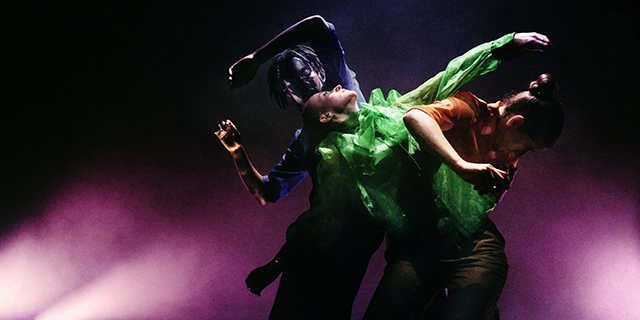 photo: Carl Thorborg
Viktor Fröjd is touring LOCUS with
Riksteatern
this fall
29 Sep – 11 Nov 2023
, and FESTEN with
Dancenet Sweden
Spring 2024.
LOCUS is a place where people breathe, live, and change through movement and rhythm. On stage we see the three dancers Anton Borgström, Joanna Holewa Chrona, and Abigail Vrede who, like Viktor Fröjd, have a background in street dance. Together with the dancers on stage and the audience in the auditorium, video and light installations create a shared space in transformation. The newly written music moves between acoustic and electronic, between everyday and distorted where rhythm and resonance arise and change.
LOCUS is a collaboration between Scenkonst Sörmland and Riksteatern and the show will premiere in Eskilstuna on
29 Sep 2023.
It will then go on tour with Riksteatern throughout the country in the fall of 2023. More info
here
.
Maybe FESTEN is the last resort where we can embody our longing beyond language and thought. A longing away from structure, symmetry, and the measurability that is demanded by modern life.Festen is the tribute to the human and the spiritual. To dance and to use the body to experience all the inherent possibilities in the human being, together as well as alone. Everyone who participates in Festen is also part of creating it.
FESTEN goes on tour in Spring 2024 with Dancenet Sweden. Supported by: Kulturrådet, Malmö Stad, Region Skåne, and Konstnärsnämnden. Full tour plan
here
. Read more
here
.
Read more about Viktor Fröjd
here
.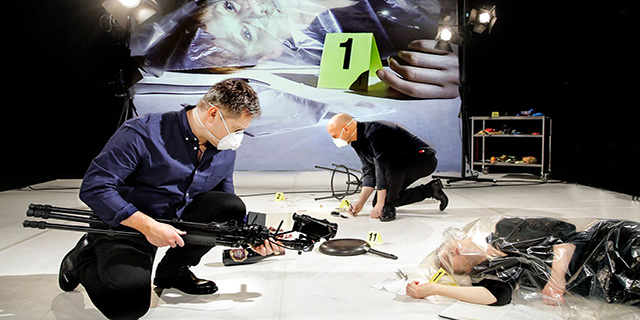 photo: Jens Peter Engedal
THE SOUL CATCHER is a seductive and deeply disturbing performance about psychological and physical abuse, manipulation, and power - in a powerful mix of performance, dance, spoken word, and electronic music.
Tourdates:
4 Oct 2023
Nordic Theatre Laboratory,
Holstebro (DK),
19 Oct 2023
The Nordic House
, Torshavn/Faroe Island (DK),
24 Oct 2023
Randers Theatre
, Randers (DK),
28-29 Oct 2023
Tokalynga
, Gunnarp (SE),
9-10 Nov 2023
Atalante
, Göteborg (SE).
"The performance is sharp and unsentimental. It is a mix of performance, dance, spoken words and seasoned with hard electronic music. The three actors do not compromise their expression but deliver a solid performance. The performance fully lives up to my high expectations, which over time I got to the creator of the work, Annika B. Lewis, and also got a great gift at the top of the hat, as the theme was both presented as autofiction and fantastically portrayed. Bravo for courage and artistic pondus.
" – Kulturnyt (DK)
THE SOUL CATCHER
is produced by Kassandra Production in a co-production with theatre Bora Bora. Supported by the Danish Arts Foundation, The City of Aarhus, Knud Højgaards Fond,William Demant Fonden and DMF
.
Read more about Kassandra Production at
madeintheweb.com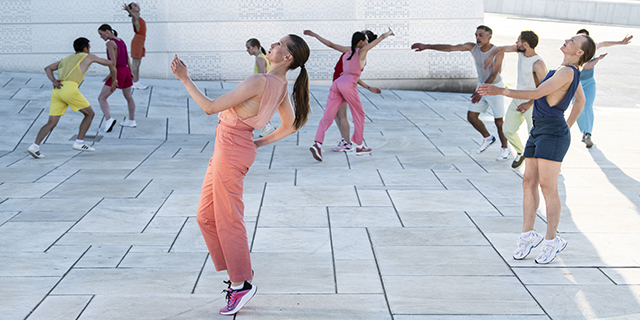 On
24 Sep 2023
NSP is performing In C at the
NonStop International Theatre Festival
in Moss, Norway. The world-renowned choreographer Sasha Waltz' latest piece had its world premiere in 2021, and this is the fifth location in Norway so far where Nagelhus Schia Productions is performing this popular piece. Sasha Waltz's colourful exploration of the world of minimal music is based on Terry Riley's revolutionary and open composition of the same name, and follows a similarly variable structure, leaving room for constantly changing variations. Read more
here
.
On
11 Sep 2023
NSP had the pleasure of welcoming four new aspiring young dancers to the talent program for contemporary dance, NSP 2. Andreas Holme, Claire de Caluwe, Ingrid Schade, and Facundo Ebenegger will be working with NSP for the autumn 2023 and spring 24 seasons. Read more about NSP 2
here
.
Find out more about Nagelhus Schia Productions at
madeintheweb.com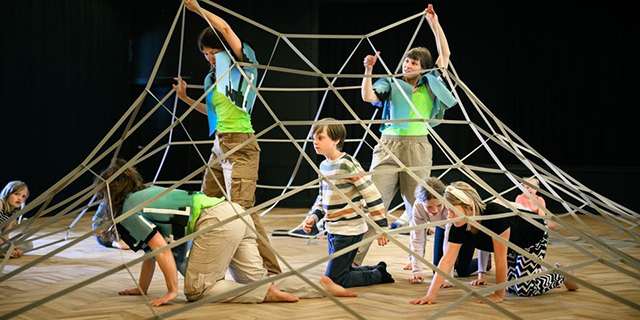 In NET, a big net moves in and spreads in the theatre space. Guided by three dancers, we unfold the performance and a choreographic kaleidoscope emerges. Here, we get lost in an undulating landscape of 192 elastic squares, which, with dance as the motor, opens doors to new spaces to wedge our fantasies into. To catchy beats and melodic loops, we build a shared aesthetic experience together.
Artist duo OR/ELLER premiered with NET in Denmark playing school performances presented by KORA/
Dansehallerne
until
15 Sep 2023
and
20-24 Nov 2023
. NET is performed at Dansens Hus, Hallen
6-14 Oct 2023
. NET plays school performances in Stockholm with
DANSiSTAN/CIRKUSiSTAN
10-12 Oct 2023
.
NET is aimed at children and adults, from 5 years old. It is an interactive performance and everyone in the room participates. Concept, choreograph by
OR/ELLER
: Anja Arnquist and Madeleine Lindh. A production of OR/ELLER & Nordberg Movement in collaboration with Dansehallerne Copenhagen and Norrlandsoperan, Umeå. In cooperation with
Dansens Hus Stockholm
. With the support of City of Stockholm.
Read more
here
.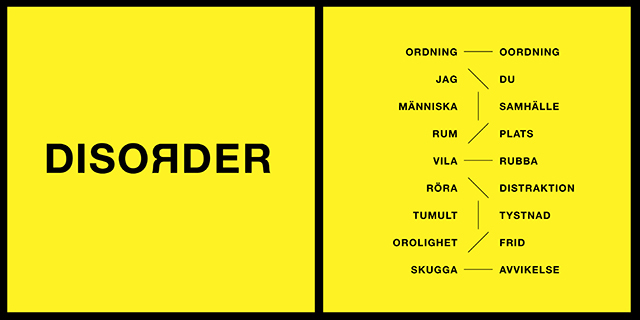 Art of Spectra's upcoming work DISORDER is in research through residencies and meetings nationally and internationally. The work premieres in early spring and tours in March - 24. More info will come soon! The work TENSION will be touring again, nationally and internationally from summer -24 to spring -25. Watch a trailer
here
.
The dance film RUM 444 by Art of Spectra´s artistic director Peter Svenzon is one of 6 films running for the best experimental film of the year at the Las Vegas Movie Awards at the end of September. The film is also selected by the Amsterdam Independent Film Festival and will be screened in Amsterdam in October. RUM 444 won over 25 awards for best experimental, original score, sound design, and more at festivals in London, New York, Los Angeles, Brussels, München, Stockholm, Singapore, Florens, and Paris. Watch a trailer
here
.
When the Vara Concert House (SE) celebrates 20 years Art of Spectra will perform VIVALDI RECOMPOSED to music by Alfred Schnittke during the jubilee concert on
7 Oct 2023
. Read more
here
.
See a list of current works
here
. Films are available on request, contact Art of Spectra
here
.
Find out more about Art of Spectra at
madeintheweb.com
All the best from the team at MADEIN-THEWEB.COM and all our joint members.
FOLLOW US


on
Facebook
&
Twitter
MADE IN the web