The MADE IN the web.com team wishes you the best of Christmas holidays!
Looking forward to interacting with all of you as I go back into the service of the membership beginning January 1st, 2023. So much looking forward to the further development of the project.

Åsa Edgren, CEO and Senior Manager MADE IN THE NORDIC COUNTRIES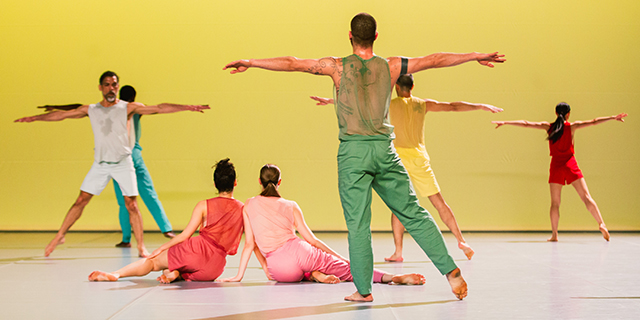 On Friday
17 March 2023
Nagelhus Schia Productions will premiere the masterpiece IN C by German choreographer Sasha Waltz in Bærum Kulturhus in Bærum (NO)! With 15 dancers from Nagelhus Schia Productions, NSP 2, and Sasha Waltz & Guests, and with Terry Riley's original music performed live on stage, this is an experience you don't want to miss!
The world-renowned choreographer Sasha Waltz's latest piece had its world premiere in 2021, and already the following year Nagelhus Schia Productions has obtained the license to perform the work in Norway. IN C has already taken the world by storm and is among others nominated for The New York Dance and Performance Awards, The Bessies 2022, where the jury recognizes exceptional work in choreography, performance, music composition, and visual design. In the picture, we see IN C by Sasha Waltz & Terry Riley, performed by Sasha Waltz & Guests (photo Yanina Isla). Read more
here
.
Carte Blanche
, the Norwegian National Company Of Contemporary Dance, will open its spring season in 2023 at the National Opera & Ballett in Oslo with BIRGET; WAYS TO DEAL, WAYS TO HEAL, a collaborative work between choreographer Elle Sofe Sara and visual artist Joar Nango. The title is based on the Sámi expression "Birget", which means coping and surviving in a changing environment. In BIRGET; WAYS TO DEAL, WAYS TO HEAL, Elle Sofe Sara, Joar Nango, and Carte Blanche invite the audience to a healing bridge between silenced generations and institutional guilt.
In recent decades, several Western states have set up commissions to investigate the history of minority groups exposed to systematic state abuse. Examples of this include the apartheid regime in South Africa, the boarding school system in Canada, and the systematic oppression of the Sámi people and the Inuit in the Nordic States. The question remains: How can sharing traumas and personal stories help create the empathetic space needed to rebuild friendly relationships with the faceless entity of the State? Through the performance, we will gather, listen and build a collective movement that makes lived reconciliation visible, rather than merely formalizing it. The performance takes a playful yet critical gaze at the State's way of dealing with its colonial heritage. Co-produced by The Norwegian Opera & Ballet, Bergen International Festival & Nordic Next. Read more
here
.
Read more about Carte Blanche at
madeintheweb.com.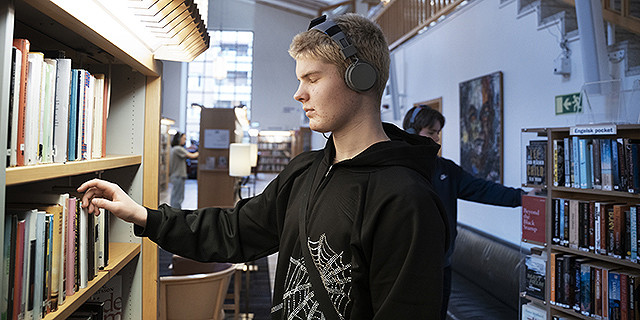 I'M THINKING OF YOU lets you discover or rediscover the library as a place. As a participant, you are invited to follow instructions through headphones, and interact with the library environment in both expected and unexpected ways. With a touch of magical realism, you will experience sneak choreography, and censorship and get a glimpse of thousands of years of books' history. I'M THINKING OF YOU offers a playful opportunity to look at one of our most important public spaces with new eyes, and a chance to make the library your own.
I'M THINKING OF YOU is suitable for everyone from 10 years and up. It will be available for individual lending for a five-year period at the various libraries participating in the project.
Upcoming shows: International Library, Stockholm
28 Jan 2023
at 11:15, 12:30, and 14:00.
Read more and book your ticket
here
.
More news from Johanssons pelargoner och dans:
18-19 Jan 2023
- THE CHOREOGRAPHY will be shown at PURPLE International dance festival, Berlin (DE). More info
here
.
17-20 Feb 2023
- Johanssons pelargoner och dans is participating in "Revisit Young Swedstage" at Krokusfestival, Hasselt (BE). More info
here
.
Find out more about Johanssons Pelargoner och dans at
madeintheweb.com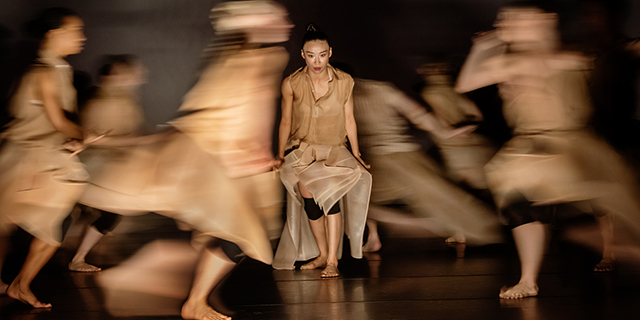 At Skånes Dansteater in Malmö (SE) the year 2023 begins with a restaging of choreographer Tero Saarinen's creation TRANSIT. A group of Finland's most acclaimed and exciting artists has in this performance embraced the vastness of one of our time's most crucial challenges.
TRANSIT is an original commission for our company of dancers and had its world premiere at Malmö Opera in autumn 2020. Tero Saarinen Company performed the piece with the company's own dancers in Helsinki (FI) in 2021. This season brings back TRANSIT to Malmö and Skånes Dansteater's own stage for a visually striking and intense start of the season. TRANSIT plays at Skånes Dansteater in Malmö (SE) from
4-23 Feb 2023.
Read more
here
.
"TRANSIT is one of the most exquisite and impressive works of Tero Saarinen's career."
Demokraatti.fi
Find out more about Skånes Dansteater at
m

adeintheweb.com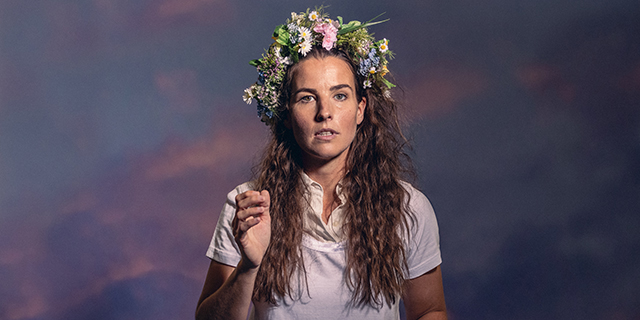 In December, Charlotte Engelkes and her team are in Karlsruhe (DE) for the final rehearsals of FRÄULEIN JULIE at the Badische Staatstheater, premiering on
18 Dec 2022
. Engelkes was invited director of the Badische Staatstheater in Karlsruhe in 2021, to create a new version of August Strindberg's chamber play MISS JULIE. From her team, she brings Anna Ardelius, scenography and costume, and Willi Bopp, sound designer, and composer. The role of Julie is played by the Finnish-Swedish opera singer and actor Frida Österberg. The performance is based on Strindberg's dialogues between Julie and Jean and the preface to the play, together with written text by Engelkes. For more info and credits, go
here
.
Charlotte Engelkes´ new work CONCERTO DI FIGURA premieres at Dansens Hus in Stockholm (SE) on
27 April 2023
. In the performance CONCERTO DI FIGURA the audience is invited to a close-up dance concert with Charlotte Engelkes in a deep musical conversation with 22 creatures of the creative element papier-mâché. CONCERTO DI FIGURA plays at Dansens Hus
27-29 April 2023
. Read more and book your ticket
here
.
Learn more about Charlotte Engelkes at
madeintheweb.com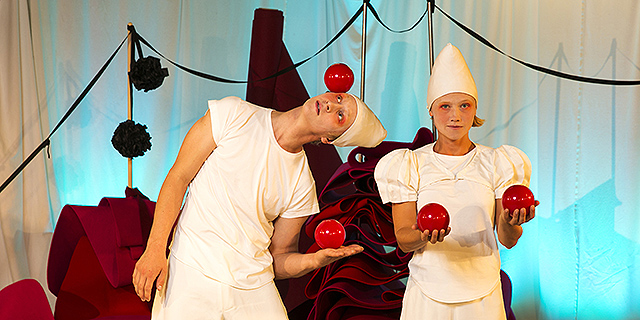 Claire Parsons' performance
LITTLE SWAN LAKE
was a commissioned work for The Royal Dramatic Theatre in Stockholm (SE) and is now touring in a co-production between Young Dramaten and Claire Parsons Co. After touring Sweden this fall, LITTLE SWAN LAKE returned to the
Royal Dramatic Theatre
in November and December performing twenty sold-out performances.
Claire Parsons Co. will be part of the
CirkusMania Festival
in February 2023! This is Stockholm's yearly regional circus festival, showcasing exciting and varied contemporary circus. From
9-19 Feb 2023
, thirty theatres in and around Stockholm will present 36 shows from Vallentuna in the north to the inner city of Stockholm, southern Södertälje, and more. Claire Parsons Co. will perform the poetic and magical piece
MARMALADE
for audiences from 2 years and up, with eight performances for school audiences at Skarpnäck Kulturhus
10–14 Feb 2023
and a public performance at Haninge Kulturhus on
18 Feb 2023
. See the program in its entirety
here
. CirkusMania is initiated and coordinated by
Subtopia
.
Claire Parsons Co. is supported by the Swedish Arts Council, the Cultural Council of the City of Stockholm, and the Stockholm Regional Council.
Learn more about Claire Parsons Co.at
m
adeintheweb.com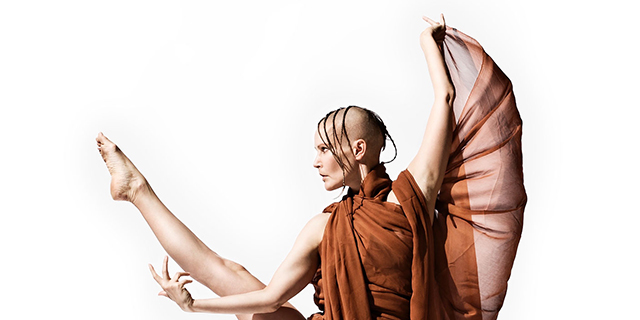 CHANGE premiéres at Kulturhuset Stadsteatern in Stockholm (SE) on
21 April 2023
, followed by 11 shows until
21 May 2023
. CHANGE features an innovative idea where choreography, light design, and music are combined by the whim of chance and of the audience's choice. Will it be a duo with pink lighting with electronica? Or a quintet in blue to percussion? Every performance will be unique! Tickets and info
here
.
Get an inside look into the world of Virpi Pahkinen through the eyes and ears of photojournalist Florence Montmare. This brand new piece is published in
Spirit & Flesh
, an art magazine that intends to show both sides of creativity – the glossy surface and what lies beneath. Read the interview
here
.
-"My family lived by a lake and one cold winter evening I plowed a square on the ice. I started by tracing eights and hearts, then glided into an arabesque, while adding some arm movements. I tried to figure out the meaning of why I was doing the movements in this specific order."
Virpi Pahkinen on discovering dance through ice skating
Learn more about Virpi Pahkinen at
madeintheweb.com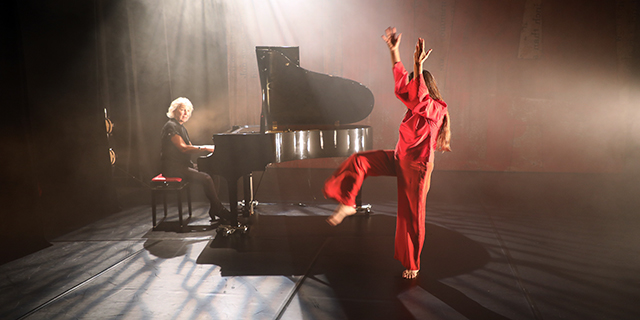 Elise Einarsdotter plays live on the grand piano. Linda Forsman dances. Lou T Lundqvist creates background images and lighting design… Korda Art in Motion Dance Company enjoys a great new collaboration together with Elise Einarsdotter pianist, composer, bandleader, educator, and tv program host. The piece SOLOS FOR GRAND PIANO had its premiere at Folkets Hus Hofors (SE) on
27 Oct 2022.
The next performance will be at Gävle Theatre in Gävle (SE) on
16 Feb 2023.
The performance has been developed in collaboration between choreographer, dancer Linda Forsman, composer, pianist Elise Einarsdotter and scenographer/lighting designer Lou T Lundqvist in harmony with movement and tones.
Find out more about Korda Art in Motion Dance Company at
madeintheweb.com
All the best from the team at MADEIN-THEWEB.COM and all our joint members.
FOLLOW US


on
Facebook
&
Twitter
MADE IN the web
www.madein-theweb.com is a website displaying Nordic performing arts intended for an international audience.
MADE IN the web is an initiative created by Loco World with the intention to increase the visibility of Nordic performing arts.
Loco World/MADEIN is an organization supported by the Swedish Arts Council for its international activities.

MADE IN the web
Email:info@madein-theweb.com.
Internet: www.madein-theweb.com.