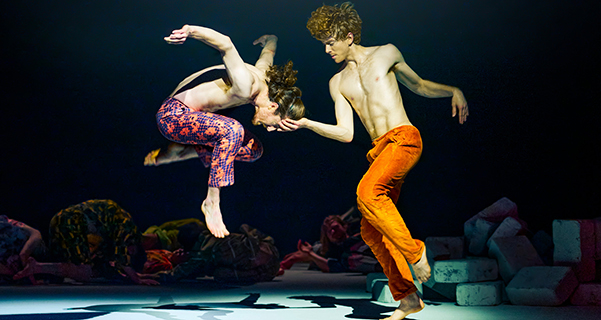 Fantastic reviews and ecstatic audiences after the world premiere of Alexander Ekman's new creation
HAMMER
on
29 Oct 2022
.
"A world-class performance"
Aftonbladet (SE)
"Genius! Autumn's absolute must-see!"
Borås Tidning (SE)
"A pointed examination of our current self-obsession"
Expressen (SE)
"Leaves no-one unmoved"
Göteborgs-Posten (SE)
After 5 shows, GöteborgsOperans Danskompani takes a short break in the run of HAMMER to go on tour to La
Filature in Mulhouse (FR). The company will there present a double program consisting of
SKID
by Damien Jalet and
SAABA
by Sharon Eyal. Two powerful creations that also will be touring extensively next spring. On
27 Nov 2022,
the company is back on stage in at the Göteborg Opera with HAMMER, which runs until
10 Dec 2022
. More info about GöteborgsOperans Danskompani´s dance tours
here
.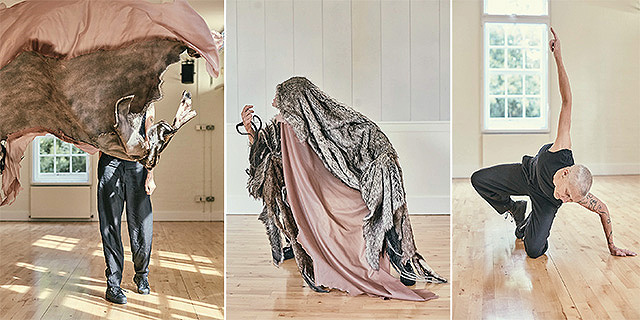 This month sees FEST EN FEST return - an international festival of expanded choreography that sees UK &Nordic artists present an exciting mix of dance, film, performance, panels, and visual art in gallery spaces and venues across its home in Deptford, alongside satellite programme in Cambridge, Colchester and Deptford in London (UK).
Initiated and curated by H2Dance the program takes place from
22-27 Nov 2022
and will explore timely and current themes, including feminism, gender, horror, queer culture, and sexuality. Read more
here
.
Find out more about H2Dance at
madeintheweb.com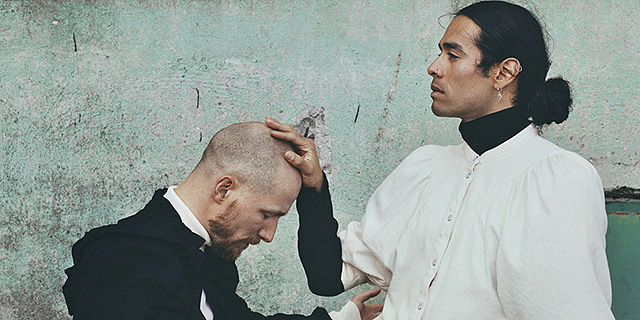 Bobbi Lo Produktion presents their new interactive work on the theme authority and power, THE COLONISTS, premiering at Bastionen in Malmö (SE)
24-26 Nov 2022
. With performances at
Odin Teatret
in Holstebro (DK) on
1-2 Dec 2022
.
The common history of the Nordic countries goes back more than a thousand years. There have been periods of both friendship and war, but what colonial heritage and responsibilities do we northerners carry with us?KOLONISTERNA is an interactive dance performance that directs a critical eye at our mutual history, which many prefer to forget, and at the colonial structures that prevail today. Embedded in a satirical atmosphere, the audience witnesses and participates in a study of power and the abuse of power. THE COLONISTS is a cascade of choreography, voice, and musical interplay in an interactive context where 5 dancers occupy and conquer the stage. Read more
here
.
Learn more about Bobbi Lo Produktion at
madeintheweb.com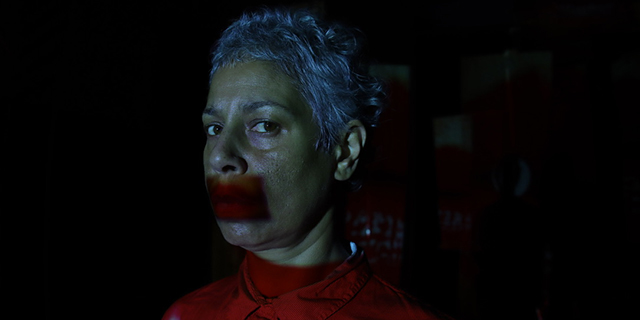 photo: Imre Zsibrik
A seamless, cinematic blend of movement, projection, film, subdued light, drone, and deafening lamentation. Polyphonic compositions and deep delving into the pleasantly unpleasant. In MY OWN FUKASE, a fate-saturated collage, we encounter a seamless, cinematic mix of movement, projections, film, subdued light, drone, and deafening lamentation. Humans are fascinated by the grotesque; we massage bruises even though it hurts. We are disgusted by the smell of decay and at the same time attracted to it – why is that?
This interdisciplinary work is a collaboration between choreographer Maria Naidu, composer Kent Olofsson, visual designer Tomas Romlöv and lighting designer Imre Zsibrik. With financial support from the Swedish Arts Council, Region Skåne, Malmö cultural support, and Dancenet Sweden as well as work residence through Rum för Dans Halland, Inter Arts Center, Dans i Blekinge and Inkonst.
Performance dates:
25-26 Nov 2022,
Inkonst, Malmö (SE).For more information and tickets go
here
.
Find out more about Maria Naidu
here
.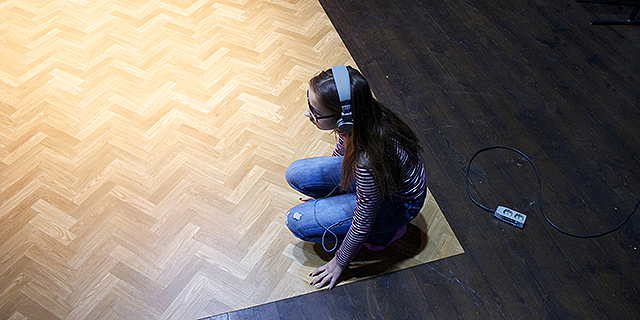 THE CHOREOGRAPHY will play at PURPLE International Dance Festival for young audiences in Berlin (DE). The interactive performance will play at Jugendtheaterwerkstatt Spandau on
18-19 Jan 2023
. Read more
here
.
THE CHOREOGRAPHY is a performance-based entirely on the audience's participation. All participants receive a pair of headphones, and a guiding voice gives them instructions on how to move, how to relate to one's body, and how to relate to one another. In other words, there are no dancers in the performance. Instead, the members of the audience create THE CHOREOGRAPHY together. The target group is from about 10 years and up.
THE CHOREOGRAPHY will also show at Teater Tr3 performing arts festival in Stockholm on
19 Nov 2022
. More info and tickets
here
.
Find out more about Johanssons Pelargoner och dans at
madeintheweb.com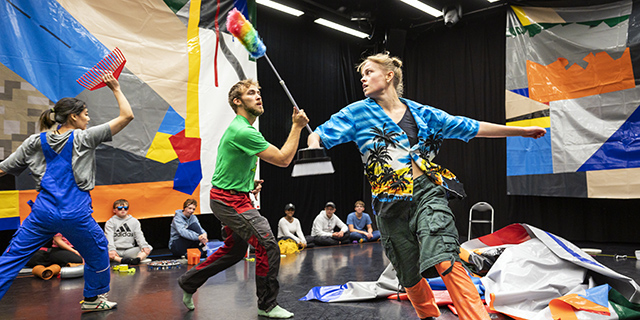 Norrdans is currently touring three different venturous performances. The strong piece
CAVE
is the European debut of critically acclaimed choreographer Rena Butler. Here you can find the company surrounded by a mix of existential horror and Plato's allegory of the cave. It is watching yourself reflected in an amplified form, conveyed through physical and strong dance as a story about prejudice and preconceived notions, about decolonization and new knowledge.
Norrdans are also performing
THE RITE OF SPRING
through the lens of the artistic director Martin Forsberg. The grand tones of composer Stravinsky manifested through a small and explosive ensemble, in the purest rebellious playfulness. This piece finds its way through both schools and public venues in the north of Sweden and in Stockholm. The good news is that THE RITE OF SPRING is coming back in the spring of 2024. Keep your eyes open!
Last but not least you will get a new chance to experience Ioannis Mandafounis
IF ONLY I KNEW
. The piece once again attempts to storm libraries in the most silent possible way with full force. This time Norrdans will also explore other public places and institutions. You can see IF ONLY I KNEW at Kulturmagasinet in Sundsvall (SE) on
30 Nov 2022
and on tour in May of 2023.
Find out more about Norrdans at
m

adeintheweb.com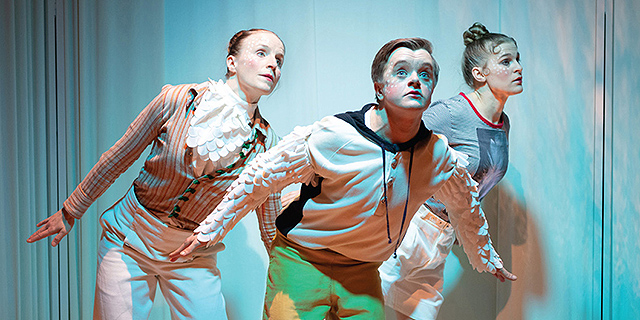 Claire Parsons' performance
LITTLE SWAN LAKE
was a commissioned work for The Royal Dramatic Theatre in Stockholm (SE) and is now touring in a co-production between Young Dramaten and Claire Parsons Co. LITTLE SWAN LAKE has in November performed in Norrbotten - the most northern part of Sweden - in collaboration with
Dans i Nord
visiting Piteå, Luleå, Arvidsjaur and Kalix (SE). In November, the company also performed for school children at Dieselverkstaden in Nacka (SE), and ending the fall season LITTLE SWAN LAKE will back at
The Royal Dramatic Theatre
in Stockholm, where the production had its world premiere in 2018 and where it will perform to sold-out performances from
24 Nov 2022 – 11 Dec 2022
.
This fall Claire Parsons Co. has also presented the company´s signature piece
MARMALADE
in France, starting
2-3 Nov 2022
at the festival La Métropole fait son cirque, presented by
Domaine d´O
, the center for arts and culture in Montpellier (FR). This is the second time MARMALADE has performed in Montpellier organized by Domaine d'O, this time performing four shows in Saussan and in Montferrier sur Lez. and as part of the autumn cultural season programme of
Scene de Bayssan
in Béziers (FR) with two shows on
4 Nov 2022
.
Claire Parsons Co. is supported by The Swedish Arts Council, The Cultural Council of the City of Stockholm and The Stockholm Regional Council
Learn more about Claire Parsons Co.at
m
adeintheweb.com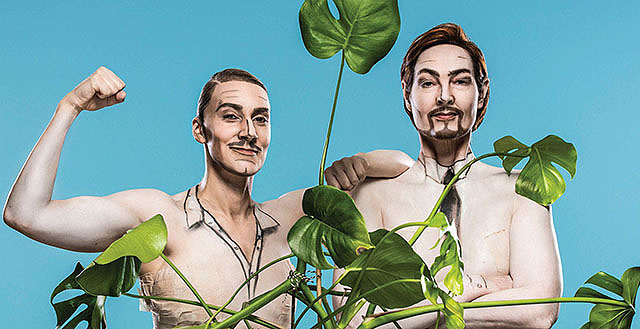 From
12 Nov- 2 Dec 2022
, it's time for the long-awaited tour with the show
TRANSPLANTATION
. In collaboration with
Dancenet Sweden
, Charlotte Engelkes and Sofia Södergård play at various theaters and dance scenes throughout Sweden. TRANSPLANTATION is a loving dance about identity and existence at the cellular level. Engelkes' new performance is based on her own experience from bone marrow transplantation where she ended up having a Y-chromosome.
Tour dates:
15 Nov 2022
;
Vara Konserthus
, Vara,
17 Nov 2022
;
Regionteater Väst
, Uddevalla,
19 Nov 2022
;
Regionteater Blekinge Kronoberg
, Växjö,
22 Nov 2022
;
Lokstallarna
, Karlshamn,
24 Nov 2022
;
Sagateatern
, Linköping,
26 Nov 2022
;
Uppsala konsert och kongress
,
29-30 Nov 29022
;
Dansstationen
, Malmö,
2 Dec 2022
;
Sara Kulturhus
, Skellefteå.
In December, Charlotte Engelkes and her team go to Karlsruhe in Germany for the final rehearsals of FRÄULEIN JULIE at the Badische Staatstheater, premiering on
18 Dec 2022
. Engelkes was invited director of the Badische Staatstheater in Karlsruhe, Germany, in 2021, to create a new version of August Strindberg's chamber play MISS JULIE. From her team, she brings Anna Ardelius, scenography and costume, and Willi Bopp, sound designer, and composer. The performance is based on Strindberg's dialogues between Julie and Jean and the preface to the play, together with written text by Engelkes. More info
here
.
Learn more about Charlotte Engelkes at
madeintheweb.com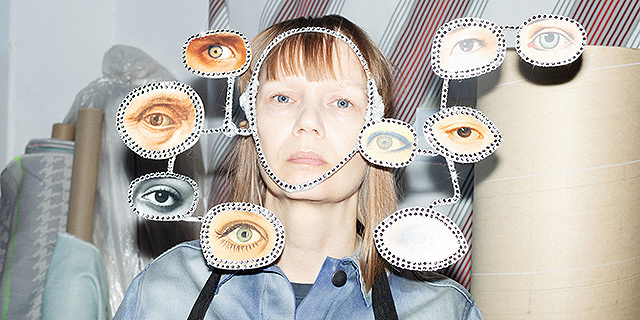 Gunilla Heilborn just premiered her new piece MERKURIUS at Norrlandsoperan in Umeå (SE) on

11-12 Nov 2022

. This week the piece is also presented at MDT in Stockholm (SE) with performances from

17-20 Nov 2022.



The wonderfully distant planet Mercury is said to affect our communication, our intelligence, our technology, and our social interactions. In addition, Mercury has an extra gig as the messenger of the gods and as such has the task of delivering both good and bad news. This solo show with Kristiina Viiala on stage addresses all these aspects, as well as the desire of some people to move into space. Read an interview with Gunilla Heilborn here (in Swedish).



"Man's awkwardness and fragile search are portrayed on stage by a brilliant Kristiina Viiala. It is difficult to imagine closer to a complete success in portraying this anxiety and creeping concern about both the past and the present in an empathetic and at the same time humorous way."

Västerbottens-Kuriren (SE)

Learn more about Gunilla Heilborn at madeintheweb.com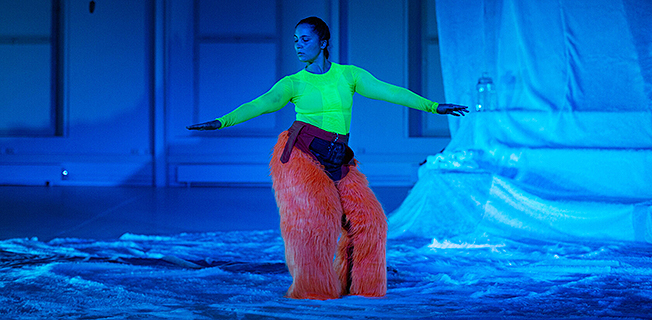 YES is a cascade of pleasure, sadness, and dreams of possibilities. Morphing through a constant of what has been and what is. YES insists on fiction as a compass in the imagining of where we want to be. Working with water's transformative powers and the storm's revolutionary potential. Yes yes yes. This could be something. YES is soft, YES is dense, YES is tension and release, YES is too much and not enough.
YES is BamBam Frost's second work, following her debut with SORRY in 2018. We call it a solo with a star guest.
Performance dates:
8-9 Dec 2022,
Elverket, Dansens Hus, Stockholm (SE). For more info and tickets go
here
.
Supported by Swedish Arts Council, The Swedish Arts Grants Committee, City of Stockholm and Life Long Burning – Towards a sustainable Eco-System for Contemporary Dance in Europe project (2018-2022) supported by the Creative Europe programme of the European Union.
Find out more about BamBam Frost
here
.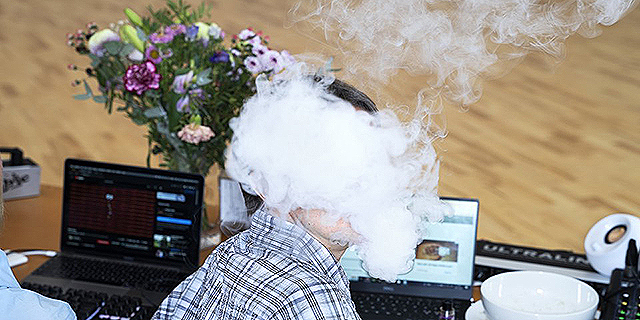 In a series of ten evenings, choreographer and dancer Stina Nyberg tells ten stories about humanity. From the birth of the human species to our violent journey across the earth and our coming death. What might seem like a tragic end is probably the beginning of an unknown and shiny future, without us.
Dates:
18-20 Nov 2022
,
MDT
Stockholm (SE). More info and tickets
here
.
Production by Terry Johnson (Johnson & Bergsmark), Magnus Nordberg (Nordberg Movement). Administration by The artist cooperative Interim kultur. Made with support from Kulturrådet, Stockholm stad. Co-produced by Life Long Burning – Towards a sustainable Eco-System for Contemporary Dance in Europe project (2018-2022) supported by the Creative Europe programme of the European Union.
Read more about Stina Nyberg
here
.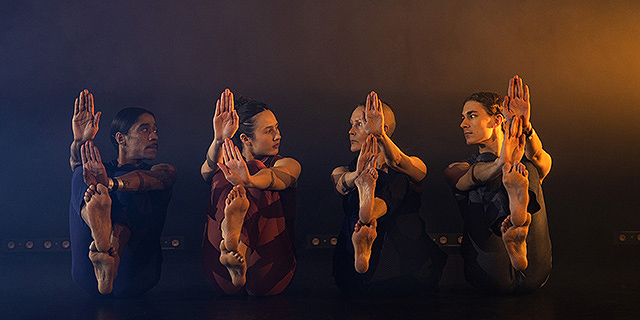 Virpi Pahkinen collaborates with electronica DJ and composer Lemna as part of the festival Sound of Stockholm. DUKKHA is an unpleasant feeling, something like suffering, sadness, boredom, dissatisfaction, a sense of emptiness, or hopelessness. We try, but we can never escape from it because it is already part of our life as long as we live. DUKKHA happens at the legendary stage Fylkingen in Stockholm (SE) on
18 Nov 2022
and is a part of the festival
Sound of Stockholm
. Read more
here
.
The last stop on the Sápmi tour for WIND VIGIL will be in the farthest north of Sweden: in Kiruna as part of the festival Kultura 22. Performance at Aurora Konsert & Kongress on the
24 Nov 2022
. More info and tickets
here
.
But first WIND VIGIL will visit Ytterjärna kulturhus, not far from Stockholm (SE), for a performance on
19 Nov 2022
. For more info and tickets go
here
.
Learn more about Virpi Pahkinen at
madeintheweb.com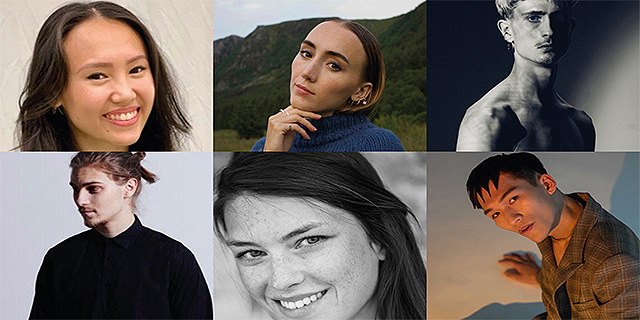 Please say hello to Karin Wang Brustad, Julien Guibourg, Emma Jansen, Laura Perrot, Elliot Norell Strinnö, and Lung-ssu Yen! These talented young dancers are part of NSP 2 for the two upcoming seasons! A big welcome to them all!
NSP 2 was launched in the autumn of 2019 as a national talent programme for contemporary dance. The goal is to offer young, selected dancers an opportunity to develop their artistic talent and lay the foundation for a professional career. The dancers go through an artistic mentoring and skills enhancement programme including technical, choreographic, and scenic talent development at a very high level. Admission is based on an audition held every year in the winter/spring.
The next call will be announced shortly. Please sign up for our newsletter or follow us on social media to stay tuned. More info
here
.
Find out more about Nagelhus Schia Productions at
madeintheweb.com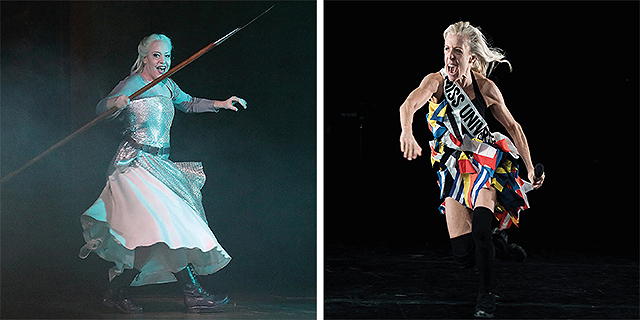 photo: Wilfried Hösl, Anders Larsson
THE SEVEN DEADLY SINS, featuring Charlotta Öfverholm (choreography) and Nina Stemme and the Swedish Chamber Orchestra, premiers at Hjalmar Bergman Teatern in Örebro (SE) on
3 Dec 2022
.
There are many sins. Here Bertolt Brecht and Kurt Weill deal with seven of them. They require an excellent soloist which we find in our time's most celebrated soprano, Nina Stemme. She also presents an unknown work of Weill,
The new Orpheus
. H K Gruber, the grand Weill interpreter, controls the music and Sam Brown directs the full-fledged production WIEN. More info and tickets
here
.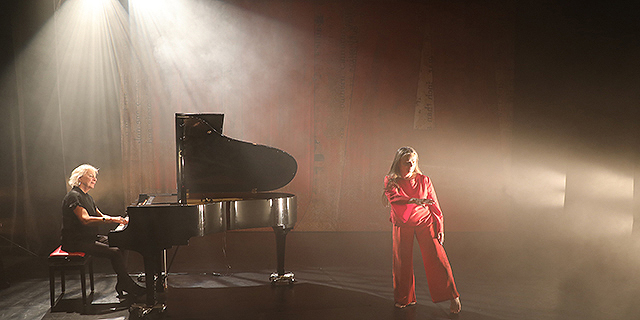 Elise Einarsdotter plays live on the grand piano. Linda Forsman dances. Lou T Lundqvist creates background images and lighting design… Korda Art in Motion Dance Company enjoys a great new collaboration together with Elise Einarsdotter pianist, composer, bandleader, educator, and tv program host. The piece SOLOS FOR GRAND PIANO had its premiere at Folkets Hus Hofors (SE) on
27 Oct 2022.
The next performance will be at Gävle Theatre in Gävle (SE) in February 2023.
The performance has been developed in collaboration between choreographer, dancer Linda Forsman, composer, pianist Elise Einarsdotter and scenographer/lighting designer Lou T Lundqvist in harmony with movement and tones.
Find out more about Korda Art in Motion Dance Company at
madeintheweb.com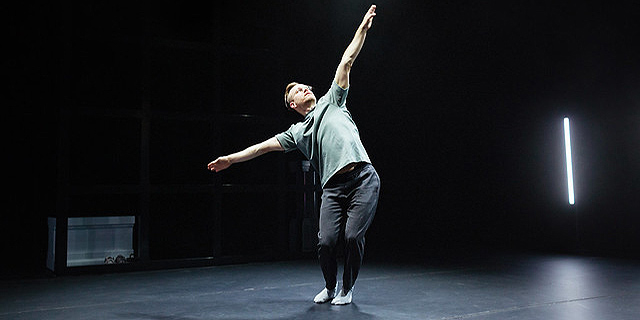 Björn Säfsten is on a nationwide tour in Sweden with the Swedish National Theatre Riksteatern from
5 Nov-11 Dec 2022.
I SJÄLVA VERKET is the autobiographical and arbitrary all-knowing performance about something everybody does but no one knows what it is: dance!
The ambition of this performance comes from a strive of wanting to answer and open up conversations that Säfsten has had over the last 8 years with audience members regarding contemporary dance, theories of dance practices, and why some work might look or be read in a certain way. In I SJÄLVA VERKET he attempts to talk and dance, sometimes simultaneously, to show, visualize, explain, question, and juggle the complicated issues at hand. Co-production between Säfsten Produktion and Riksteatern. More info
here
.
Tour dates:
15 Nov 2022
;
Teatern
, Nyköping,
17 Nov 2022
;
Folkets hus
, Motala,
18-19 Nov 2022
;
Årsta folkets hus teater,
Stockholm,
29 Nov 2022
;
Baerum Kulturhus
, Norge,
30 Nov 2022
;
Vitlycke - Center for performing arts,
Tanum,
1 Dec 2022
;
Teater Halland,
Varberg
, 2 Dec 2022
;
Folkteatern
, Göteborg,
3 Dec 2022
; Ale Kulturrum, Ale,
6 Dec 2022
;
Teatern
, Kristianstad,
8 Dec 2022
,
Kulturkvarteret
, Örebro,
9 Dec 2022
; Stadsteatern Nya Folkets Hus, Karlskoga,
10 Dec 2022
;
Dalateatern
, Falun,
11 Dec 2022
; Folkets hus, Ludvika.
Find out more about Björn Säfsten at
madeintheweb.com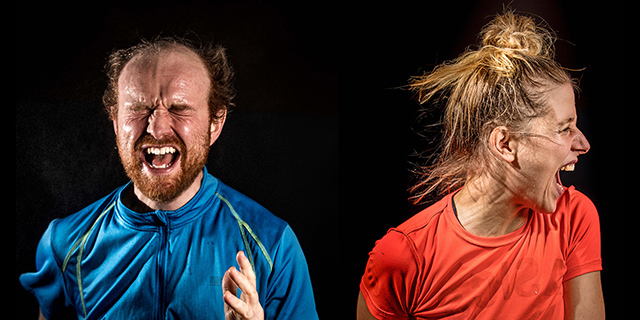 In November Taneli Törmä - LOCATION X is on tour in Finland. ALIEN premiered in
Valvesali
in Oulu on the
4-5 Nov 2022
. SURVIVORS will be presented in
Teatteri Avoimetovet
, Helsinki on the
17-18 Nov 2022
and at
Kokkola Winter Dance Festival
, City Theater in Kokkola on the
20 Nov 2022
. And wherever you are in the world, you have the opportunity to experience
YOU CAN DO IT!
- Live Stream performance which will be filmed in Kokkola and presented online on the Kokkola Winter Dance Festival website on
19 Nov 2022
.
Read more about
Taneli Törmä – LOCATION X
at
m
adeintheweb.com
All the best from the team at MADEIN-THEWEB.COM and all our joint members.
FOLLOW US


on
Facebook
&
Twitter
MADE IN the web
www.madein-theweb.com is a website displaying Nordic performing arts intended for an international audience.
MADE IN the web is an initiative created by Loco World with the intention to increase the visibility of Nordic performing arts.
Loco World/MADEIN is an organization supported by the Swedish Arts Council for its international activities.

MADE IN the web
Email:info@madein-theweb.com.
Internet: www.madein-theweb.com.