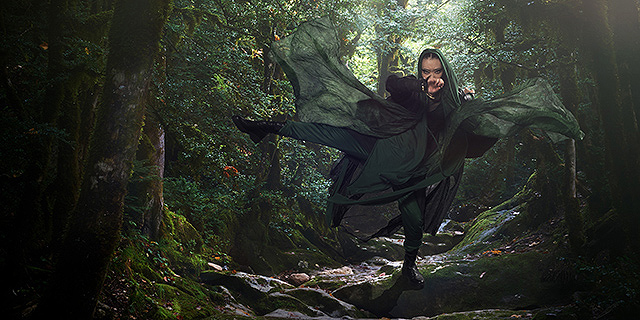 Skånes Dansteater's new double-bill FRANZÉN/NUUTINEN welcomes you to a multisensory experience. Two new creations by two acclaimed Nordic choreographers, Helena Franzén and Johanna Nuutinen.
In
ONCE A WHISPER
Helena returns to her great source of inspiration – nature – through her unmistakable art of movement. You'll get to listen to the dancing bodies, and be captivated by nature and its inner life.
In
ZERO-ZERO
Johanna and her team explores the edges of perception and how we construct meaning from the small fragments of information we see and hear.
FRANZÉN/NUUTINEN performs at Skånes Dansteater, Malmö (SE) and on tour in Skåne
27 Oct–14 Dec 2022
.
Find out more about Skånes Dansteater at
madeintheweb.com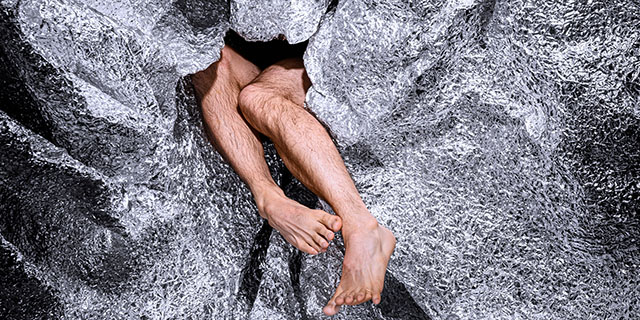 If you can see your own shadow, is it also a part of you? CAVE is Norrdans' must-see production this autumn. Choreographed by Rena Butler in her European debut, you can find the company surrounded by a mix of existential horror and the Allegory of the Cave by Plato. It is watching yourself reflected in an amplified form, conveyed through physical and strong dance as a story about prejudice and preconceived notions, decolonization, and new knowledge. Although more than 2,000 years have passed since Plato's Allegory of the CAVE was created, the subject is as relevant now as it was back then.
CAVE world premieres on
30 Sep 2022
at Härnösands theater, followed by a tour in the north of Sweden and Stockholm.
Find out more about Norrdans at
m

adeintheweb.com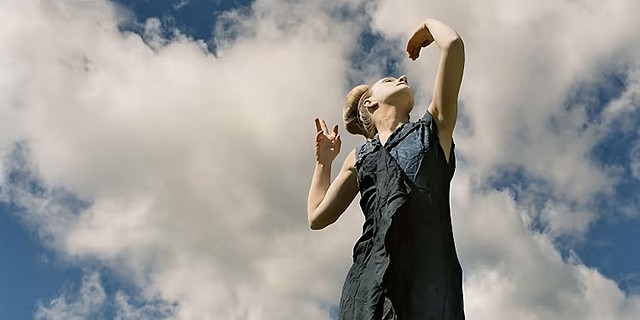 Glamorous chaos, reflections, and physicality in The National Hall, Uppsala Castle (SE) on Saturday
22 Oct 2022
- and you are invited! 1992 saw the start of the SU-EN Butoh Company in Tokyo with the debut performance KAZE NO CHO (A butterfly in the wind). The company celebrates this by showing the film BODY AND THE WORLD, about 30 years of activities with the body and dance. In addition, there will be dance, music, and art events by the company, artists friends, and colleagues. Free admission. Please
confirm your participation
and number of guests by
10 Oct 2022
! More info
here
- or on
Facebook
!
On
15 Oct 2022
, SU-EN Butoh Company shows VARIOUS DANCES, at the Opening of the exhibition Juxtaposing Crafts at
the Museum of Far Eastern Antiquities
, Stockholm (SE). Also part of a video work by Rebecca Ahlstedt which is part of the exhibition. The exhibition lasts for a year.
Find out more about SU-EN Butoh Company at
madeintheweb.com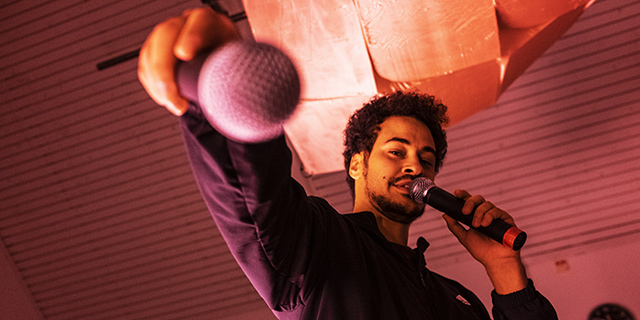 Club meets performing arts through BPM, release, hype, and more - when Viktor Fröjd, Joanna Holewa Chriona, Johanna Fröjd, Dj Maele Sabuni and Cermoni Master Yared Cederlund tour Sweden with the dance performance FESTEN.
For Viktor Fröjd's latest work, house culture has been an inexhaustible source of inspiration. The audience might walk in, but they will definitely dance out. When Viktor Fröjd invites you to FESTEN, the audience is welcome to participate in its own way, whether it's snuggled on a sofa, sneaking stealthily around the room, or dancing right at the center of the party.
Located in the middle of the work, together with stage installations and three house dancers, you will be part of FESTEN – a house club disguised as a performance. With music by DJ Cheza and master of ceremonies Yared, this is a party you won't soon forget. FESTEN is a homage to the street dance community – a culture that seeks to acknowledge everyone's differences and celebrates dance as a means of expression. Inspired by the music, jam, and dance of house clubs, Fröjd creates a work full of community and desire. More info and full credits
here
.
Tour dates:
17 Sep 2022
,
Magasinet
, Falun (SE),
22-23 Sep 2022
,
Norrlandsoperan
, Umeå,
25 Sep 2022
,
Sara Kulturhus
, Skellefteå (SE),
29 Sep 2022
, Falkhallen, Falkenberg (SE).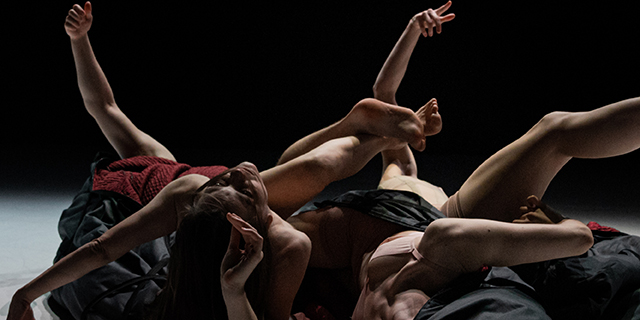 The new season has started, and Susanna Leinonen Company prepared some exciting news for you!
This autumn begins with the comeback of
ROOTS
. After a long break, elderly dancers will join movements with Susanna Leinonen Company performers at Alexander Theatre in Helsinki (FI) on
16 Sep 2022
. The first part of the trilogy,
NASTY
is on the way to the same stage the following day. NASTY is an arrestingly topical work about expectations, attacks, and restrictions on the body, about loud women's voices that need to be heard, especially these days.
The last part of the trilogy,
BODY
, will be staged for the first time at the brand new Dance House (Tanssin talo) venue in Helsinki (FI). See you soon!
Upcoming shows:
16 Sep 2022,
ROOTS,
Aleksanterin teatteri
, Helsinki (FI),
17 Sep 2022
, NASTY,
Aleksanterin teatter
i
, Helsinki (FI),
28 Sep-1 Oct 2022
, BODY,
Tanssin talo
, Helsinki (FI)
Read more about Susanna Leinonen Company at
madeintheweb.com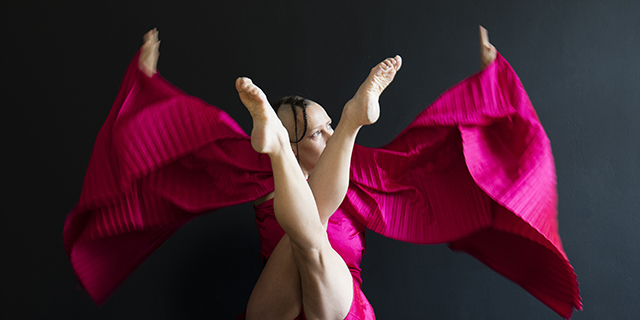 DEEP TIME
has been performed in Sweden, Latvia, and Germany and now the company is looking forward to meeting the Belgian audience as it is part of the FAME Festival in Brussels on
19-29 Sep 2022
. DEEP TIME is performed with five dancers and soprano Tua Dominique. The choreography explores the evolution and the geological time of Earth to the sound of medieval composer Hildegard of Bingen´s songs, as well as contemporary marimba techno. For tickets and info go
here
.
"The Swedish Virpi Pahkinen Dance Company enthralls the Bonn audience into a world of medieval mysticism.
" General-Anzeiger, Germany
A collaboration with Sami artists, WIND VIGIL features projections of artwork from Kristin Tårnesvik and poetry from Áillohas. We hear a broad range of multi-instrumentalist Roger Ludvigsen´s sounds, from music meditations gliding over the open landscape to electronic soundscapes and shamanistic five-beat rhythms. The tour is arranged by Giron Sámi Teáhter and the production is a collaboration with Scenkonst Sörmland. More info
here
.
Tour dates:
29 Oct 2022
, Messingen, Upplands Väsby, Stockholm,
31 Oct 2022
, Gamla Teatern, Östersund,
2 Nov 2022
, Sara Kulturhus, Skellefteå,
5 Nov 2022
, Folkets hus, Umeå,
8 Nov 2022
, Folkets hus, Pajala,
10 Nov 2022
, Folkets hus, Övertorneå,
19 Nov 2022
, Kulturhuset Ytterjärna,
24 Nov 2022,
Kiruna.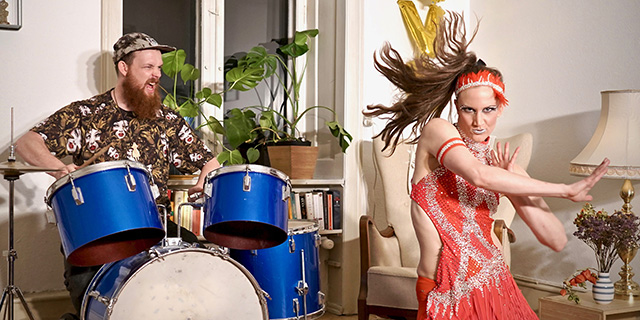 The OPEN YOUR HEART performance invites 10 local young people to dance and perform with two professional dancers Hilde I Sandvold and Taneli Törmä at the
Ciclop Festival
in Sineu, Mallorca on
17 Sep 2022
.
The performance looks into different situations and how they support or prevent us in the act of dancing. When did we really dance the last time? Have we ever danced, and when do we enjoy doing it? Have you ever thought about why and how it feels to dance that way? With the help of a group of local children OPEN YOUR HEART will search for the joy of moving – dancing again like a child. Watch a behind the scene video
here
.
Read more about
Taneli Törmä – LOCATION X
at
m
adeintheweb.com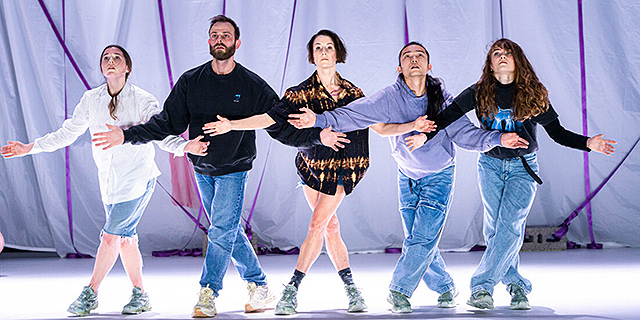 Five specially chosen dancers. One of the foremost violinists of our time. In PARTITA NO.2 – SEI SOLO we take part in Örjan Andersson's special ability to create dance and music into a sleepless body.
We meet the solitary man. Stripped and omitted. Her destiny is woven with the violinist Jonathan Morton's interpretation of Bach's melancholy solo piece Partita No.2. A sublime landscape emerges with sound designer BJ Nilsen's recordings from a closed-down Amsterdam. At breathtaking speed, we move between the small intimate to high vertigo located places. An auditive mental journey between the present time and time immemorial.
PARTITA is created in cooperation with the violinist Johathan Morton, from
the Scottish Ensemble
in Glasgow, and the choreographer Örjan Andersson. Co-production by Andersson Dance, Scottish Ensemble, NorrlandsOperan & Dansens Hus. With support from the Swedish Arts Council/Kulturrådet, Stockholms Stad, Region Stockholm and Creative Scotland. For full credits list and additional information - go
here
.
Performance dates on the tour with
Dancenet Sweden
:
4 Oct 2022
,
Västerås Konserthus
,
6 Oct 2022
,
Uppsala Konsert & Kongress
(SE),
8 Oct 2022
,
Kungsbacka teater
(SE),
12 Oct 2022
,
Kulturhuset Tio14
, Falun (SE). Read more
here
.
Learn more about Andersson Dance at
madeintheweb.com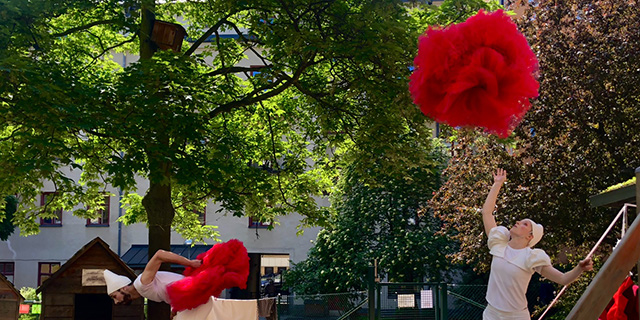 This fall Claire Parsons Co. will perform the company´s signature piece
MARMALADE
in France, starting on
2-3 Nov 2022
at the festival
La Métropole fait son cirque
, presented by Domaine d´O, the center for arts and culture in Montpellier (FR). The company will perform four shows in Saussan and Montferrier sur Lez. MARMALADE will also be a part of the autumn cultural season programme of
Scene de Bayssan
in Béziers (FR) with two shows on
4-5 Nov 2022.
More information
here
.
Learn more about Claire Parsons Co.at
m
adeintheweb.com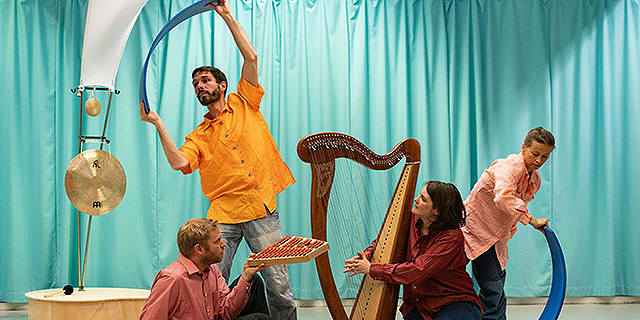 The dance company
Ingrid Olterman Dans
is happy to announce the premiere of the new performance BRIDGES (Broar), a multi-sensory work with 5 musicians, dancers, and technicians on stage, on
24 Sep 2022
at Hallunda Folkets Hus in Stockholm (SE). For more info and tickets (free)
contact the company
or go
here
.
BRIDGES is a continuation of the work starting with the performance ISLANDS (Öar) in 2017, which has since then toured nationally and internationally. The performance was booked to tour in China in 2020 for a 5 weeks period, but the tour was was postponed and postponed again due to the pandemic. In August, Ingrid Olteman Dans will start a working period transferring this performance through film and online rehearsals to international artist living and working in China. ISLAND will then tour in China for a 10 weeks period with the organization A.S.K Art space for kids.
The company will tour another three performances nationally. The outdoors, interactive performance SHELTER TREES, the classroom performance IF POSSIBLE and BLUDDERBLAD, a performance for children 3-7 years old.
Read more about Ingrid Olterman Dans at
madeintheweb.com
Maria Naidu´s
MY OWN FUKASE
is opening at
Inkonst
in Malmö (SE) on
25-26 Nov 2022
. This interdisciplinary work is inspired by the complex artistry of the Japanese photographer Masahisa Fukase, and it is a collaboration between choreographer Maria Naidu, composer Kent Olofsson, visual designer Tomas Romlöv and lighting designer Imre Zsibrik. In
MY OWN FUKASE
, a fate-saturated collage, we encounter a seamless, cinematic mix of movement, projections, film, subdued light, drone, and deafening lamentation. Humans are fascinated by the grotesque; we massage bruises even though it hurts. We are disgusted by the smell of decay and at the same time attracted to it –Why is that? Learn more
here
.
Production by Maria Naidu / arms & legs and Nordberg Movement. With financial support from the Swedish Arts Council, Region Skåne, Malmö cultural support, and Dansnät Sverige as well as work residence through Dans i Halland, Inter Arts Center, Dans i Blekinge and Inkonst.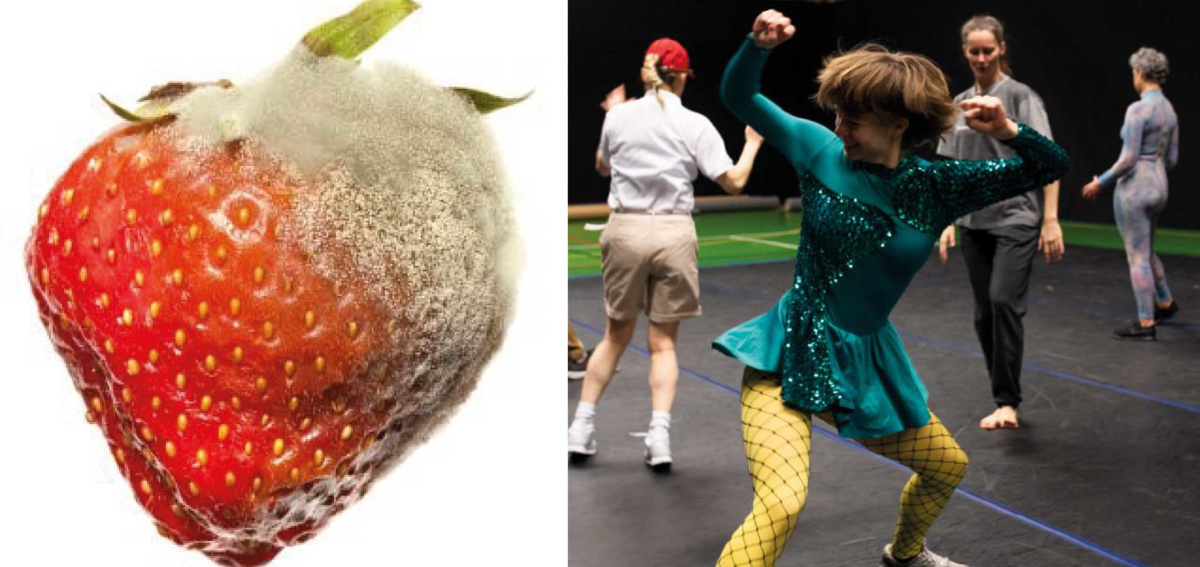 In a series of ten evenings at MDT in Stockholm (SE), Stina Nyberg tells ten stories about humanity. From the birth of the human species to our violent journey across the earth and our coming death. What might seem like a tragic end is probably the beginning of an unknown and shiny future, without us. SWEET is a series of personal, fictive, and embodied stories that dig deep into history in order to dare to stay with the unknown future. Stories about the art of living on this planet.
Dates:
3-6 Nov 2022
,
MDT
, Stockholm (SE),
11-13 Nov 2022,
MDT
, Stockholm (SE),
18-20 Nov 2022
,
MDT
Stockholm (SE). More info and tickets
here
.
Production by Terry Johnson (Johnson & Bergsmark), Magnus Nordberg (Nordberg Movement). Made with support from Kulturrådet, Stockholm stad.
Stina Nyberg´s MAKE HAY WHILE THE SUN SHINES will be performed on
15 Oct 2022
in Falkhallen, Falkenberg (SE). MAKE HAY WHILE THE SUN SHINES is a series of dances that maps the dancing movements of our histories. The dance performance engages in time-specific and partial views, the uncategorized details that pre-exist the whole, and the chaos called reality. This performance of MAKE HAY WHILE THE SUN SHINES is a new dance in the series, with an extended cast of eight dancers and music by KABLAM. MAKE HAY WHILE THE SUN SHINES also exists in the format of a short film and a publication. More info and tickets
here
.
Co-production by Johnson & Bergsmark and Nordberg Movement, Dancenet Sweden, MDT, Norrlandsoperan. Made possible with support from The Swedish Arts Council, The Swedish Arts Grants Committee, Stockholm stad.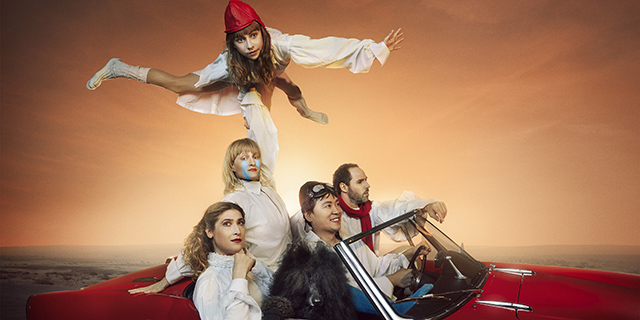 photo: The Royal Swedish Opera
Right now the rehearsals of the opera performance
FLYG VART DU VILL
(Fly Wherever You Want) are developing at Unga Operan at the Royal Swedish Opera in Stockholm SE. It's directed by Charlotte Engelkes with the premiere on
8 Oct 2022
. In this new production, the audience will hear Bizet, Offenbach, Mozart, Rossini, Wagner, Purcell, and Verdi in new, unexpected contexts. Read more
here
.
TRANSPLANTATION
with Charlotte Engelkes and Sofia Södergård will go on a long-awaited tour with with
Dancenet Sweden
on
12 nov-2 dec 2022,
to visit Falkenberg, Vara, Uddevalla, Växjö, Karlshamn, Linköping, Uppsala, Malmö and Skellefteå (SE). TRANSPLANTATION will be broadcasted on Swedish television SVT 2 on Saturday
24 Sep 2022,
at 8 pm, prime time!
The new solo project CONCERTO DI FIGURA will premier on
27 april 2023
. Open workshop research will take place at Dansens Hus in Stockholm (SE) on
29-30 Oct 2022.
More info coming soon!
The great family show
GULDET
(The Gold) continues to play on tour with
Regionteatern Blekinge Kronoberg
during the autumn.
Learn more about Charlotte Engelkes at
madeintheweb.com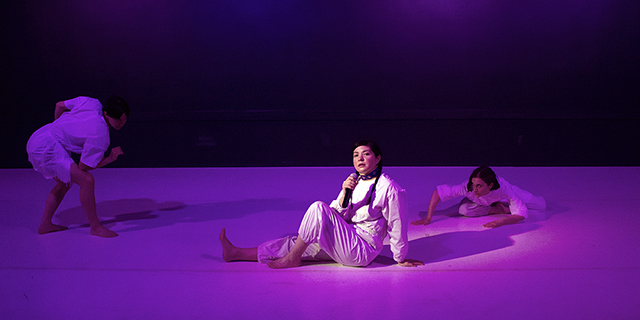 RADIO III / ᎦᏬᏂᏍᎩ ᏦᎢ is an indigenous futuristic concert, a beautiful and uncomfortable dance performance and a perverse triangle of shifting power that seeks to be unfaithful to both minimalism and postmodern dance's claims to so-called "neutrality". As we live, layer and situate form in our bodies we hurtle through past, present and possible futures. You are invited into a supportive co-existence, separate but aligned, an anthem for xenophilia, a complicit dream, a consensual prophecy.
Choreographed and performed by Hanako Hoshimi-Caines, Zoë Poluch, and Elisa Harkins with music composed by Elisa Harkins. Residencies, co-production: MAI, MDT, Dance Victoria. More info and full credits list
here
.
Tour dates:
12-14 Sep 2022,
MAI
(Montréal, arts interculturels), Montreal (CA),
17-18 Sep 2022
, Time-Based Art på BodyVox Dance Center, Portland (US),
22-25 Sep 2022,
On The Boards, Seattle
, USA,
5-6 Oct 2022
,
MDT
, Stockholm (SE),
15 Oct 2022
,
Fierce Festival, Birmingham
(UK).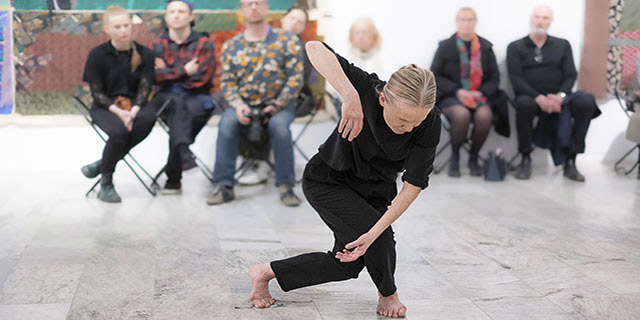 Helena Franzén has created a new solo, REVERBERATE, specially made for the exhibition by the artist and choreographer
Noa Eshkol
"Rules Theory and Passion" at Norrköping Art Museum (SE). The exhibition covers Noa Eshkol's entire life and collective production. Helena Franzén connects her own choreographic work with Noa Eshkol (1924-2007), who also dedicated herself to the body as the ultimate expression, as the messenger of the movement. In their dance, it is the stripped-down expression, the non-hierarchical, and the passion for movement as a language that connects them. REVERBERATE is shown in the exhibition on
24 Sep 2022
. Read more
here
.
Helena Franzén has a world premier of ONCE A WHISPER, for Skånes Dansteater on
27 Oct 2022
at Båghallarna in Malmö (SE). The piece will tour in Skåne in the fall of 2022. ONCE A WHISPER is a tribute to nature and its inner life. Helena's world of movement consists of and is built up of different physical landscapes. Through scenography, light, and sound, she creates experiences of the sensual, the tactile, what the body experiences. This time Helena collaborates with the musician and composer Joep Beving. Read more
here
.
Learn more about Helena Franzén at
madeintheweb.com

Gunilla Heilborn is starting the working process with her new piece MERKURIUS with a residency at Fabrik Potsdam together with her collaborators, dancer Kristiina Viiala, set/costume designer Katarina Wiklund, light designer Minna Tikkainen and composer Foad Arbabi. MERKURIUS is a solo with Kristiina Viiala about technology, entertainment, and communication, premiering at Norrlandsoperan in Umeå (SE) in November.

Learn more about Gunilla Heilborn at madeintheweb.com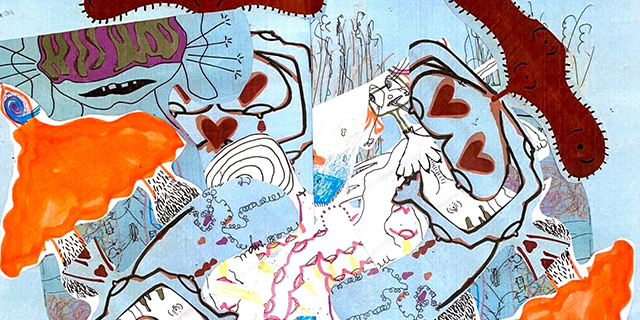 "We dream, but we have no clue about what this is yet. Practicing superpowers, real and fictional. They were dancing with crystal skin reflecting light all over the room. That was nice. Another day we practiced empathy. Thoughts of how certain powers, or perhaps enhanced skills, can create alternative structures and affect the way we function as a group are present. But everything we know now will change. So be patient, more will come. Think of us as we are trying to crack this code."
BamBam Frost is a dancer and choreographer based in Stockholm, Sweden. SORRY (2018), SO SORRY (2019), and YES (2020) all take off from her interest in social dances and pop culture phenomena in relation to the times and contexts they arose from. In her work she insists on pleasure and fiction as a compass to imagine and shape choreographic proposals. "immortal summit" and "choreographic conversation" were created together with Lydia Östberg Diakité and both premiered in 2021.
Dates:
10-13 Nov 2022,
MDT
, Stockholm (SE). More info and tickets
here
.
Production by (MDT) Sara Bergsmark, Terry Johnsson, Nordberg Movement. With support from Kulturrådet, Region Stockholm, Stockholm Stad, Norrlandsoperan, MDT.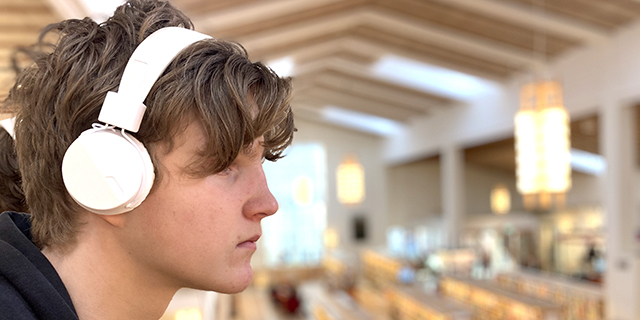 On
28 Oct 2022
Johanssons pelargoner och dans premieres their new site-specific and participatory performance at the City Library in Uppsala (SE). The audience – children and young people between the ages of 10-15 will participate in the performance by following instructions in headphones and moving around in the library environment. The performance invites the audience to a different and innovative way of visiting the library. Instead of going there as a regular visitor, the performance is an opportunity for an artistic exploration of the place.
The project is funded by The Postcode Foundation, The Swedish Arts Council and Stockholm Region. After the premiere at Uppsala public library, the performance will move to 10 different public libraries around Sweden. The project is part of a more extensive exploration of how performing arts can be used to make important public environments accessible to children and young people. Read more
here
.
Find out more about Johanssons pelargoner och dans at
madeintheweb.com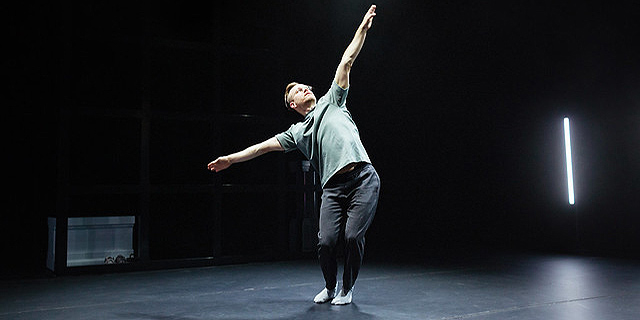 photo: Klara G
Björn Säfsten is going on a nationwide tour in Sweden with the Swedish national theatre Riksteatern from
5 Nov-11 dec 2022.
I SJÄLVA VERKET is the autobiographical and arbitrary all-knowing performance about something everybody does but no one knows what it is: dance!
The title I SJÄLVA VERKET could in Swedish be read in two ways within this context. As a saying it would translate to "In fact", but it can also be understood as "In the actual piece". Swedes also use it as an expression saying "I praktiken" meaning literally "In the practice" saying "in the real world" or "In the actual". The title contains and projects the ambition of this performance. It comes from a strive of wanting to answer and open up conversations that Säfsten has had over the last 8 years with audience members regarding contemporary dance, theories of dance practices, and why some work might look or be read in a certain way. In I SJÄLVA VERKET he attempts to talk and dance, sometimes simultaneously, to show, visualize, explain, question, and juggle the complicated issues at hand. Co-production between Säfsten Produktion and Riksteatern.
The tour starts on
5 Nov 2022
at Dansinitiativet in Luleå (SE) and continues to Medborgarhuset in Lycksele (SE) on
8 Nov 2022
and to Folkets hus in Vilhelmina (SE) on
9 Nov 2022
– for more tour dates go
here
.
Find out more about Björn Säfsten at
madeintheweb.com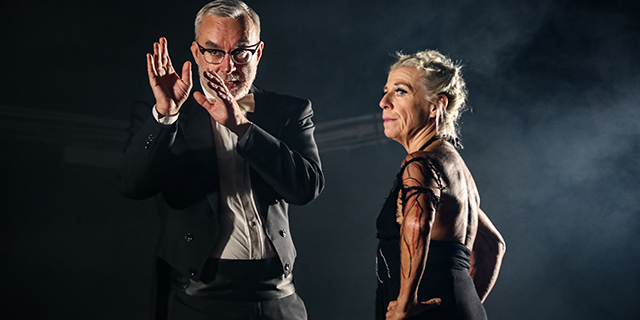 JUICE, a dance film by Charlotta Öfverholm and Anders Larsson, premieres at Sadler's Wells in London (UK) on
29 Sep 2022
. What triggers the sparkle and juice of each person's life? And where is your secret place where you recharge your batteries? Don´t wait! It might be too late! Composer and musician is Massimo Broggio. A commission by
Sadler´s Wells Digital Stage
.
Charlotta Öfverholm is performing in TITANAS at the
Festival Temporada Alta
in Girona (ES) on
14 Oct 2022
. TITANAS is a meeting between Sol Picó, Anna Ventura Natsuki and Charlotta Öfverholm. Wrapped in the music of Judith Farrés and the voices of a choir of twelve women, this triad of warrior goddesses, decidedly powerful, euphoric, and optimistic, is reborn creating a new ideal, utopian and fantastic universe, with no rules to fulfill or archetypes in which to fit in. Watch a trailer
here
.
IN A CAGE OF LIGHT is shown at the
Länsteatern Gotland
, Visby (SE) on
5 Nov 2022
and
Kulturhuset Spira
in Jönköping (SE) on
11 Nov 2022
. A stage performer who has been in the spotlight her whole life is forced to reevaluate her trust to the body's own ability and to reappraise the relationship with herself. Watch a trailer
here
.
Find out more about Charlotta Öfverholm at
madeintheweb.com
In celebration of 10 years of activity, ilDance will tour an evening of two new works BACK2BACK by directors and choreographers Israel Aloni & Lee Brummer. SCHISM and SOMETHING TO DO, SOMEONE TO LOVE, SOMETHING TO LOOK FORWARD TO are the upcoming productions featured on a six-show tour between
28 Sep-6 Oct 2022
. Tickets and more info
here
.
Tour dates:
28-29 Sep 2022
, Telefonfabriken, Stockholm (SE) / presented by Arena STOFF,
1 Oct 2022
, Folkets Hus, Säter (SE),
4 Oct 2022
, Regionteater Väst, Uddevalla (SE),
5-6 Oct 2022
Museum of World Culture, Gothenburg (SE).
OPEN CALL for ilYoung 2023:
ilDance is auditioning for the junior company, ilYoung, for the 2023 season. Emerging contemporary dance artists between the ages of 18-27, who are eligible and permitted to both work and reside in the EU, are encouraged to apply. ilYoung is a professional, project-based, junior contemporary dance company. Every year, ilDance engages a group of emerging contemporary dance artists to join a full-time creation process of six weeks in a professional environment. The project dates are Jul-Sep 2023 and auditions will be held in Malmö on
8 Oct 2022
, Gothenburg on
9 Oct 2022
and Stockholm on
15 Oct 2022
. Full details on how to apply
here
.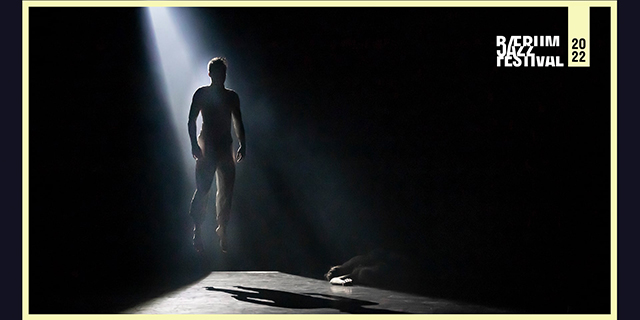 Get ready for a spontaneous encounter between five experienced dancers from Nagelhus Schia Productions and four of Europe's leading jazz improvisers! Nothing has been rehearsed and nothing has been tested in this impromptu meeting where the performers let their intuition takes the lead. The session is taking place in Studio NSP on Saturday
17 Sep 2022
as part of the newly founded
Bærum Jazz Festival
. Read more and get your tickets
here
.
Dancers: Shintaro Oue, Matias Rønningen, Guro Nagelhus Schia, Vebjørn Sundby, Catharina Vehre Gresslien. Musicians: Vilde Sandve Alnæs – violin, Isabelle Duthois – voice and clarinet, John Butcher – saxophone, Ståle Liavik Solberg – percussion.
Find out more about Nagelhus Schia Productions at
madeintheweb.com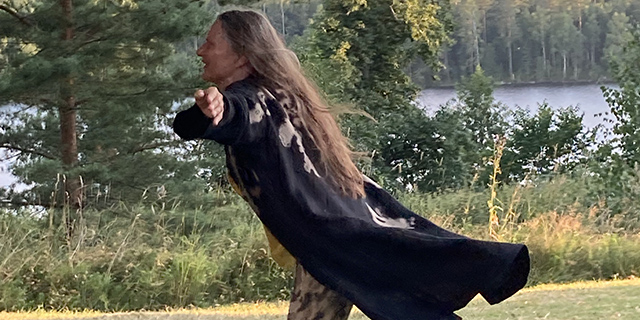 Korda Art in Motion Dance Company starts a new collaboration together with Elise Einarsdotter pianist, composer, bandleader, educator, and tv program host. The company calls the new piece SOLO GRANDE PIANO. The opening night will be at Folkets Hus Hofors (SE) on
27 Oct 2022.
Choreography and dance by Linda Forsman. Composition and music by Elise Einarsdotter. Set and lightdesign by Lou T Lundqvist.
Find out more about Korda Art in Motion Dance Company at
madeintheweb.com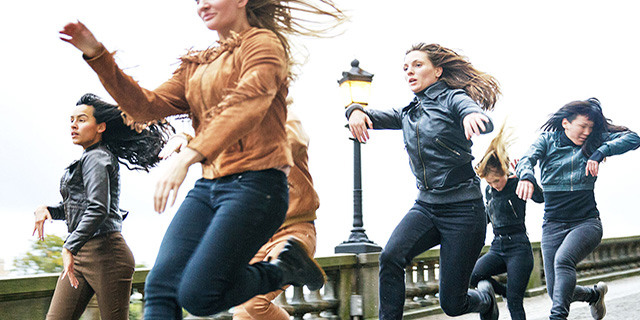 In the city choreography CITY HORSES by the artist duo Byström Källblad, a whole bunch of female dancers suddenly appear on the streets and squares, stomping and galloping through the city, a living monument in constant motion, celebrating female courage and power of all ages. In the summer of 2022 CITY HORSES toured Prague, Roskilde, Figueres, Berlin, and Stockholm. In September CITY HORSES will be shown in Barcelona, and in October in Oslo. In 2023, CITY HORSES will go to Amsterdam and Vilnius.
CITY HORSES is selected for the tour program
Big Pulse Dance Alliance
, a major dance festival project, where 12 European dance festivals and institutions work together to promote, strengthen and broaden the reach of contemporary dance. Watch a presentation of CITY HORSES
here
.
The European culture TV channel Arte made a feature - watch it
here
.
Tour dates:
17 Sep 2022
,
Festival Moujuïc
, Barcelona (ES),
15-16 Oct 2022
,
CODA
Oslo International Dance Festival/Big Pulse (NO).
Find out more about Byström Källblad at
madeintheweb.com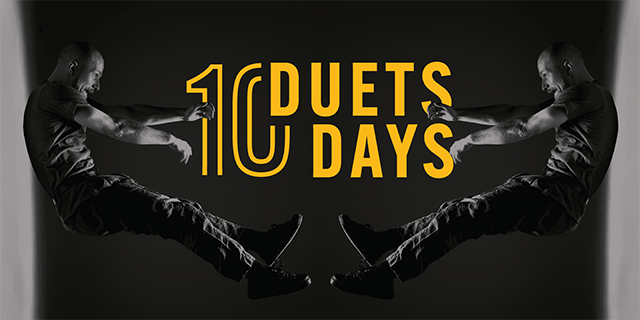 Layout Web design: Thelusa Studio
In 2021 Bobbi Lo Produktion presented the online dance festival
#28solos28days
, live on Instagram. Dancers from all over the world performed an improvised solo in this innovative project, connecting performers and audiences through social media.
Now presenting:
#10duets10days
, premiering
17 March 2023
on Instagram.
In
#10duets10days
Bobbi Lo Produktion will present one duet every day over the course of 10 days, live on Instagram. Each duet is a combination of physical improvisation and verbal instructions, given by the choreographers Lava Markusson and Michael Tang.
To read more about the project and apply
here
.
Collaborating Companies; Skånes Dansteater, Dansk Danseteater, Regionteater Väst, Holstebro Dansekompagni and Gunilla Lind Danseteater. The project is supported by the
Swedish Arts Council
and Fondet for Dansk-Svensk Samarbejd.
Learn more about Bobbi Lo Produktion at
madeintheweb.com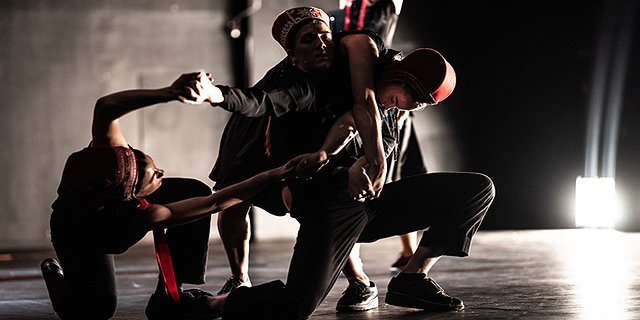 Elle Sofe Sara's piece VÁSTÁDUS EANA - THE ANSWER IS LAND is presented
17-18 Sep 2022
at
tanzhaus nrw Dűsseldorf
(DE) , Dáiddadállu,
9 Oct 2022

at
Guovdafeaidnu (NO),
6 Oct 2022
at In2it, Kristiansund (NO),
8 Oct 2022
at Inderøy (NO)
25 Oct 2022 at
Drammen Teater, Drammen (No),
30 Oct 2022
at Osafestivalen, Voss (MO),
1 Nov 2022
at RAS, Sandness (N),
24-25 Nov 2022
at DansIT, Rosendal teater, Trondheim, (N),
27 Nov 2022
at Storskuggu, Røros (NO). Read more
here
.
VÁSTÁDUS EANA- THE ANSWER IS LAND is a performance that thought dance and yoik reflects on the power of standing together and the awareness of the common ground and nature we stand on. Fellowship and kinship with the nature around us and the earth we live on are the main themes in VÁSTÁDUS EANA · THE ANSWER IS LAND by the Sami choreographer and artist Elle Sofe Sara. The Sami folk music yoik frames this work, and the seven female performers who participate in the performance are all renowned yoikers, dancers and singers. Here, the various art expressions are intertwined into a rarely powerful and beautiful experience.
In collaboration with Davvi - Centre for performing arts, Sámi national theatre beaivváš. Co-producers Arctic arts festival, Norrlandsopraen. Production support from Arts Council Norway, The Sámi Parliament Norway, Nordic council of ministers, The audio and visual fund, Saami council, Dáiddafoanda, Spenn. For more info go
here
.
All the best from the team at MADEIN-THEWEB.COM and all our joint members.
FOLLOW US


on
Facebook
&
Twitter
MADE IN the web
www.madein-theweb.com is a website displaying Nordic performing arts intended for an international audience.
MADE IN the web is an initiative created by Loco World with the intention to increase the visibility of Nordic performing arts.
Loco World/MADEIN is an organization supported by the Swedish Arts Council for its international activities.

MADE IN the web
Email:info@madein-theweb.com.
Internet: www.madein-theweb.com.