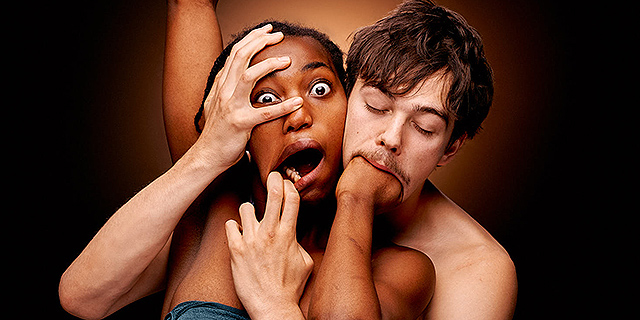 In MELLOMLAND, artistic director Annabelle Bonnéry has engaged two up and coming choreographers from the same generation to create a two-part full evening for Carte Blanche, co-produced by Bergen International Festival. Five and nine dancers meet choreographers Roza Moshtaghi and Lander Patrick in a double bill that presents Norwegian and international contemporary dance on the same stage:

The starting point for BUD is "waiting", and in the performance choreographer, Roza Moshtaghi explores how we can experience a story about "waiting" and expectations associated with being in this mysterious state.

IN SOVACO DE COBRA (The snake's armpit) by Lander Patrick, we are invited into a world where social rules must give way to the rules of a game. Using the angle of chess – informed by his fascination with the duality of this strategic and warlike game – Patrick creates an energetic performance where new rules emerge, and the pieces of the game are challenged.

Performance dates:
26 – 28 May & 30 May – 3 Jun 2022
in Studio Bergen during Bergen International Festival. More info and tickets
here
.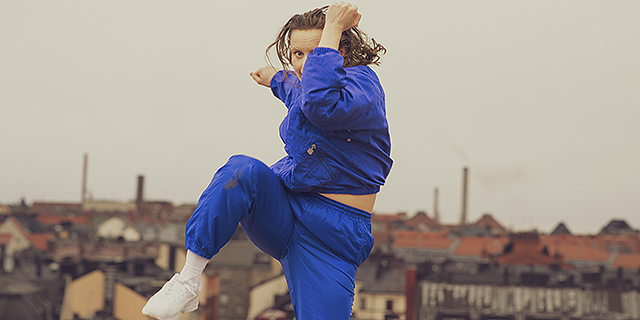 "Gympa" [jym`pa] is a Swedish form of group aerobic training. MEDELGYMPA is your all-around workout and art experience. We exercise to very traditional gympa music, and it can get sweaty if you want it to. Bring your metaphorical machete out. Touch down to the sound of creaking wood. Allow your body to turn into a marshmallow in a cup of hot cocoa. MEDELGYMPA is the kind of gympa that encourages laziness. It's gympa deluxe.
MEDELGYMPA is both a performing arts event and a session of gympa. The audience is guided by a performer and through instructions in headphones. Concept, script and choreography by Anna Haglund, Annica Styrke, Ellen Söderhult and Karin Wiklund. With support from Kulturrådet and Region Stockholm. For full credits and more information - please go
here
.
Performances:
2-3 Jun 2022
, Weld, Stockholm (SE),
5 Jun 2022
, Gula Villan, Järna (SE),
11 June 2022
, Rådsparken, Huddinge (SE),
12 June 2022
, Hågelbyparken, Botkyrka (SE).
Find out more about Johanssons pelargoner och dans at
madeintheweb.com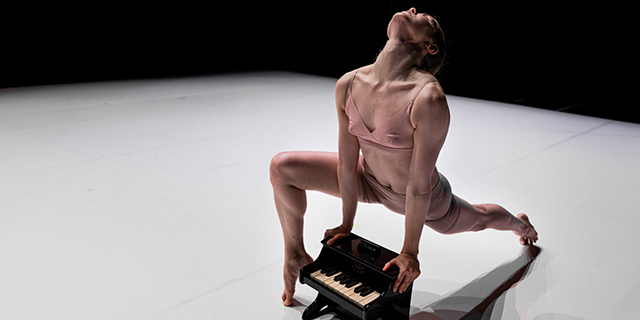 Susanna Leinonen Company is back in Finland after successfully performing BODY at the international Nemzetközi Kortárstánc Fesztivál in Hungary.
What's next? Summer begins with 2 performances at Tampere's Tanssiteatteri MD. SLC will stage the long-awaited NASTY show on
8 Jun 2022.
The work brings to the viewer an unadorned interpretation of reality in which evil nests both in the structures of society and within ourselves. On
9 Jun 2022
, Tampere will get a chance to experience the debut of the brand new show ROOTS ( fin JUURET) bringing the potential and deep life experience of elderly people to the stage. Don't miss it!
Upcoming shows:
8-9 Jun 2022
, NASTY,
T
anssiteatteri MD
, Tampere (FI),
9 Jun 2022
, ROOTS, Tanssiteatteri MD, Tampere (FI),
16-17 Sep 2022
ROOTS,
Aleksanterin teatteri
, Helsinki (FI)
Read more about Susanna Leinonen Company at
madeintheweb.com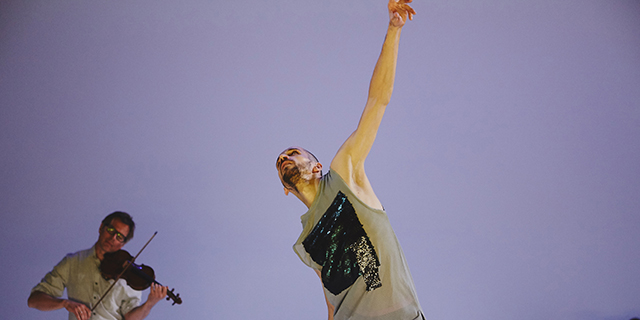 GOLDBERG VARIATIONS - TERNARY PATTERNS FOR INSOMNIA returns to Stockholm (SE) with performances at Folkoperan 2-3 Jun 2022!

Play the opening of the Goldberg Variations to someone today, and usually, they all have heard it – whether in its original form, one of the many transcribed and transposed versions, or in a completely different setting in a totally different genre. In 2015, Örjan Andersson (Andersson Dance) and Jonathan Morton (Scottish Ensemble) added their own. 11 musicians and 5 dancers perform Goldberg Variations as equal partners – both choreographed, the result is a singular experience of musician and dancer performing as one. Read more here.

Production: Andersson Dance, Scottish Ensemble & Nordberg Movement. Co-production: Andersson Dance, Scottish Ensemble, Regionteatern Blekinge Kronoberg & Riksteatern 2015. Made possible with support by The Swedish Arts Council, Stockholm Stad, Region Stockholm, Musikverket, and Creative Scotland. Additional school performance presented in collaboration with DANSISTAN.

Read more about Andersson Dance at madeintheweb.com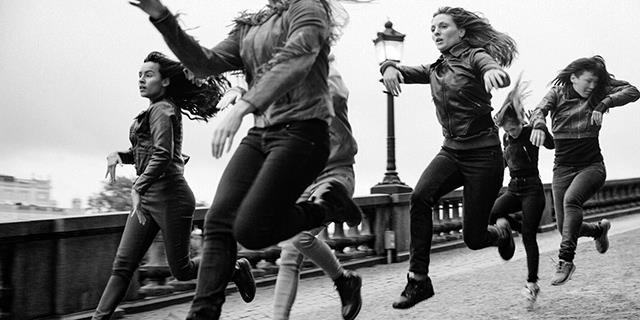 In the city choreography CITY HORSES by the artist duo Byström Källblad, a whole bunch of female dancers suddenly appear on the streets and squares, stomping and galloping through the city, a living monument in constant motion, celebrating female courage and power of all ages. CITY HORSES will tour to Prague, Roskilde, Figueres, Berlin, Stockholm, Barcelona, and Oslo this summer and autumn. In 2023, CITY HORSES will go to Amsterdam and Vilnius.
CITY HORSES is selected for the tour program
Big Pulse Dance Alliance
, a major dance festival project, where 12 European dance festivals and institutions work together to promote, strengthen and broaden the reach of contemporary dance. Watch a presentation of CITY HORSES
here
.
Tour dates:
9-10 Apr 2022
, Sismògraf Festival/Big Pulse, Olot (ES),
4 Jun 2022
, Havremagasinet, Boden (SE),
18-19 jun 2022
, International Dance Festival
TANEC PRAHA
/Big Pulse, Prague (CH),
28 Jun 2022
,
Roskilde Festiva
l
, Roskilde (DK),
2-3 Jul 2022
, MOU Festival de dansa i moviment Figueres (ES),
6-7 Aug 2022
, Tanz im August Berlin/Big Pulse (DE),
20-21 Aug 2022,
Stockholm Kulturfestival/Big Pulse (SE),
15-16 Oct 2022
, CODA Oslo International Dance Festival/Big Pulse (NO).
Find out more about Byström Källblad at
madeintheweb.com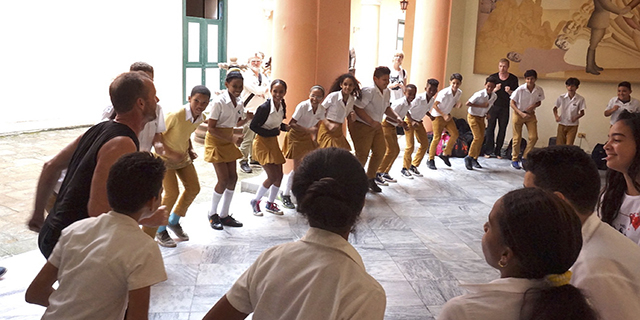 On
18 May 2022
Memory Wax will present the children's performance MY LITTLE BIG ROOM
-
a collaboration with the libraries in Svedala and Ystad (SE), introducing dance to a young audience in the libraries - during an inspirational day filled with workshops, dance and exchange of experiences focusing on young children's language development, arranged by Region Skåne (SE).
The 8th edition of TRÁNSITOS HABANA - SCANDINAVIAN DAYS IN HAVANA, CUBA, a collaboration between Memory Wax and the Cuban dance company Danza Teatro Retazos, will be held on
23-29 May 2022
. The program includes collaborations and workshops in schools in old Havana with artists from Scandinavia and Cuba, and performances and activities for the whole family. On
27 May 2022
there will be an opening ceremony with the inauguration of two exhibits provided by the Swedish embassy, which also supports the festival with funds. Read more
here
.
Learn more about Memory Wax at
madeintheweb.com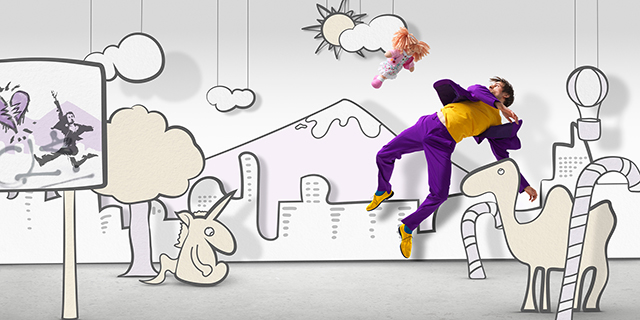 photo: Christoffer Lomfors

In 2021 the Italian choreographer Erika Silgoner won the XL prize and Skånes Dansteater's production prize at the Rotterdam International Duet Choreographic Competition. Erika now creates a new outdoor work WILD FELLAS for the company. WILD FELLAS awakens our inner beast. Six individuals throw themselves into dynamic collisions, confronting the body's physical urges with the eye's ironic observations. Set to classic tunes by George Gershwin among others, WILD FELLAS unveils the truly wilder side of the urban human of today. An outdoor performance full of defiance, wit, and frenzy!

WILD FELLAS premieres in Malmö
10 Jun 2022
. The performance tours in the south of Sweden and Stockholm
13 Jun-17 Jul 2022
. In addition to public performances, WILD FELLAS will be performed for nursing homes. For more info go
here
.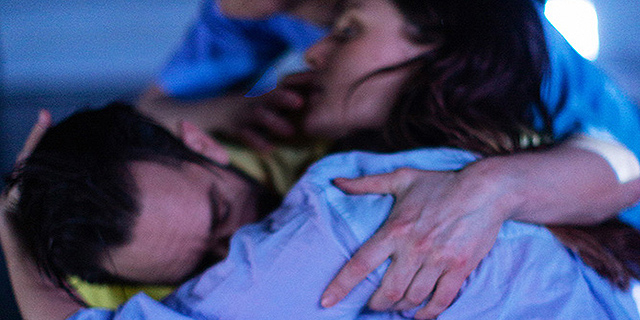 LOST NIGHT is the title of a dance performance that premiered at Atalante in Gothenburg (SE) in February 2020. In this short audio series, the artists behind the piece talk about their artistic process as well as interviewing three experts on topics related to the main theme of the piece - sorrow. Made with support from Kulturrådet. With: Björn Säfsten, choreographer, Sophie Augot, Alexander Gottfarb and Marianne Kjearsund, dancers, Reyhaneh Ahangaran, psychologist, Guy Cools, dance dramaturg, curator, Sandra Signarsdotter, priest.
Listen to the podcast
here
.
Find out more about Björn Säfsten at
madeintheweb.com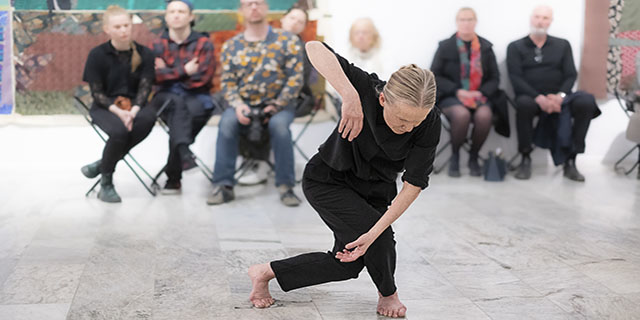 Helena Franzén has created a new solo, REVERBERATE, specially made for the exhibition by choreographer Noa Eshkol "Rules Theory and Passion" at Norrköping Art Museum (SE). It is the first major retrospective exhibition in the Nordic countries with works by Noa Eshkol (1924-2007). The exhibition covers Noa Eshkol's entire life and collective production; her research, theory development, studies of language comprehension, textile art, and movement notation. REVERBERATE is shown
14 May, 20 Aug, 27 Aug, and 24 Sep 2022
.
Helena Franzén connects her own choreographic work with Noa Eshkol, who also dedicated herself to the body as the ultimate expression, as the messenger of the movement. In their dance, it is the stripped-down expression, the non-hierarchical, and the passion for movement as a language that connects them. Helena appears in the exhibition on 13 occasions and in connection with the performances she also gives movement workshops on a number of occasions for visitors to the museum. Read more
here
.
For the solo, a film is also created in collaboration with the filmmaker Håkan Jelk, which will be shown in one of the exhibitions. The project "Dance with Noa" is carried out in collaboration with Dance in the East / Region Östergötland, Oslo Art Association, and Jewish Culture in Sweden. With the support of the Swedish Council for Culture.
Learn more about Helena Franzén at
madeintheweb.com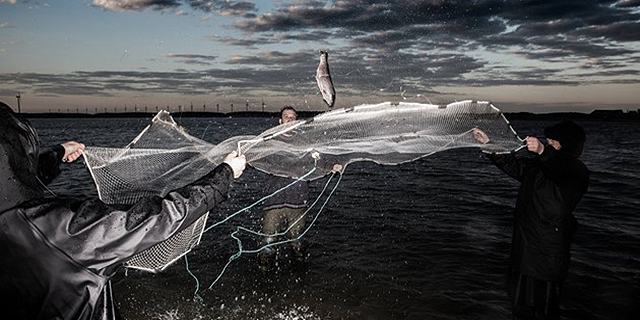 Taneli Törmä - LOCATION X is working in the
Fish Factory Creative Centre Iceland
and at
Tyrone Guthrie Centre Ireland
to create a new site-specific performance in collaboration with theater director Caroline McSweeney and sound designer Esa Mattila.
DANCE OF THE FISHERMAN
is a site-specific performance created for harbours across Europe. The artists hunt unheard stories and local traditions from the leisure to the working fisherman/woman and their families. This touring performance is created in collaboration with the local communities. The communities' history, culture, and local fishing habits will therefore affect the outcome of the performance.
In an imagistic walking tour, the audience is physically drawn into the world of the fisherman. With toes in the water and fingers busy untangling the net, the audience will listen to local stories, surrounded by an evocative soundtrack and all together under the sunset sky.
Premiere:
26-30 Jul 2022,
Passage Festiva
l
Espergaerde Harbour (DK).
Find out more about Taneli Törmä / LOCATION X at
madeintheweb.com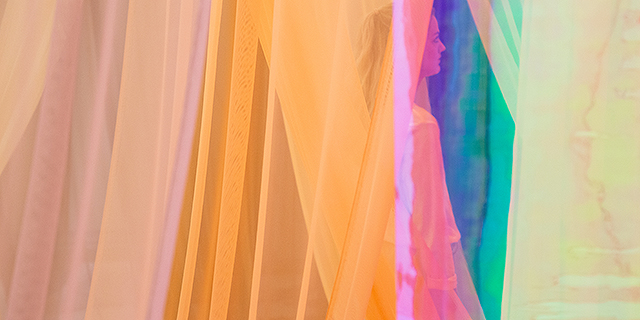 Katrín Gunnarsdóttir with her collective Marble Crowd will be performing ØLAND at ICE HOT Nordic Dance Helsinki on
30 Jun 2022
. More info
here
. Katrín with her producer Heba Eir Kjeld will also be participating in MORE MORE MORE pitch session presenting
THEL and ALDA
. Read more
here
.
Katrín Gunnarsdóttir in collaboration with Eva Berger is premiering ALDA at Reykjavík Arts Festival in Gerðarsafn
11 Jun 2022
. The live installation/exhibition will be open through the summer, until
4 Sep 2022
. Read more
here
.
Find out more about Katrín Gunnarsdóttir at
madeintheweb.com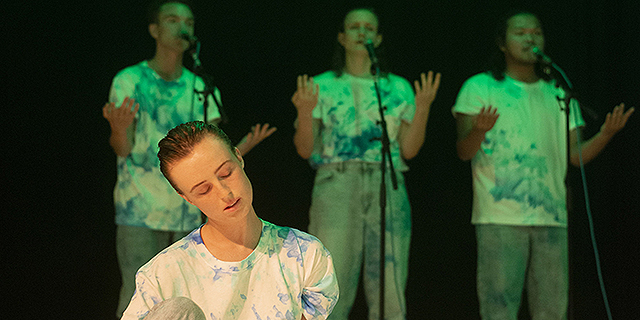 DELIGHTHOUSE AND THE DARK ROOM is created from different listening scores and somatic practises, unfolding a sonosphere that guides and holds the moving body. As a continuation of the "queer healing aerobics programme" / dance piece THE FISHINGDANCE & OTHER COSMIC CONFESSIONS, Sindri collaborates with composer Markus B. Almqvist and experiments further with audible dances, and how music and sound can be a primary source for choreography and the perception of dance. In "Delighthouse...", their collaboration extends into a broader process and a dialog with Sindri's text and songwriting blended with Markus's compositions and music production. The sonic methods and songs express both a performance narrative, as well as somatic dance practices
Performances:
18-19 Jun 2022
, Dansstationen, Malmö (SE). More info coming soon on Dansstationen's website
here
.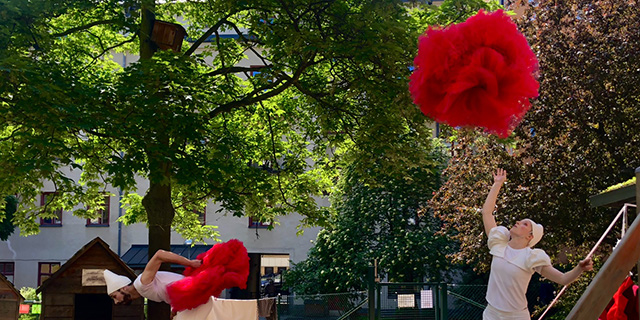 Claire Parsons Co. is happy to announce that the company will be performing for the first time in the U.K! The company's signature piece
MARMALADE
will be at two festivals in the UK in May: at the
Norfolk & Norwich Festival
on
25-26 May 2022
and at the
Salisbury International Arts Festival
on
28 May 2022
. Since its premiere in 2013, MARMALADE, aimed at everyone from the age of 2, has played over 700 shows and has visited about fifteen countries, including the USA, Cuba, and South Korea, receiving awards for innovations in performing arts for young audiences.
LITTLE SWAN LAKE
is selected to perform at Young Swedstage at the Swedish
Bibu
(Biennial performing arts for children and youth) on
21 May 2022
.
Learn more about Claire Parsons Co. at
madeintheweb.com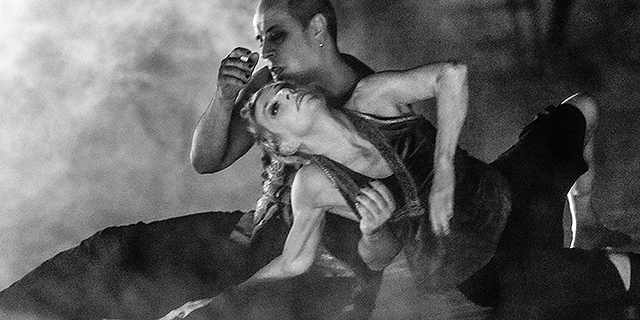 Charlotta Öfverholm is performing in TITANAS in May. TITANAS is a meeting between Sol Picó, Anna Ventura Natsuki and Charlotta Öfverholm. The purest, wildest, and most genuine energies and forces emerge identities fade, skins are exchanged and a dialogue begins between that multiplicity of entities that struggle within us to excel. Wrapped in the music of Judith Farrés and the voices of a choir of twelve women, this triad of warrior goddesses, decidedly powerful, euphoric, and optimistic, is reborn creating a new ideal, utopian and fantastic universe, with no rules to fulfill or archetypes in which to fit in. Watch a trailer
here
.
Performances TITANAS:
18-22 May 2022
,
Palau de les Arts
, Valencia,
29 May 2022
,
Teatre Principal de Castelló
, Castelló de la Plana (ES).
Charlotta Öfverholm presents two perfomances at
ULM MOVES! Das Ulmer Tanz-Festival
, in Ulm (DE):
IN A CAGE OF LIGHT
(watch a trailer
here
) on
11 Jun 2022
and
LUCKY
(watch a trailer
here
) on
12 Jun 2022.
After the festival in Ulm Charlotta travels to
Elixir Festival at Sadlers Wells
in London (UK) to run her WORKSHOP FOR 65+ on
15 Jun 2022
and to perform LUCKY on
16 Jun 2022.
Read more about Charlotta Öfverholm at
madeintheweb.com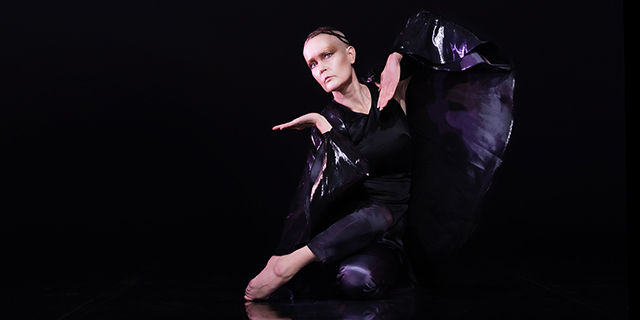 On
15-16 May 2022
BLACK RAINBOW
by Virpi Pahkinen was performed in
Savoy Theatre
, Helsinki (FI). BLACK RAINBOW is a night dive into the choreographer Virpi Pahkinen´s poetic dance world. Six dancers, including Virpi herself, travel into the glittering luminescence of the black rainbow. BLACK RAINBOW premiered in the midst of the pandemic in front of only 8 spectators in November 2020 at Dansens Hus in Stockholm (SE) and is finally ready to tour internationally.
"Yes we are in Virpi land: musical, mystical, and saturated with a beauty that tends to the sacral. Few dance artists have such a finely chiseled signature and stage persona, nor such integrity.
" Svenska Dagbladet (SE)
Japanese-Swedish virtuoso percussionist Mika Takehara and Virpi Pahkinen collaborate for a sparkling PERCUSSION AND DANCE at Artipelag on
9 Jun 2022
. Solos and duets by Virpi with long-time dance partner Pontus Sundset Granat meet the rhythmic timbre of marimba and kettledrum. Mika Takehara has previously performed as a soloist with orchestras such as the Berlin Philharmonic Orchestra, the Los Angeles Philharmonic Orchestra, the Gothenburg Symphony Orchestra, and the Royal Philharmonic Orchestra.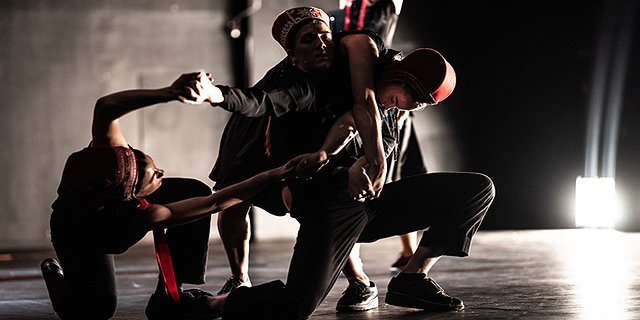 Elle Sofe Saras piece VÁSTÁDUS EANA - THE ANSWER IS LAND will be presented at Julidans in Amsterdam (NL)
15-16 Jul 2022
.
VÁSTÁDUS EANA - THE ANSWER IS LAND is a performance that through dance and yoik reflects on the power of standing together and the awareness for the common ground and nature we stand on. Fellowship and kinship with the nature around us and the earth we live on are the main themes in VÁSTÁDUS EANA - THE ANSWER IS LAND by the Sami choreographer and artist Elle Sofe Sara. The Sami folk music yoik frames this work, and the seven female performers who participate in the performance are all renowned yoikers, dancers, and singers. Here, the various art expressions are intertwined into a rarely powerful and beautiful experience. For more info go
here
.
In collaboration with Davvi - Centre for performing arts, Sámi national theatre beaivváš. Co-producers Arctic arts festival, Norrlandsopraen. Production support from Arts Council Norway, The Sámi Parliament Norway, Nordic council of ministers, The audio and visual fund, Saami council, Dáiddafoanda, Spenn.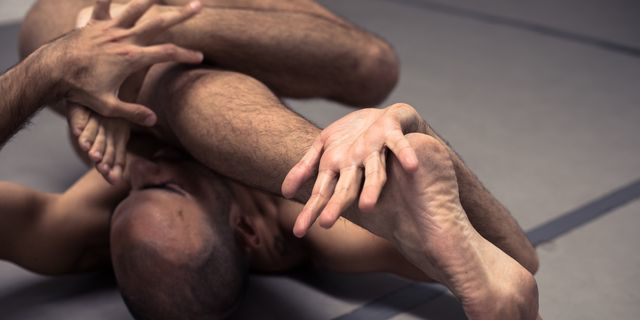 Israel Aloni, artistic director and co-founder of ilDance, takes the solo work
MY BODY
M
Y NATION
to Portugal, Bulgaria, and Croatia this month. Aloni is currently in an artistic residency at CRL - Central Elétrica in Porto (PL) and will have a studio presentation there on
18 May 2022
. Sofia's
Topocentrala
(BG) is next on the tour, for a performance on
21 May 2022
and a
workshop
the following day. Followed by a visit to the 20th edition of the
Queer Zagreb festival
(HR), leading a workshop on
26 May 2022
and performing on
27 May 2022
.
COMPASS launches two open calls!
COMPASS is offering a two-week residency for young and emerging dance artists aged between 18 and 25, taking place in Härnösand on
18-30 July 2022
. Full details of the application
here
. Deadline is
31 May 2022
.
COMPASS will be present during this year's Tranås at the Fringe (SE) with an event on
7 July 2022
, showcasing works from young and emerging dance artists. COMPASS has launched an open call for the COMPASS Stage, which will feature a selection of performances and an artist talk. Full details of the application
here
. The application deadline is
27 May 2022
.
Find out more about ilDance at
madeintheweb.com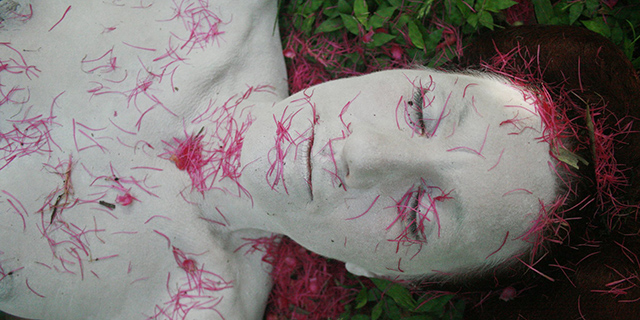 In May SU-EN Butoh Company and guests will present OPEN ART EVENT in the Mikaelsparken and Mikaelsgården in Uppsala (SE) with photoshoots, art projects, crash performances, planting, and caring for the garden. Here, Uppsala Stadsmission (a charity organization) conducts its daily activities for homeless and socially vulnerable people. Within the broad project A HOMELESS BODY, SU-EN Butoh Company continues the choreographic, visual, and co-human investigation. Info is published on Facebook the day before something is to happen. Go
here
for more information.
On
4 jun 2022
SU-EN Butoh Company will take part in the festival
Tobo KulturFest 2022
, an art festival with an international starting field of about 20 artists, musicians, and performance artists in Tobo Folkets hus (SE). For more info go here.
Find out more about SU-EN Butoh Company at
madeintheweb.com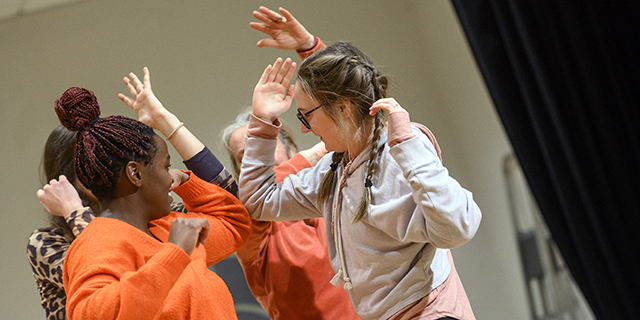 How do we move? Where? Why? When? Since January, a group of eight women in Sundsvall (SE) has been meeting to explore space through contemporary dance. Spearheaded by choreographer and researcher Polena Kolia Petersen, this cross-generational community project from Norrdans has brought women together to imagine a better future through collaborative movement, conversation, and improvisation.

- It has left me with a feeling of freedom. I have conquered the space and the right to move in it. Or at least started to conquer,

says Karin, one of the participants, about being a part of the project.

Moving with thoughtfulness and intention through the public SPACE FEMALE (WITH) SPACE will present several performances in Sundsvall on

6, 9 and 11 Jun 2022

, marking the end of the project, but the beginning of a new, imagined future. Learn more

here

.

Read more about Norrdans at madeintheweb.com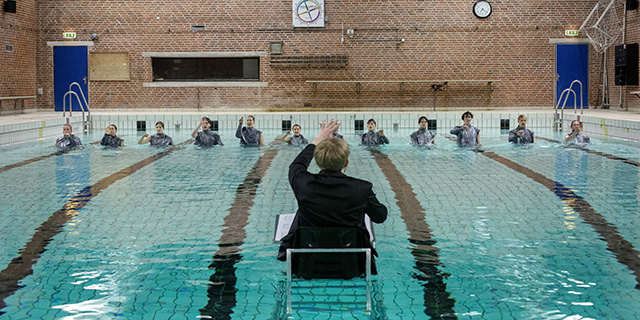 photo: Louise Herrche Serup

CRAWL CRAWL CRAWL is a staged choir piece with 12 singers, experienced from the edge of a swimming pool. In a physical study of water resonance, the singers float in weightless sequences while pondering on the paradoxes of a welfare state. CRAWL CRAWL CRAWL is a sensitivity analysis in the nature of inequality. A choreographic portrayal of the welfare state and its many flaws. The singers become a group searching for a common voice, insurgently longing for meaning. In their polyphonic strive, they uncover the imbalance that a class-based society creates.

The work is created by Convoi Exceptionnel and Jon R. Skulberg in close collaboration with composer Lil Lacy, dramaturge Astrid Hansen Holm, conductor Mathias Skaarup Sørensen, designer Kit Wan, and the vocal ensemble ENSEMBLE EDGE. For more info, credits and tickets go here.

Performances dates:

4-6 Jun 2022

, Aarhus (DK),

28-29 Jul 2022

, PASSAGE festival, Helsingør (DK).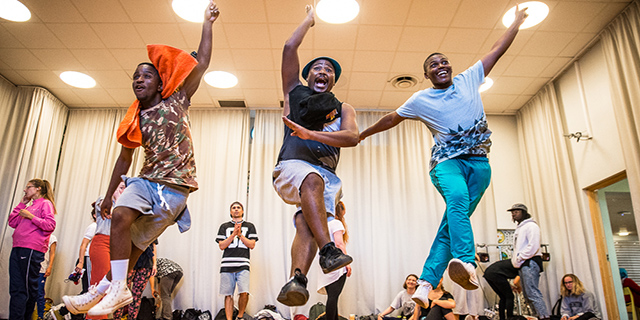 The annual festival AFIA FESTIVAL is back in Stockholm (SE)
7-12 Jun 2022,
after 2 long years of waiting, this year no less than a 5 years anniversary. We are through dance and music celebrating South African culture! Come and join the festival for a week full of isiPanstula and Amapiano dance workshops, lectures, dance battle, concert and rooftop vibes! The festival is hosting South African artists straight from the motherland as well as local Nordic artists.
Artist lineup and full festival schedule will be announced shortly on the website
www.afia.se
. For registrations, info, and contact go
here
.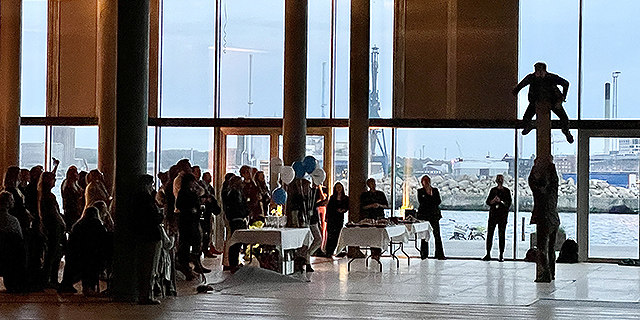 9-11 May 2022,
theatre delegates and representatives from more than 10 different countries around the world are gathering in Aarhus, Denmark, to network and to experience high-quality performing arts for children and youth at DANISH+ 2022.
Among many other performances, DANISH+ 2022 presents the playful SPLOTCH that is created for the very young and includes clay, water, hands, and skin, the humorous TANGO by TeaterRUM about a great-grandfather who disappeared to Argentina and the beautiful SUPPOSE YOU HAD A PORTABLE GRAMOPHONE which is an awarded, loving salute to the world-famous Danish writer Karen Blixen.
The showcase takes place every second year in the city of Aarhus (DK) and is organized by the award-winning and internationally acknowledged Danish theatre,
T
eatret Gruppe 38
.
"Cultural exchange makes learning and inspiration across borders possible and we are very happy to once again welcome people from all over the world,"
says Bodil Alling, Artistic Director at Teatret Gruppe 38 and initiator of DANISH+. For more information and to see the selected work, visit
www.danishplus.dk
.
Find out more about Danish+ at
madeintheweb.com
The contemporary dance practice festival Within Practice full program has been released - and is available
here
.
The festival kicks off on
13 Jun 2022
with workshops that continue throughout the week. Evening events include: Practice presentations by BamBam Frost, Liz Kinoshita, Alma Söderberg and Andros Zins-Browne, ending in contemplative concerts by Eli Keszler (US) and Canilla (NO/DE). Sharing session and panel discussions with the topic "The Water", "The Singing" and "The Fiction", each with specifically chosen artists to discuss the topic and the full events hosted by the fabulous Samlingen. The festival ends with a bang on Saturday
18 Jun 2022
as tiran willemse performs trompoppies:blackmilk after which guests are invited to the nearby M/S Segelkronan to listen to performances by bas bleau (DJ), Golin (live) and Oli XL (DJ).
So, come, take part, share, listen, watch and indulge yourself in the core of dance-making, and experience the practices themselves. In 2022 Within Practice will be in conjunction with the final week of MDTs summer festival Lustholmen. Teaming up with Anrikningsverket to, for the first time ever, present a number of concerts as additional festival program. Welcome to Skeppsholmen
13-18 Jun 2022
!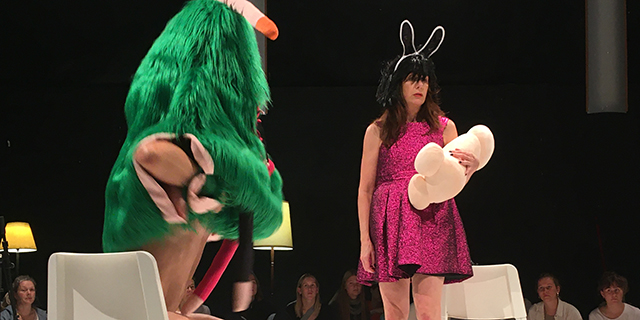 The performance HISTORY OF SEXUALITY tours to theatre
FÅR302
in Copenhagen (DK),
22-29 Jun 2022
.
HISTORY OF SEXUALITY is an interactive DIY performance about sex. In this queer and quirky performance, troublemakers and performance artists Andreas Constantinou and Annika B. Lewis shamelessly address the taboos and desires, the power and social grip that sex has over us all. Wearing anything from, well… nothing to rabbit-, bear- and cuddly sex monster costumes, they take you on a wild ride through their own histories of sexuality; a living archive in a simple do-it-yourself style, that encourages you to take back the power over your body and sexuality. Because sex sells. Sex rules.
"
The performance opens up some good talks and reflections on the topic of sexuality, which for many may be associated with shame. 'History of sexuality' is a fresh, playful and liberating breath that encourages the audience to take ownership of their own narrative and their own sexuality.
" - Scenekanten
THE HISTORY OF SEXUALITY is produced by Kassandra Production in collaboration with Bora Bora – dance and visual theatre, The Genderhouse Queer Arts Festival, Theatre FÅR302.Supported by the Danish Arts Foundation, Aarhus Kommunes Kulturudviklingspulje, Københavns Scenekunsudvalg, Ottarfonden. Sponsored by Lust.dk.
Find out more about Kassandra Production at
madeintheweb.com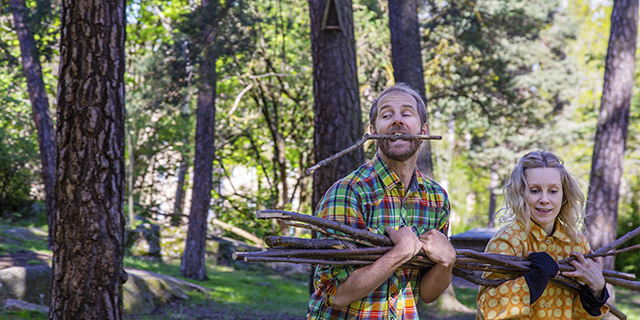 The company Ingrid Olterman Dans is working with the upcoming performance BRIDGES, a performance for the younger audience and an audience with intellectual disabilities. An important part of the process is to work together with the audience. Meeting the young audience early on in the process with movement, sound, and sensory work. The performance BRIDGES is the company's largest performance with two dancers, two musicians, and one light designer on stage and it will have its premiere in September 2022.

The company still has two tours on the road this spring; the outdoors, interactive performance SHELTER TREES, and BLUDDERBLAD, a performance for children 3-7 years old. In the municipality of Upplands-Bro (SE) all four-year-olds have been a part of a larger project with the company including the performance BLUDDERBLAD, training for the preschool teachers, and creative workshops in the forest. The project was implemented for the sixth year in a row, a collaboration with a lot of development opportunities. To find out more go
here
.
Read more about Ingrid Olterman Dans at
madeintheweb.com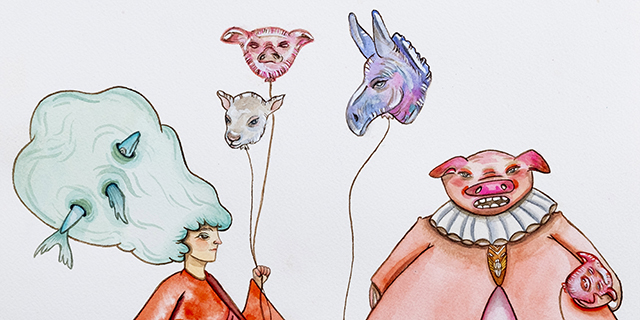 painting by: Paarma Brandt
In May Bobbi Lo Produktion starts the research for a new interactive performance for teenagers, KOLONISTERNA (the Colonists) will be the second piece in a trilogy that deals with social structures in our society.

Is colonization something that only belongs to our history or is it still a reality today? Bobbi Lo Produktions interactive piece KOLONISTERNA is based on Nordic colonial history. The question is whether it is over? This satirical performance directs a critical eye at our mutual history, which many prefer to forget, and at the colonial structures that prevail today. Structures that are deeply rooted in our behaviors, so deep that one becomes almost blind to failing rights and invisible hierarchies.

KOLONISTERNA is created in collaboration with Nordic artists from Greenland, Denmark, Sweden, Norway, and The Faroe Islands and the piece will premiere

23 Nov 2022

in Malmö. Choreography by Lava Markusson and Michael Tang. For full credits and more information - please go

here

.

Learn more about Bobbi Lo Produktion at madeintheweb.com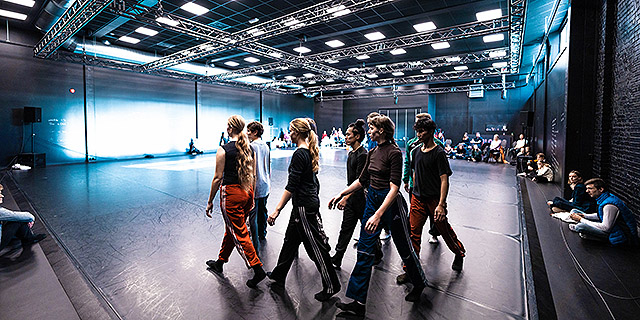 The Norwegian company Nagelhus Schia Productions has the pleasure of announcing the third choreographer's residency in Studio NSP. The residency will take place in week 1 and 2 2023, giving a professional choreographer the opportunity to work with the young dancers in NSP 2.
The candidate will receive a NOK 20 000 grant and accommodation if necessary. Norwegian choreographers and international choreographers living and working in Norway are welcome to apply. Application deadline:
16 May 2022
. Visit
the website
for more information.
Learn more about Nagelhus Schia Productions at
madeintheweb.com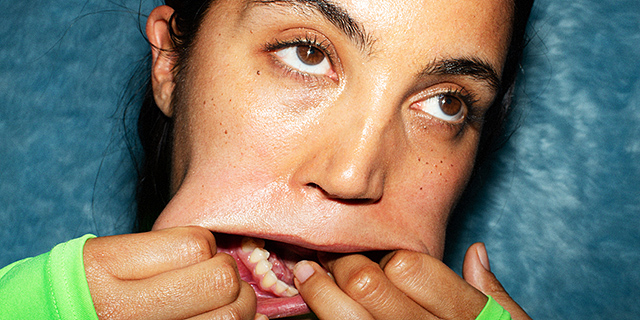 photo: Märta Thisner
BamBam Frost's piece YES is presented on
19-20 May 2022
at
TOU
in Stavanger (NO).
YES is a cascade of pleasure, sadness, and dreams of possibilities. Morphing through a constant of what has been and what is. YES insists on fiction in the imagining of what could be and how to get there. YES works with the healing powers of water and the storm's revolutionary potential. Yes yes yes. This could be something. YES is soft, YES is dense, YES is tension and release, YES is too much and not enough. YES is BamBam Frost's second full-evening work, following her debut with SORRY in 2018. For more info go
here
.
Production by Sara Bergsmark, Jessie McLaughlin (MDT), Nordberg Movement.Co production by MDT and Säfsten Produktion. Supported by Kulturrådet, The Swedish Arts Grants Committee, Stockholm Stad and Life Long Burning – Towards a sustainable Eco-System for Contemporary Dance in Europe project (2018-2022) supported by the Creative Europe programme of the European Union.
All the best from the team at MADEIN-THEWEB.COM and all our joint members.
FOLLOW US


on
Facebook
&
Twitter
MADE IN the web
www.madein-theweb.com is a website displaying Nordic performing arts intended for an international audience.
MADE IN the web is an initiative created by Loco World with the intention to increase the visibility of Nordic performing arts.
Loco World/MADEIN is an organization supported by the Swedish Arts Council for its international activities.

MADE IN the web
Loco World, Järnvägsgatan 36, SE-131 54 Nacka, Sweden
Phone: +46 (0)73 324 11 14, email:info@madein-theweb.com, internet: www.madein-theweb.com