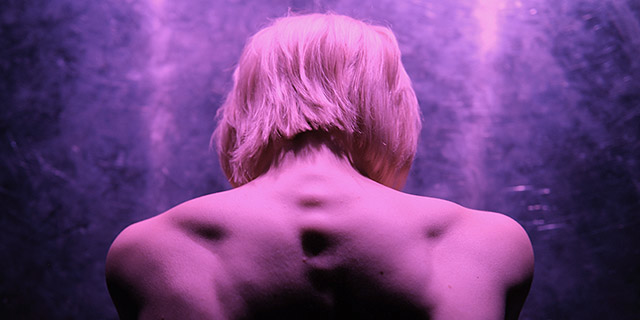 Jo Strømgren Kompani has huge plans for Spring 2022. The company is soon in the final production phase of the new dance- and theatre performances
THE LOFT
. Jo Strømgren, together with four female dancers (Henriette Hamli, Elin Lindblad, Nora Svendsgård and Anglea Dematté) are creating a new piece in classic JSK-style with humor, physical theatre, and text. THE LOFT will premiere at the Belgrade Dance festival on
30 Mar 2022
, and tour in Serbia, Czech Republic, Armenia, and Norway.
Parallel with creating THE LOFT, JSK has rehearsed two repertoire performances which are to go on an extensive European tour this Spring after Serbia;
MADE IN OSLO
and
SALVE REGINA
. All three pieces are available for booking.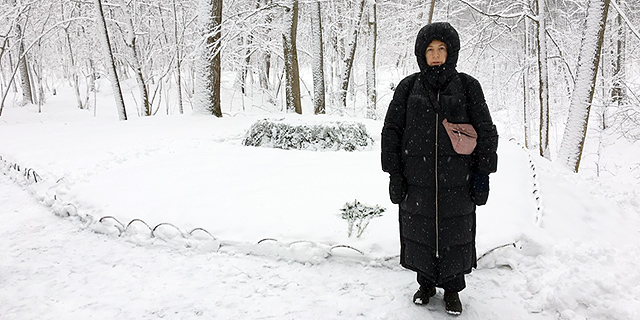 37 HOURS AND 3 MINUTES is a slightly deficient mapping of Tolstoy's masterpiece Anna Karenina. Five performers on stage. Music. Costume. Light. Video. Talking. Dancing. Singing. Premiere

9 Feb 2022

at Elverket / Dansens Hus Stockholm (SE).

For those of you who have not read the book or for those of you who have read it a long time ago and of course also for those of you who don't have the stamina to read it, 37 HOURS AND 3 MINUTES now offers a survey of Tolstoy's masterpiece. In this collective investigation, we are guided by five dedicated people who are not afraid to investigate issues such as; are we approaching the end of history? How exactly did Tolstoy walk? Who is the most likable character in the book? 37 HOURS AND 3 MINUTES is the time it takes for an average reader to read the whole novel.



"-People who are shocked by what is happening in the last three or four months in Russia are more likely to quote Tolstoy than Dostoevsky.

" Tanya, a literature student in Moscow.

Learn more about Gunilla Heilborn at madeintheweb.com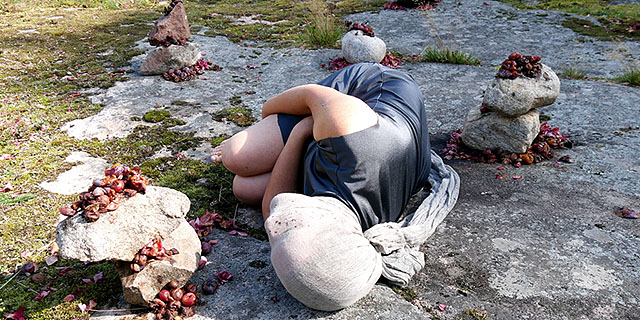 SU-EN Butoh Company will celebrate this year with the release of the film BODY AND THE WORLD - SBCO 30 YEARS ON STAGE created with Agustin Ortiz Herrera since 2017, as well as with reflections, outdoor projects with friends of the company at the homeless park in Uppsala, performances in Japan, and a chaos dinner/performance party at the Uppsala castle...and finally a performance of SNOW in the very far north of Sweden...if the pandemic allows it.
Upcoming events:
13, 20, 27 Feb 2022
MOMENTS, MEMORIES, MOMENTUM, screening of BODY AND THE WORLD - SBCO 30 YEARS ON STAGE, art actions, dance, and artist talks, at Haglund Skola, Almunge (SE). More info
here
.
Learn more about SU-EN Butoh Company at
madeintheweb.com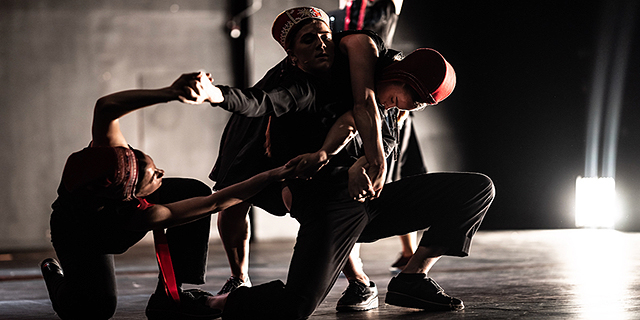 Elle Sofe Saras piece VÁSTÁDUS EANA - THE ANSWER IS LAND is presented at Dansens Hus in Oslo (NO)

4-6 Feb 2022

.

VÁSTÁDUS EANA - THE ANSWER IS LAND is a performance that through dance and yoik reflects on the power of standing together and the awareness for the common ground and nature we stand on. Fellowship and kinship with the nature around us and the earth we live on are the main themes inVÁSTÁDUS EANA - THE ANSWER IS LAND by the Sami choreographer and artist Elle Sofe Sara. The Sami folk music yoik frames this work, and the seven female performers who participate in the performance are all renowned yoikers, dancers, and singers. Here, the various art expressions are intertwined into a rarely powerful and beautiful experience. For more info go here.

In collaboration with Davvi - Centre for performing arts, Sámi national theatre beaivváš. Co-producers Arctic arts festival, Norrlandsopraen. Production support from Arts Council Norway, The Sámi Parliament Norway, Nordic council of ministers, The audio and visual fund, Saami council, Dáiddafoanda, Spenn.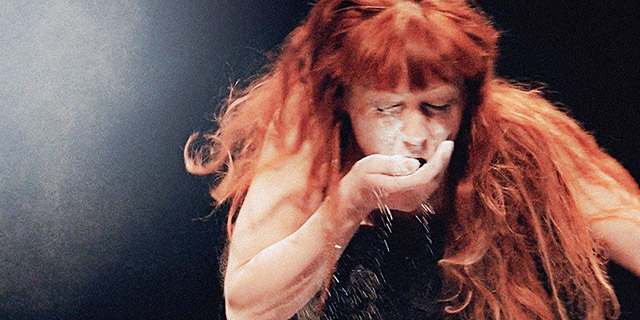 photo: Kassandra Production
HOOKED
opens
15-17 Mar 2022
at theater Bora Bora in Aarhus (DK). Join us for this wild roller coaster ride that oscillates between euphoria and abstinence, fear and pleasure, the highest kick, and the deepest tragedy. With the body as a battlefield, HOOKED sheds light on addiction as a phenomenon – whether it be in the form of gambling, apps, shopping, alcohol, sex, drugs, or painkillers. What is this hunger that drives us? HOOKED is a wake-up call in a scenic hybrid of dance, ritual, visual art, and performance art.
HOOKED is created by a team of international artists, including Danish/Swedish director and performance artist Annika B. Lewis, the Italian/German choreographer and performance artist Morgan Nardi, as well as the acclaimed, border-defying Swedish visual artist Peter Johansson.
HOOKED is coproduced with Bora Bora – dance and visual theatre and theatre FFT. Supported by the Danish Arts Foundation, The City of Aarhus.
Find out more about Kassandra Production at
madeintheweb.com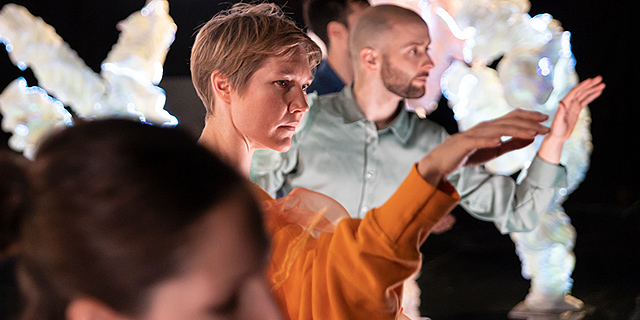 VÅR DAG (Our/Spring Day) visits Kävlinge, Karlshamn and Nacka (SE). The work is an immersive dance experience, inspiring explorations of space and touch. A moment filled with light and colour when the winter in the south of Sweden is at its darkest and grayest.

VÅR DAG is both an art experience and a dance performance. Four dancers lead you through our magical venue where textile artist Malin Bobeck Tadaa's interactive and colourful installation. Water shimmers and pulsates. Choreographer Tina Tarpgaard and composer Lars Greve have for VÅR DAG been inspired by movements and sounds that residents of Skåne have contributed during the year. VÅR DAG is a unique experience that you will carry with you for a long time.

"light therapy extraordinaire" Sydsvenskan (SE)

Tour dates:
23 Jan 2022
Kävlinge kulturscen
, Kävlinge (SE),
26 Jan 2022
Lokstallarna, Karlshamn (SE),
28 Jan 2022
Dieselverkstan
, Nacka (SE). More tour dates will be announced.
Read more about Skånes Dansteater at
madeintheweb.com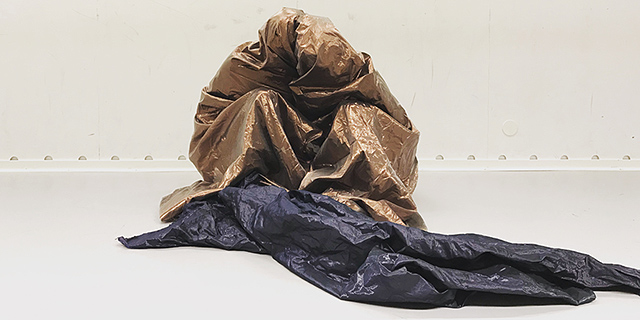 The ever-changing metamorphosis of water into snow and ice is captured in the poetic language of Sami poet and artist Nils Aslak Valkeapää and serves as inspiration for Virpi Pahkinen's new choreography for VINDVAKA. World Premier
4 Feb 2022
at Scenkonst Sörmland in Eskilstuna (SE).
The name of the new piece Vindvaka translates into the Finnish "Uveavanto" and Sami "Suddi", and into English as something like "vigil in the Wind"
.
Choreography and costume design by Virpi Pahkinen, music by Roger Ludvigsen, and sound design by Jukka Rinttamäki. The piece also features art by Kristin Tårnevik and video design by Johannes Ferm Winkler. Light design by Niklas Glahns. Co-production between
Giron Sámi Teáhter
and
Scenkonst Sörmland
with
Virpi Pahkinen Dance Company
as a partner.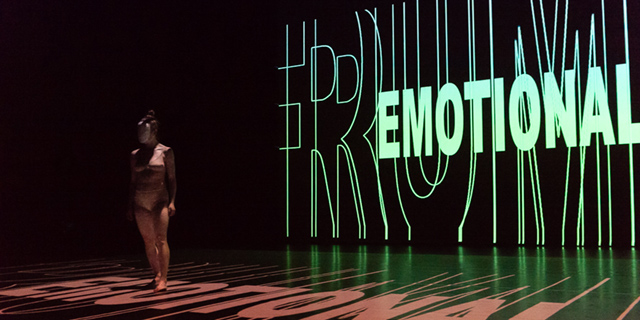 As the new lockdown suddenly hit Finland and closed all theatres for the next few weeks, the SLC's NASTY show in Tampere is rescheduled to June 2022.
Despite the bad news and snowy weather, ROOTS keeps thriving in Helsinki. The senior talents together with SLC dancers are preparing something special for you to experience in March. Do you want to take a look at the rehearsals? Jump into our
Instagram stories
!
Upcoming shows:
5 Mar-2 Apr 2022
ROOTS,
Stoa
, Helsinki (FI)
Learn more about Susanna Leinonen Company at
madeintheweb.com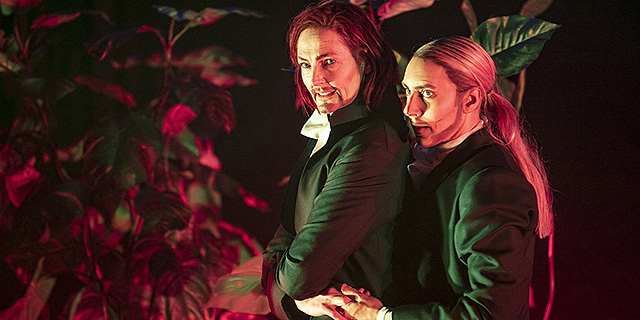 TRANSPLANTATION - a loving dance about identity and existence at the cellular level. Performances at
Dansens hus/ Elverket
Stockholm ( SE)
24-26 Feb 2022
. Engelkes' new performance is based on her own experience from bone marrow transplantation where she ended up having a Y-chromosome. Together with dancer, choreographer, and Drag king, Sofia Södergård, they investigate similarities and who donates what to whom? Where do I stop and you start? Engelkes and Södergård create a life-affirming variety show with dance, cultivation tips, music, stand-up, comedy and drama, passion - and Wagner. TRANSPLANTATION will be on tour with
Dancenet Sweden
in the fall of 2022. More info
here
.
Find out more about Charlotte Engelkes at
madeintheweb.com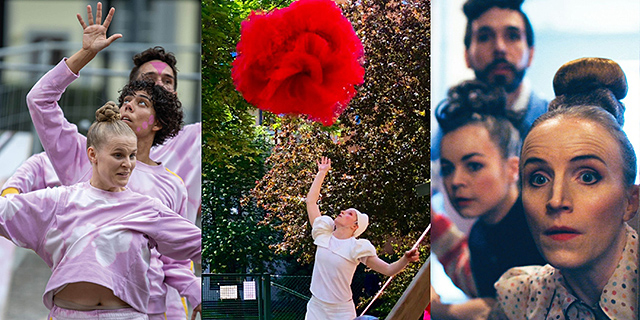 photo: Chstian Farcher/Lars Lanehed
On
22 Jan 2022,
Claire Parsons Co. will perform a sold-out LITTLE SWAN LAKE in the Concert hall in Västerås (SE) and the company hopes that the fully booked week with swans in Lund (SE) at the end of January will be possible - in accordance with current recommendations, of course!
12-14 Mar 2022
, Claire Parsons Co. is invited to the Finnish Festival
Hurraa!
. The festival offers high-quality performances for children, young people, and families in the cultural centers of Helsinki (FI).
Claire Parsons Co. is an award-winning Swedish dance company creating clever and elegant performing arts for children with current productions available for touring! Feel free to watch the trailers for
GRASS
,
LITTLE SWAN LAKE
,
MARMALADE
,
SIGNAL
,
SOON SWOON
, and
YELLOW
on the
company's website
.
Learn more about Claire Parsons Co. at
madeintheweb.com
Fest en Fest/H2DANCE are so pleased to announce that they have been selected for
Perform Europe
with the project: FEMINIST FUTURES – TOWARDS ANTIRACIST AND INTERSECTIONAL STAGES.
Fest en Fest/H2DANCE together with 7 European organizations collaborate to present live presentations of WE SHOULD ALL BE DREAMING (WSABD) and a digital screening of Cosmic Latte by Finnish choreographer Sonya Lindfors. The long-term strategic aim is to collaborate together to platform and promote queer, feminist, decolonial, migrant, and human-centered artist-led initiatives across Europe.
Partners: Sonya Lindfors (Finland), Rosendal International Theatre (Norway), RE:LOCATIONS – Digital festival by WILDTOPIA ApS (Denmark), CODA Oslo International Dance Festival (Norway), Oyoun Kultur NeuDenken gUG (Germany), LIFT Festival (UK), Independent Dance (UK), H2DANCE/Fest en Fest (UK).
Learn more about H2DANCE at
madeintheweb.com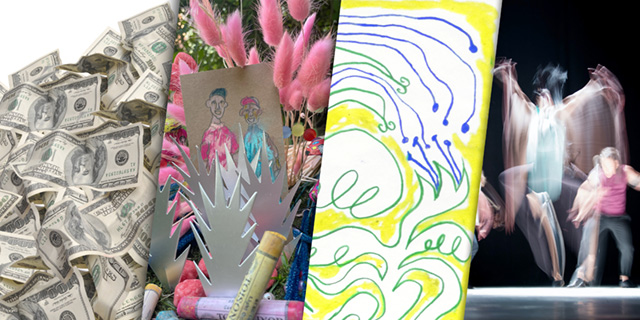 This spring, Regionteater Väst goes on tour with four new performances: SANNINGEN OM DANS – a performance for those who want to understand dance with choreography by Jo Strømgren. CASH MONEY FLOW – an ultra-fast theater performance about money directed by Nadja Hjorton. UTFLYKTEN – a dance performance about the excursion of your dreams with choreography by Anna Pehrsson. VÄRLDEN SA JA – A sensory, visual, and existential evolution party, directed by Huy Le Vo. Also, we get to see more of EFTER HAMLET, PETER OCH JANNE GÖR SLUT, and more. Stay up to date at
the company´s website
!
Read more about Regionteater Väst at
madeintheweb.com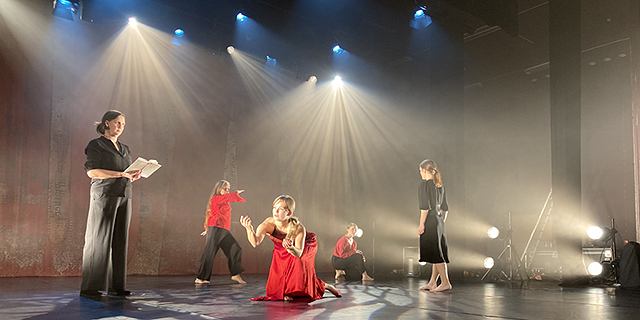 The new performance THE CHILD – CHOREOGRAPHED BOOK, will have its touring premiere in Folkets Hus, in Sandviken (SE)
13 Feb 2022
in cooperation with
Riksteatern
in Sandviken and Gävleborg (SE).
BARNET - THE CHILD - CHOREOGRAPHED BOOK is based on the Author Lena de Veen´s debut novel This Short Moment. The author Lena de Veen reads parts of the book. choreographer Linda Forsman and visual artist / scenographer / lighting designer / musician Lou T Lundqvist interpret the book in dance, image, music and film. Produced with the support from the Swedish Arts Council/Kulturrådet, Region Dalarna, ABF Hofors, Folkets Hus Hofors and Region Gävleborg.
"Delicious, comforting and important when Lena de Veen's book becomes dance. A unique and fascinating artistic expression is tested when Lena de Veen's novel becomes a dance performance. Her precise and pictorial language is enhanced by the dancers and grows into the room. The result is delicious, comforting and important.
" Arbetarbladet (SE)
Find out more about Korda Art in Motion Dance Company at
madeintheweb.com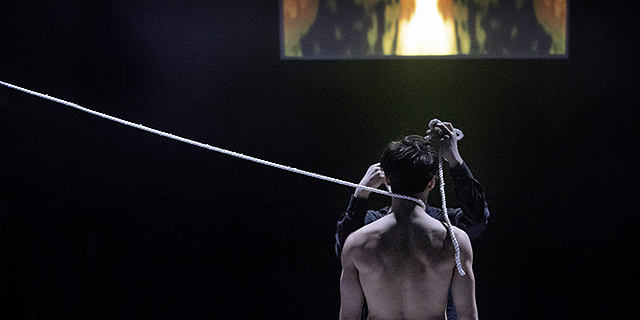 The choreographer Peter Svenzon's work
TENSION
goes on tour in May. The performance will be filmed during the spring and streamed at
Kalvfestivalen
among other places. Watch a trailer
here
.
"Peter Svenzon is known for his ability to give dance art additional dimensions, where it tells and entertains with his cinematic expression. In "Tension" he surpasses his own reputation."
NSD (SE)
Tour dates:
2-3 May 2022
Kulturhuset Stadsteatern, Stockholm (SE),
5 May 2022
Skånes Dansteater, Malmö (SE),
14 May 2022
Klub Zak, Gdansk (PL),
17-18 May 2022
Stora Teatern, Gothenburg (SE).
The finalizing work with the short dance/art film RUM 444 is in progress. The film is directed and choreographed by Peter Svenzon, cut by Simon Carlgren, and graded by Mats Hjelm. Director of photography is Joakim Envik Karlsson and music and sound by Peter Svenzon.
The new transdisciplinary production CODE is in process. The work is in residence and premieres in October 2022. More info to come!
Find out more about Art of Spectra at
madeintheweb.com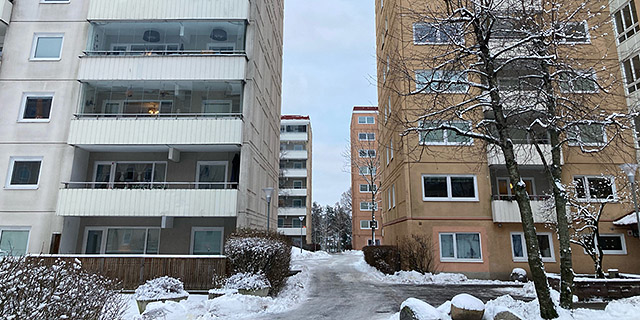 photo: Johanssons pelargoner och dans
In January-March 2022 Johanssons pelargoner och dans is artist-in-residence in Brandbergen, Stockholm (SE). The aim of the residency is to explore and highlight Brandbergen as a place in the past, present and into future.
Choreographers Linnéa Sundling, Annica Styrke, and Karin Wiklund, in collaboration with sound designer Anna Haglund, have been commissioned to portray people's thoughts, memories, and stories linked to Brandbergen.
Together with a filmmaker, they will create a dance film as an outcome of the residency, which will be a part of Stockholm County Museum's exhibitions and archives. The residency will begin in Brandbergen in January and is a collaboration between the dance consultants of the Stockholm Region, Stockholm County Museum, and Haninge municipality. Read more
here
.
Find out more about Johanssons pelargoner och dans at
madeintheweb.com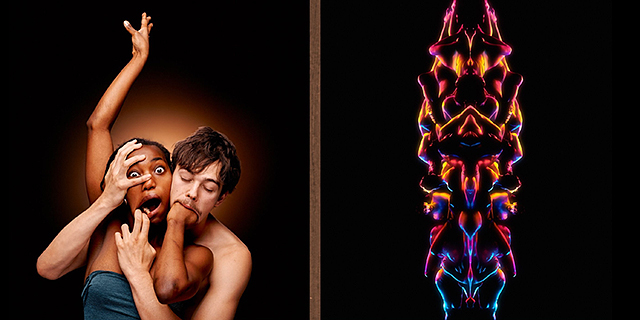 Carte Blanche will open its 2022 season with a trip to Charleroi to perform SOUFFLETTE by François Chaignaud at Palais des Beaux Arts on
26 Jan 2022
. More info
here
. Then ØY by Ole Martin Meland will be part of
Ice Hot - Nordic Dance Platform
in Helsinki (FI) on
12 Feb 2022
.
A new exciting collaboration with the Hungarian artist Eszter Salamon is next: the company is again set to create a full-length production with a focus on experimentation and history with all the dancers on stage. The world premiere of MONUMENT 0.10: THE LIVING MONUMENT is
10 March 2022
in Studio Bergen with performances
10-12 and 15-19 March 2022
. More info and tickets
here
.
In MELLOMLAND, artistic director Annabelle Bonnéry has engaged two up-and-coming choreographers from the same generation to create a two-part full evening for Carte Blanche. Five and nine dancers meet choreographers Roza Moshtaghi (NO) and Lander Patrick (PT) in a double bill that presents Norwegian and international contemporary dance on the same stage. The performance is co-produced by Bergen International Festival and will premiere as part of the festival on
26 May 2022
. Read more
here
.
Find out more about Carte Blanche at
madeintheweb.com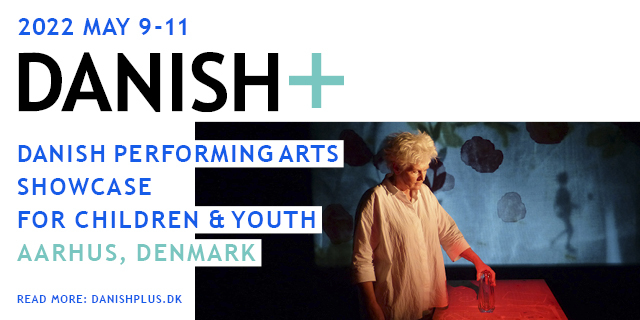 Don't miss out on this unique opportunity to experience some of the very best Danish performing arts for children and youth in an intensive three-day programme, whilst connecting and catching up with international colleagues from all over the world.

Early bird discount
Due to the current Covid-19 situation in Europe, we have extended our early bird deadline until
1 Mar 2022.
Register now to get the early bird special price. The final deadline for registration is
1 Apr 2022.
Three days of high qualitative Danish performing arts
The showcase presents a curated programme of some of the finest contemporary Danish performing arts for children and young people. With a few exceptions - dance and nonverbal - all performances will be in English and ready to tour internationally.

The showcase is initiated and organized by the theatre
Teatret Gruppe 38
- a professional and prizewinning theatre, which has existed since 1972. For more information on DANISH+, visit
www.danishplus.dk
.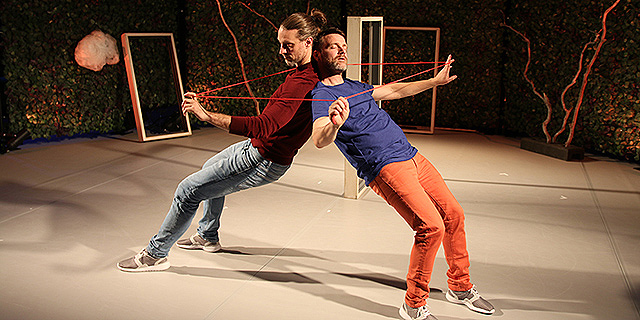 photo: Åsa Maria Hellman_
Memory Wax, a company that creates imaginative and captivating performances for all ages, tours with the children performance
MY LITTLE BIG ROOM
in February in cooperation with the Region Skane and the libraries. A solo where Daniel discovers that imagination lives everywhere and in anything. MY LITTLE BIG ROOM is special due to its magical mini format and can be presented in indoor and outdoor settings.
INSIDE OUT
is a playful and poetically powerful duet, using the frame as an object and metaphor. A travel from sheer joy to more complex and mixed emotions while growing up. The tour to Attakkalari India Biennial
17- 24 Jan 2022
was unfortunately canceled due to the pandemic situation. INSIDE OUT will participate at the cultural gathering
Folk och Kultur
in Eskilstuna (SE) in February.
Tour dates MY LITTLE BIG ROOM:
1 Feb 2022
Bara library, Bara (SE),
4 Feb 2022
Klågerup library, Klågerup (SE),
7 Feb 2022
Salto! Hässleholms kulturhus,
8 Feb 2022
Svedala library, Svedala (SE),
15-17 Feb 2022
Barnens scen/Children's stage, Malmö (SE).
Learn more about Memory Wax at
madeintheweb.com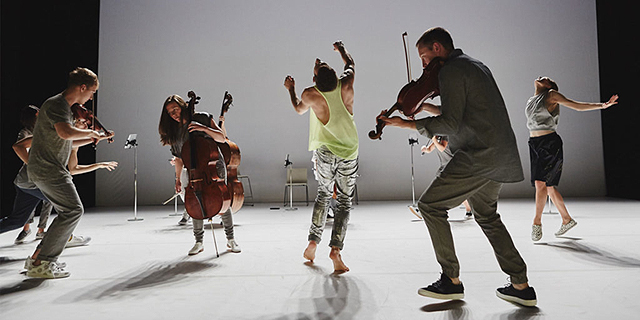 photo: Hugh Carswell
GOLDBERG VARIATIONS - TERNARY PATTERNS FOR INSOMNIA is remounted in Stockholm in June 2022. The work for 11 musicians and 5 dancers opened in 2015 at Dansens Hus in Stockholm. Now the work returns to Stockholm (SE) with performances at
Folkoperan
2-3 June 2022.
Play the opening of the Goldberg Variations to someone today, and usually, they all have heard it – whether in its original form, one of the many transcribed and transposed versions, or in a completely different setting in a totally different genre. It started life as a study for harpsichord; a simple aria, and a set of 30 variations where the aria functions as a hard drive for the whole work. 2015, Örjan Andersson (Andersson Dance) and Jonathan Morton (Scottish Ensemble) added their own. 11 musicians and 5 dancers perform Goldberg Variations as equal partners – both choreographed, the result is a singular experience of musician and dancer performing as one. For more info go
here
.
Production: Andersson Dance, Scottish Ensemble & Nordberg Movement. Co-production: Andersson Dance, Scottish Ensemble ,Regionteatern Blekinge Kronoberg & Riksteatern 2015. Made possible with support by The Swedish Arts Council, Stockholm Stad, Region Stockhol, Musikverket, and Creative Scotland. Additional school performance presented in collaboration with DANSISTAN.
Find out more about Andersson Dance at
madeintheweb.com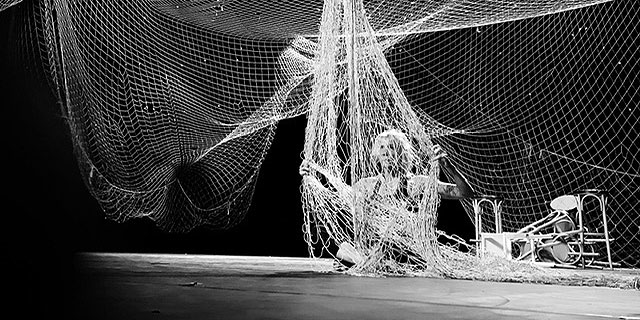 The Swedish choreographer Charlotta Öfverholm is performing in LE SYNDROME DE PÉNÉLOPE by the French dance company NGC 25. Read more

here

.

Performances:

21 Jan 2022

,

Festival Trajectoire

, le quatrain, Haute-Goulaine (FR),

29 Jan 2022

,

Festival Complicité

, le triangle, Huningue (FR)


Find out more about Charlotta Öfverholm at madeintheweb.com
All the best from the team at MADEIN-THEWEB.COM and all our joint members.
FOLLOW US


on
Facebook
&
Twitter
MADE IN the web
www.madein-theweb.com is a website displaying Nordic performing arts intended for an international audience.
MADE IN the web is an initiative created by Loco World with the intention to increase the visibility of Nordic performing arts.
Loco World/MADEIN is an organization supported by the Swedish Arts Council for its international activities.

MADE IN the web
Loco World, Järnvägsgatan 36, SE-131 54 Nacka, Sweden
Phone: +46 (0)73 324 11 14, email:info@madein-theweb.com, internet: www.madein-theweb.com