CHARLOTTE

ENGELKES

- Premiering TRANSPLANTATION at Norrlandsoperan (SE) in November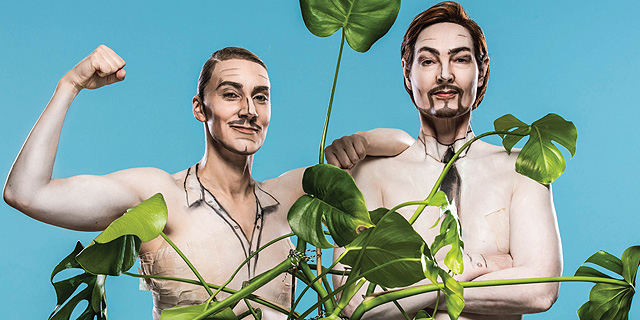 19 Nov 2021

is the premiere of Charlotte Engelkes latest work TRANSPLANTATION, at Norrlandsoperan in Umeå (SE). Together with the dancer and choreographer Sofia Södergård, as drag king, Engelkes creates a performance about identity, existence, life and death.

In TRANSPLANTATION we get to experience choreography, standup, opera, music, comedy and drama – with inspiration from bone marrow transplantation, love stories and Wagner. The personal story is at the centre. One woman carries a Y chromosome after a bone marrow transplant. The other woman carries a drag king identity. And both ask themselves: Where do I end and where does the other begin? Can I be everything?

TRANSPLANTATION is a musical, dramatic, choreographic and humorous work with specially written music by German composer and sound designer Willi Bopp, scenography and lighting design by Karl Svensson, costume design by Anna Ardelius and in collaboration with the Norrlandsoperan Symphony Orchestra, music from "Tristan and Isolde" by Richard Wagner - a show about love for the other, for oneself and for life. Read more here.

TRANSPLANTATION will be shown at Dansens Hus in Stockholm (SE) in 2022.

Find out more about Charlotte Engelkes at madeintheweb.com
ANDERSSON DANCE

/ RIKSTEATERN


- PROMISE LAND is shown in the artist Helene Billgren's latest exhibition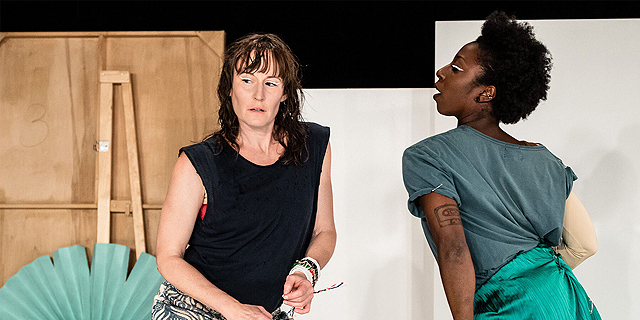 Andersson Dance and Riksteatern present three more performances of PROMISE LAND by Örjan Andersson and Helene Billgren at Kristianstad Konsthall

15,16,17 July 2021

, in the midst of Helene Billgren's exhibition "Internmeddelandenh". For more information and booking, go here.

Radio station P4 Kristianstad interviewed Örjan Andersson about presenting the work in a new context and returning to meet audiences again after a long hiatus. Listen to the interview in Swedish here.

PROMISE LAND - which opened at Dansens Hus in Stockholm (SE) last fall - is the result of an encounter between visual artist Helene Billgren and choreographer Örjan Andersson - and is created with and performed by Brittanie Brown and Jenny Nilson. Based on Helene Billgren's work, Örjan Andersson creates a fragmentary, dreamy landscape inhabited by two women where bodily narratives with free inventions and absurdities take place. In Andersson's new work we meet his choreography in a closer, smaller format, for two dancers. All in true surrealistic spirit. Co-production

Andersson Dance and Riksteatern,

supported by

Kulturrådet, Stockholms Stad

and

Region Stockholm (SE). More info about PROMISE LAND here.

Find out more about Andersson Dance at madeintheweb.com
TANELI TÖRMÄ

/ LOCATION X
- Touring internationally again!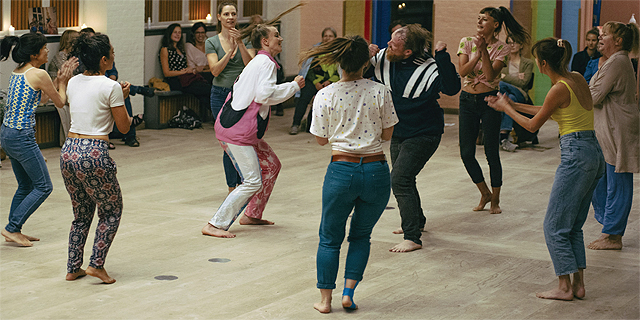 ALIEN - Dance created for the community has been selected to be part of the Big Pulse Open Air programme. Open Air co-productions aims to bring artists and audiences together through presenting bold, captivating choreography that celebrates our creative imaginations and the power of the body in motion. For more information check their website
here
.
ALIEN will be created for Steve Reich's iconic composition 'Music for 18 musicians', where 10 dancers will whirl us into a timeless dance. ALIEN performance premiere will happen in Kunstbygningen Filosoffen gallery
12-20 Nov 2021
in Odense (DK). After the premiere, ALIEN will be adapted for different kinds of site-specific locations and presented always with 10 professional local dance artists.
OPEN YOUR HEART disco dance performance was successfully presented at Reykjavik Fringe Festival on
10-11 July 2021
in Iceland. The next show will be planned for Sõltumatu Tantsu Lava Tallinn, Estonia in December 2021.
Learn more about Taneli Törmä - LOCATION X at
madeintheweb.com
BRÅDJUPA

/ BLEKINGE DANCE FESTIVAL
- A brand new dance festival in the south of Sweden
For four intense days
1-5 Sep 2021
, the venue Lokstallarna in Karlshamn (SE) will be filled with dance. There will be dance classes, morning swims, workshops, artist talks, labs, film screenings, jam, panel talks, residence showings, guest performances and Late night meets.
BRÅDJUPA is a festival where we get to take part in choreographers finished works as well as dance artist's works in progress. This is a festival where the door is open and we get to peek in and see the mind and body at work. A festival where we get to step into a room of movement.

Presented in the program amongst others are Cullberg, Alma Söderberg, Gunilla Heilborn, Kim Hiorthøy, Stina Nyberg, Max Wallmeier, Tuva Hildbrand, Uncover Choreography, Linda Blomqvist and Meg Stuart.
Check out the entire program
here
.
Find out more about Brådjupa, Blekinge Dance Festival at
madeintheweb.com
CLAIRE

PARSONS

CO.
- Filming the piece YELLOW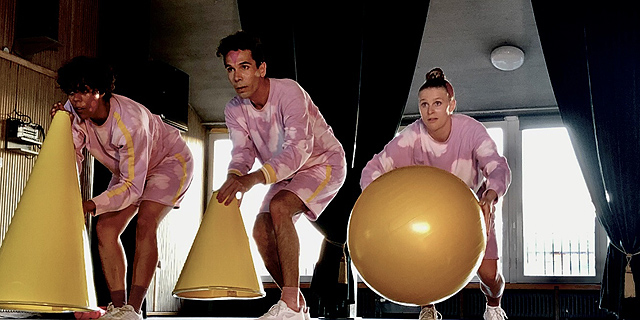 Claire Parsons Co. completed filming for
YELLOW
in Årsta - an iconic Stockholm suburb and an architectural classic and role model for the 1950's new functional accommodation. The team filmed indoors at Folket Hus/The People's House and cultural centre as well as in outdoor settings. YELLOW will premiere in a digital form with some magical additions... on
1 Aug 2021
. Please join the company in watching this gem!
Read more about Claire Parsons Co. at
madeintheweb.com
CONVOI

EXCEPTIONNEL


- Performing live in July and August
Photo: Convoi Exceptionnel
Convoi Exceptionnel's MOVING A MEMORY is on! For the gymnasium, an exhibition and an acoustic, choreographic performance are combined into one work.
This piece is staged in a collaboration between Jon R. Skulberg and Hongkong based dance artist Wayson Poon. On stage you will also meet dancer Linette Stamp Christensen, dancer Paul Lee, musician Paul Yip and Danish visual artist Maiken Bent's unique sculptures. Watch a trailer
here
.
Live performance dates:
PASSAGE FESTIVAL, Elsinore (DK):
29-31 July 2021.
Dansehallerne, Copenhagen (DK):
5-8 Aug 2021
.
After presentations in Denmark MOVING A MEMORY will continue its tour to Hongkong in November 2021.
Find out more about Convoi Exceptionnel at
madeintheweb.com
IL

DANCE
- World premiere and Swedish tour of SELF CONTAINED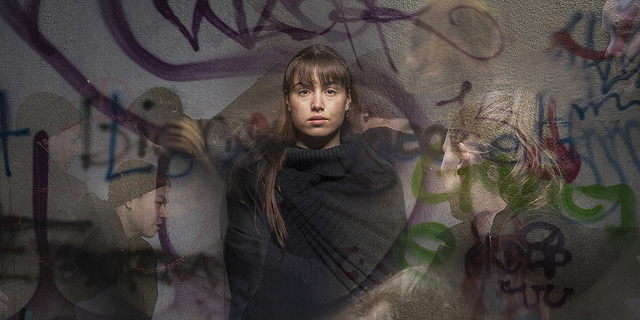 ilDance's junior dance company, ilYoung, will premiere a new work SELF CONTAINED by Israel Aloni and cast at Glashuset in Gislaved on
13 Aug 2021
.
SELF CONTAINED explores the relations of human individuals to space and community through the physical body. It examines how the physical body impacts the way in which humans experience the world. Performed by eight emerging dance artists the piece challenges the status of the human body in current discourses in Western societies. SELF CONTAINED will tour across Sweden performing in Malmö, Gothenburg, Säter, Stockholm, Vänersborg, Uddevalla and Härnösand between
29 Aug-12 Sep 2021
. For more information go
here
.
Find out more about ilDance at
madeintheweb.com
SU-EN

BUTOH COMPANY


- Presenting THE VISITING PROJECT HÅLLNÄS PENINSULA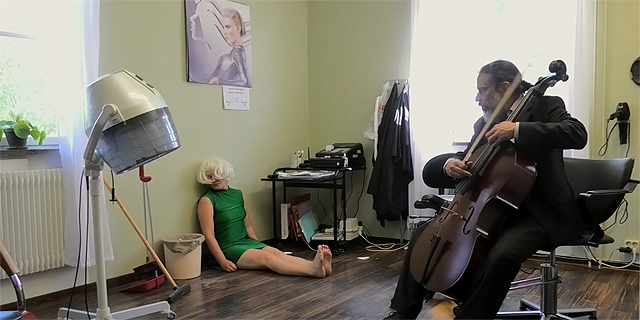 Photo:
SU-EN Butoh Company
The Window Project proudly presents THE VISITING PROJECT HÅLLNÄS PENINSULA 2021 - with SU-EN and Amit Sen.
THE VISITING PROJECT is where choreographer and performance artist SU-EN works together with cello musician Amit Sen, and makes short improvisations in public places. Each improvisation is followed by a talk with the spectators. THE VISITING PROJECT has previously visited in New York, Hammenhög (SE), Uppsala (SE), Pajala (SE), India, Indonesia and Japan - and
10-11 June 2021
the artists visited Hållnäs (SE). Co-organized with
Hållnäs Konstkolloni
.
Click
here
to watch THE VISITING PROJECT HÅLLNÄS PENINSULA 2021 by SU-EN Butoh Company and Amit Sen. The video edit is 28 minutes. ENJOY! Just a click away.....
Find out more about SU-EN Butoh Company at
madeintheweb.com
WELD

COMPANY
-
Performing at ImPulsTanz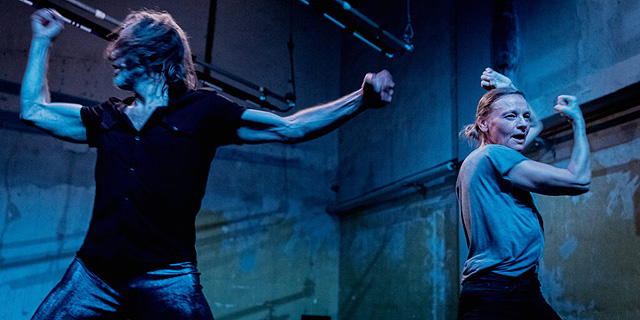 Weld Company is touring to
ImPulsTanz
—Vienna International Dance Festival, Odeon Theatre, with the choreography TRIBUTE by Frédéric Gies
21-23 July 2021
. Watch a trailer
here
.
Find out more about Weld Company at
madeintheweb.com
QU

ARTO


- Presenting COMMUNAL ROPE in September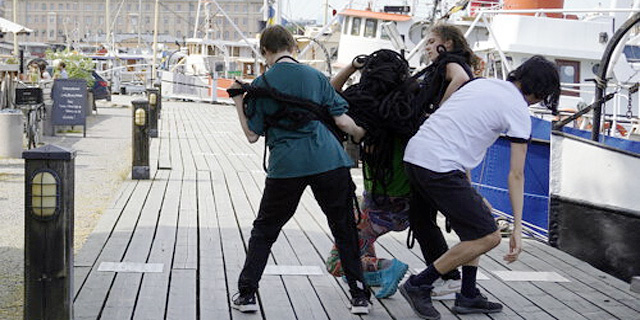 photo: QUARTO, Leandro Zappala
In COMMUNAL ROPE you as an audience will under the course of several hours create a temporary "community" that moves the rope through the streets of Stockholm (SE), visiting the three venues for contemporary dance:
Weld
,
Dansens Hus
and
MDT
. Learn more
here
. Watch a trailer
here
.
Artist duo
QUARTO
was founded in 2003 by Anna af Sillén de Mesquita and Leandro Zappala and exists as an interdisciplinary platform. Based in Stockholm they live between Brazil and Sweden collaborating with other artists, researchers, academics and institutions devoted to research and development in the art field.
The project is co-produced by Dansens Hus, MDT and Weld and takes place on
4 Sept 2021
. Supported by Stockholms stad, the Swedish Arts Council and Region Stockholm (SE). In cooperation with Stockholm university of the arts.
STINA

NYBERG
- Watch the film about MAKE HAY WHILE THE SUN SHINES!
The short film created in the project MAKE HAY WHILE THE SUN SHINES by choreographer Stina Nyberg is now available for viewing through MDT's website
here
for a month until
9 Aug 2021
.
MAKE HAY WHILE THE SUN SHINES is a series of dances developed through movements between Stockholm and New York. Previous iterations have been presented at Center for Performance Research (NYC), Performance Mix (NYC), Dans.Hall (Stockholm, SE), La Mama Studios (NYC) and on the grass field outside of MDT. This short film, which premiered in May 2021, is made with the current cast of the dance performance and gives an insight into the work, but is neither a documentation nor a behind-the-scenes film. Rather, it is a dance made for the camera. Supported by Kulturrådet and Stockholms stad. Screening in collaboration with Byteatern, Dansstationen, Dansnät Jönköping, Region Uppsala and Uppsala Konsert & Kongress and Västmanlandsmusiken.
The work MAKE HAY WHILE THE SUN SHINES is presented live
4 Sept 2021
at festival
BRÅDJUPA
in Karlshamn (SE), this time made with a new cast of dancers and specifically for the theatre. The work has been developed and presented in various formats since 2019. Learn more about the work
here
. Watch a trailer
here
.
VIKTOR

FRÖJD


- Presenting FESTEN - a tribute to dance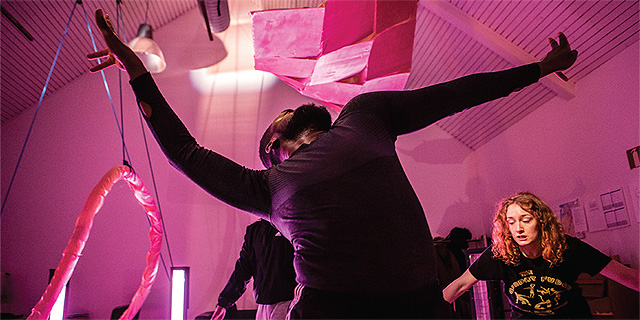 Viktor Fröjd's FESTEN opens
2 Sept 2021
at
Dansstationen
, Malmö (SE) and is presented at
Dansens Hus
in Stockholm (SE)
7-18 Sept and 18-20 Nov 2021
.
Maybe festen (the party) is the last resort where we can embody our longing beyond language and thought. A longing away from structure, symmetry and measurability demanded by modern life. FESTEN is the tribute to the human and the spiritual. To dance and to using the body to experience all the inherent possibilities in the human being, together as well as alone. Everyone who participates in FESTEN is also part of creating it. DJ Cheza takes us on a journey through the world of house music and we are guided by our host Yared. A co-production with Kulturföreningen Iver, Dansens Hus, Norrlandsoperan and Dansstationen. Supported by Kulturrådet, Malmö Stad, Region Skåne and Konstnärsnämnden (SE).
Click
here
to read more about FESTEN. Watch a trailer
here
.
All the best from the team at MADEIN-THEWEB.COM and all our joint members.
FOLLOW US


on
Facebook
&
Twitter
MADE IN the web
www.madein-theweb.com is a website displaying Nordic performing arts intended for an international audience.
MADE IN the web is an initiative created by Loco World with the intention to increase the visibility of Nordic performing arts.
Loco World/MADEIN is an organisation supported by the Swedish Arts Council for its international activities.

MADE IN the web
Loco World, Järnvägsgatan 36, SE-131 54 Nacka, Sweden
Phone: +46 (0)73 324 11 14, email:info@madein-theweb.com, internet: www.madein-theweb.com