INGUN

BJØRNSGAARD

PROSJEKT
- Presenting the new piece SEVEN DUETS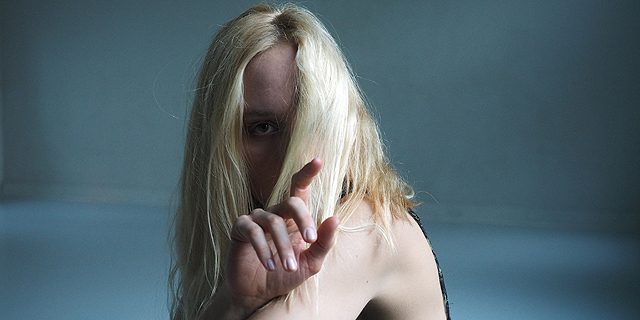 Ingun Bjørnsgaard Prosjekt presents SEVEN DUETS at Scenehuset in Oslo (NO)
26-27 Nov 2020
. With a starting point in Edvard Munch's image Harpy and his own alleged intimacy anxiety, we bring alienation and longing to life in a way that the viewer can identify with. The dance is realized in a duet format that opposes any seamless interaction and explores a fragmented and partially repetitive movement in the meeting points between human beings. Performed by the dancers Louis Schou-Hansen, Matias Rønningen, Katja Henriksen Schia and Charlott Utzig. Choreography by Ingun Bjørnsgaard.
Find out more about Ingun Bjørnsgaard Prosjekt at
madeintheweb.com
HELENA

FRANZÉN
-
We are the Dance Message!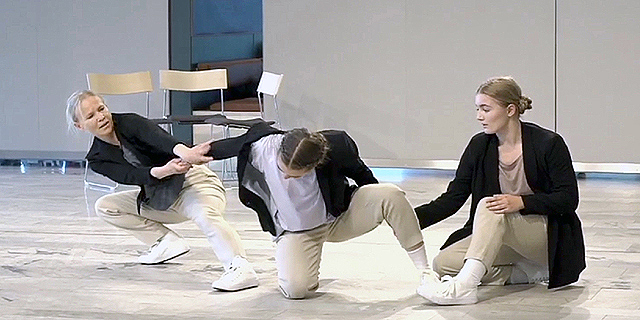 During the dance event "Bollnäs dansar" (SE) on

17 Oct 2020

the three dancers Helena Franzén, Emilia Fridholm and Jenny Jonsson give their dance interpretation of your favorite song directly into your mobile. Concept and choreography by Helena Franzén. Streaming / film by Håkan Jelk. The dance is performed live in different site specific places and will be streamed. Instead of a flower bid, the dancers appear on your phone as a dance bid: We are the Dance Message!

Helena Franzén´s new work, TRIA is created on the basis of the phenomenon of how we interpret each other physically. What is it we see and in what way can we reproduce an experience? A solo is interpreted by two dancers and a kind of whispering game occurs. The premiere is

13-14 Nov 2020

at Gävle teater (SE), also showing

24 Nov 2020

at Ljusdal teater (SE).

Helena will present part of her retrospective MY DANCING LIFE at Bollnäs bibliotek

10 Oct-7 Nov 2020

. The exhibition was shown at the Dansmuseet/Museum of Dance in Stockholm (SE) from December to February 2019-20. Helena generously shares her work with photographs, extracts of her performances during 30 years, costumes, two new books by Cecilia Malmström Olsson and Sinikka Neuhaus, dance films and more.

Learn more about Helena Franzén at madeintheweb.com
CARTE

BLANCHE
- Looking forward to Oktoberdans in Bergen (NO)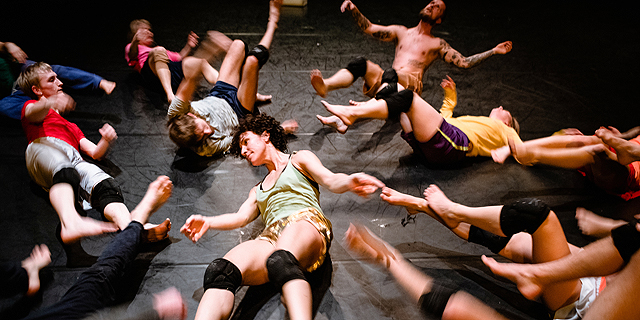 After touring in Norway in September Carte Blanche returns home to Bergen for an exciting collaboration with Norwegian-Sami artist Joar Nango in his Bergen Festival 2020 Exhibition in
Bergen Kunsthall
on
19 Sep 2020
. Four dancers from the company will convey Joar Nango´s festival exhibition through site specific improvisation.
For Carte Blanche October means
Oktoberdans
– Bergen International Theatre's biannual dance festival this year hosts two Carte Blanche productions as well as several co-productions by featuring Carte Blanche personnel both on and off stage. NOROROCA by Lia Rodrigues will be performed
22-23 Oct 2020
and a new Carte Blanche project gaME by dancers Adrian Bartczak and Dawid Lorenc is performed on
25 Oct 2020
. Co-productions featuring Carte Blanche dancers at the festival are and YES I SAY YES I WILL YES, a collaboration by Caroline Eckly and Brazilian choreographer Marcelo Evelin and Daniel Mariblanca/71 Bodies' IN FIRST PERSON – THE DANCE.
Find out more about Carte Blanche at
madeintheweb.com
CLAIRE

PARSONS

CO.
-
New outdoor show YELLOW premieres in September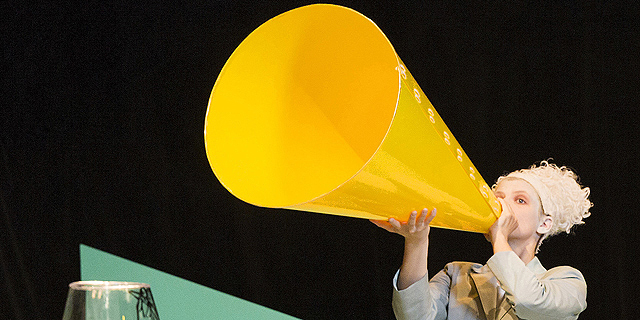 YELLOW is premiering
18 Sep 2020
outdoors at Fullersta gård in Huddinge (SE), followed by open-air shows
19 Sep 2020
in Huddinge (SE) and
22-25 Sep 2020
in Haninge (SE). YELLOW is a delicious adventure with dancers, a juggler and a yellow companion, suitable for outdoor venues, public spaces and museums.
SOON SWOON is embarking on a tour around southern Sweden;
5-8 and 20-22 Oct 2020
at Barbacka in Kristianstad,
13-14 Oct 2020
at Palladium in Malmö and
24 Oct 2020
at
The Childrens' Stage
/Barnens Scen, also in Malmö.
Claire Parsons will begin rehearsals for I AM THINKING OF – a choreographed visit with two dancers in the exhibition 100 YEARS OF BALLETS SUÉDOIS at
The Dance Museum/
Dansmuseet in Stockholm (SE). I AM THINKING OF will be performed for pre-school and school audiences along with public showings in November and December 2020.
Check out the company´s updated and newly designed home page, presenting the company and much more
here
.
Read more about Claire Parsons Co. at
madeintheweb.com
NORR

DANS


- New piece inspired by Greta Thunberg premiering in October
Too hot to ignore – the world premiere for OUR HOUSE IS ON FIRE. A performance based on speeches by climate activist Greta Thunberg, where Norrdans and choreographer Nicole Beutler take hold of our planet's most heated issue. Find out more
here
.
As impossible as our future may seem, it's just as impossible to transform words and manifests into dance. That's exactly why Dutch choreographer Nicole Beutler has decided to succeed. Because, how does one get the message through if the recipient doesn't get it? OUR HOUSE IS ON FIRE is accompanied by the powerful music from Gary Shepard.
OUR HOUSE IS ON FIRE premieres
3 Oct 2020
at Härnösands Teater in Härnösand (SE), and will then go on tour in the north of Sweden and to Dieselverkstaden, Nacka (SE).
Read more about Norrdans at
madeintheweb.com
TERO

SAARINEN

COMPANY
- Creating movement identity for rock musical HAMLET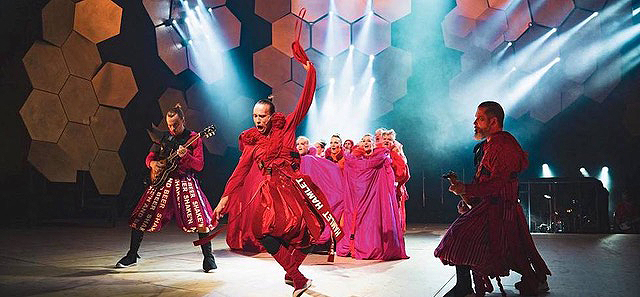 Tampereen Työväen Teatteri
's rock musical rendition of Hamlet received several rave reviews following its premiere on 3 Sep 2020. TSC's role in director Otso Kautto's eclectic team of artists was to work with the actors' movement identity, based on the butoh-inspired
TERO technique
. Tero Saarinen and Satu Halttunen have helped the actors find a new identity via their physical existence.
"The aim has not been to do choreography as such, but more to help the actors channel their character via physical form. Their movement will manifest a mindset that stems from all the contradiction and violence that Hamlet sows around him.
", describes Saarinen.
According to critics, Tero Saarinen and Satu Halttunen's work "helped breathe life into the characters" and "Makes it especially thrilling to watch how Hamlet - eternally struggling with words - uses movement as a way of expressing the deepest corners of his mind"
Learn more about Tero Saarinen Company at
madeintheweb.com
SU-EN

BUTOH COMPANY
-
SCRAP LOVE video documentation release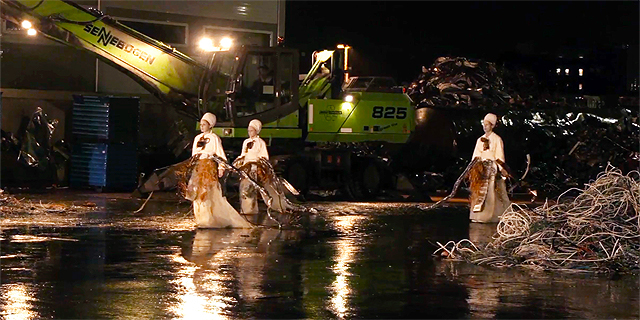 SU-EN Butoh Company presented SCRAP LOVE live for audience at the Scrapyard in Uppsala
29 Aug 2020
. In the rain it was quite a magical experience with the cranes, the scrap metal piles, the dance choreography, the metal costumes and the performances of guest artists. A 21 min edit of the live performance Scrap Love will be shown in the program of Uppsala Culture Night starting
12 Sep 2020
and throughout the autumn. Choreography and concept by SU-EN. Concept and coordination crane by Robert Alm. More info
here
. Watch the video
here
.
27-28 Oct 2020
SU-EN & the Dollies will perform IN THE FLESH (ensemble version) at
Dansstationen
in Malmö (SE). About the relation between the body of the dancer and the objects, inspired by ceramic sculptures by
Mari Anari
. Music by Fabrice Bony played on stones, mixed with breath and voice compositions by Su-En.
A selection of SU-EN Butoh Company performances through stills and video is available on
the artist´s website
.
Find out more about SU-EN Butoh Company at
madeintheweb.com
JO STRØMGREN

KOMPANI
- Back with a new digital performance!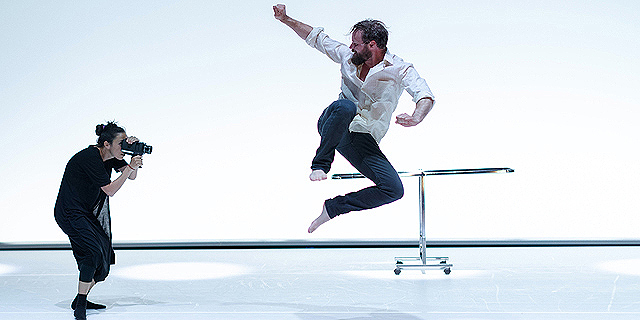 Jo Strømgren Kompani (JSK) is back with fresh new
JSK Corona Sessions
on
10 Sep 2020
, featuring dancer Shi Pratt and actor Ivar Sverrisson.
When all live performances were cancelled due to the outbreak of Covid-19, JSK had to rethink how to reach out to their audience. The company created CORONA SESSIONS, a series of dance films based on improvised sessions between acclaimed Norwegian dancers, actors and musicians. Every week since April, JSK releases a new film at their
Facebook page
. The viewers can pay a voluntary amount, and any income will support the production and artists involved in the project.
In addition to these digital performances, here are JSK will be doing some live shows this autumn. Our newest children performance THE TIRED MAN will go on a 5-week national tour in October. THE ROAD IS JUST A SURFACE 16thof November at Hamar Kulturhus, and THE DOOR, a co-production with the Lithuanian National Theatre performing
13 Sep 2020
and
22 Nov 2020
in Trakai and Kaunas, Lithuania.
Find out more about Jo Strømgren Kompani at
madeintheweb.com
CONVOI

EXCEPTIONNEL
- Collaborating with musician and composer Lil Lacy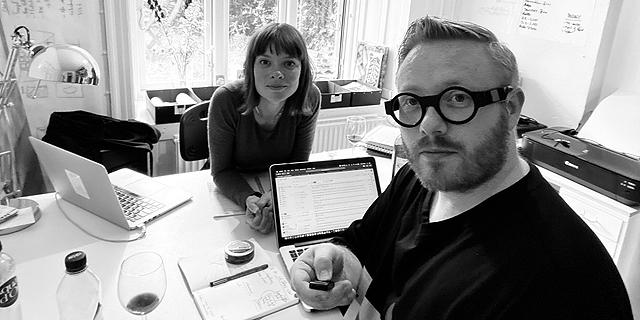 Convoi Exceptionnel is in full motion and keeps going with valuable goods. At the moment Jon R. Skulberg, artistic director of Convoi Exceptionnel, is collaborating with the published and award- winning musician and composer Lil Lacy on her debut concert as a solo composer from The Royal Academy of Music to be performed in
The Music Hall of Aarhus
(DK) in the Symphonic Hall
10 Oct 2020
with Aarhus Sinfonietta. The new composed orchestral music will be the fundament for a spatial audio-visual piece called YOU ARE SOMEHOW CONNECTED, that will be created and premiere in May 2021 in Elsinore (DK).

This is the fourth collaboration between Jon R. Skulberg and Lil Lacy. Lil Lacy is also part of a music duo with Soma Allpass, that composed parts of the musical score of the performance FOR EVER FOUR SEASONS (2019), which premiered at Bora Bora – dance and visual theatre in Aarhus (DK).

Learn more about Convoi Exceptionnel at
madeintheweb.com
ART OF

SPECTRA


- Received an award at new Dance Film festival in Stockholm
Photo. Art of Spectra
Art of Spectra won 2:ond price at
Screen Dance Festival
- the new annual dance film festival in Stockholm - for the short film ADJACENT MOVEMENT by director/editor Simon Carlgren and choreographer Peter Svenzon, in collaboration with SKH Stockholm University of the Arts. The choreography is from the original dance work CELL#2. See the f
estival programme
here
. Watch the video
here
.
Art of Spectra's Ulriqa Fernqvist is currently rehearsing the new creation
TOUCH
by the playwright and director Falk Richter and choreographer Anouk van Dijk at
Munchner Kammerspiele
. TOUCH will premiere
8 Oct 2020
.
Read more about Art of Spectra at
madeintheweb.com
ANDERSSON DANCE

/ RIKSTEATERN
- Örjan Andersson and Helene Billgren in PROMISE LAND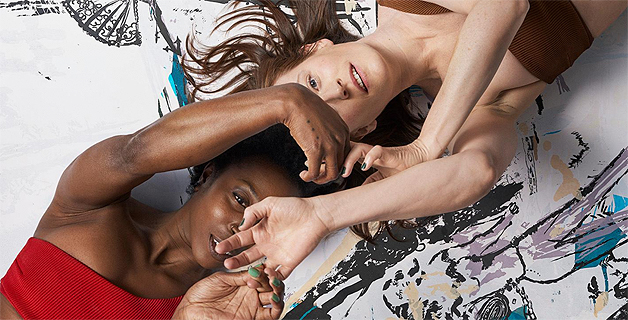 photo: Klara G, Johan Strindberg
Based on the artist Helene Billgren's work, choreographer Örjan Andersson creates a fragmentary, dreamy landscape inhabited by two women where bodily narratives with free inventions and absurdities take place. All in true surrealistic spirit. In the new work PROMISE LAND we meet Örjan Andersson's choreography in a smaller, more intimate format, created for two dancers. The work will meet audiences in 17 different spaces all around Sweden 2020. Choreography: Örjan Andersson. Set- and costume designer: Helene Billgren. A co-production between Riksteatern and Andersson Dance.
Tour in Sweden October-November 2020:
1-10 Oct 2020
,
Dansens Hus, Stockholm
,
13 Oct 2020
Stora Biografen, Vänersborg,
15 Oct 2020
Nordiska Akvarellmuseet, Skärhamn,
16 Oct 2020
Folkets Hus, Alingsås,
20 Oct 2020
Dieselverkstaden, Nacka,
27 Oct 2020
Eric Sahlström-Institutet, Tobo,
28 Oct 2020
Tibble Teater, Täby,
3 Nov 2020
Falkhallen, Falkenberg,
5 Nov 2020
Folkets Hus, Tranås,
7 Nov 2020
Landskrona Teater, Landskrona,
9 Nov 2020
Kulturhuset Barbacka, Kristianstad,
11 Nov 2020
Stenkrossen, Lund,
16 Nov 2020
Dalateatern, Falun,
18 Nov 2020
Berga Teater, Åkersberga,
21 Nov 2020
Sverigefinska folkhögskolan, Haparanda,
22 Nov 2020
Dansinitiativet, Luleå,
24 Nov 2020
Hallen Nordanå, Skellefteå.
Read more about Örjan Andersson/Andersson Dance at
madeintheweb.com
BJÖRN

SÄFSTEN
- Presenting the dance festival WITHIN PRACTICE in October
WITHIN PRACTICE is Stockholm's dance festival for choreographic practices and takes place
5-10 Oct 2020
. You´re invited to join and take part in workshops and practice presentations, live and online, with Kristin Ryg Helgebostad, Michikazu Matsune, Rani Nair, Will Rawls, Björn Säfsten and Jennifer Lacey. WITHIN PRACTICE offers a format for practice-sharing by and with everyone that takes part during the week, this year led by Insister Space. Additionally there is possibility to attend the 80% seminar CHOREO | GRAPHY during the week by Eleanor Bauer, doctoral candidate in choreography at Stockholm University of the Arts. You will find all information regarding the festival and about registration
here
.
Björn Säfsten / Säfsten Produktion and the Department of dance at Stockholm University of the Arts in collaboration with MDT and Dansalliansen present Within Practice 2020.
Read more about Björn Säfsten at
madeintheweb.com
CHRISTINA

TINGSKOG
- Touring corona-safe and rehearsing a new piece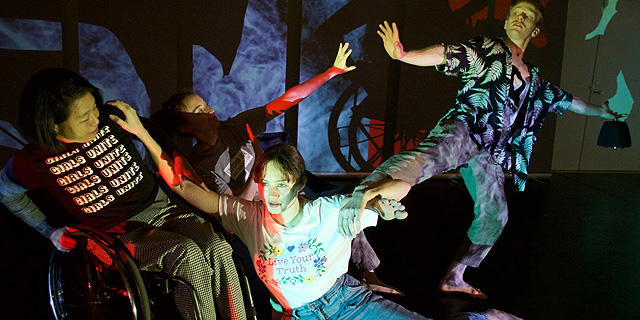 photo: Christina Tingskog
The Swedish choreographer Christina Tingskog offers a coronavirus-safe version performed outdoors for small audiences. MULTI PIXELED, a piece for ages 10-16, will be performed in Stockholm (SE)
22-25 Sep 2020,
for small audiences.
Christina Tingskog is currently rehearsing REGELVERK (WORK/OPUS OF RULES) - a collaboration with composer Ida Lundén, for ages 3-9, which will be performed in Stockholm
21-15 Sep
and
19-21 Oct 2020
. REGELVERK is about children's relationship to rules and limitations in life and will be available in a social distancing version and also be shown to adult audiences shortly.
Find out more about Christina Tingskog at
madeintheweb.com
ILDANCE

/

MOVEMENT DIARIES FILM
- Celebrating the diversity in identities and lifestyles
MOVEMENT DIARIES FILM is a multidisciplinary art project which seeks to portray everyday movement patterns of community members as choreographic material. The short film celebrates the diversity in both identities and lifestyles within the community and promotes solidarity by revealing the similarities in the physical movements and habits of people from different walks of life.
Israel Aloni who is responsible for the concept, choreography and artistic direction will start working on the project this September. Israel will work alongside visual artist and community engagement associate Megan Van De, filmmaker Jacob Edmonds and sound designer Sascha Budimski. The first edition of MOVEMENT DIARIES FILM takes place at City of Darebin in Victoria, Australia. More info
here
. Follow the project on social media @movementdiariesfilm.
Find out more about IlDance at
madeintheweb.com
KASSANDRA

PRODUCTION
- Unmasking the modern predator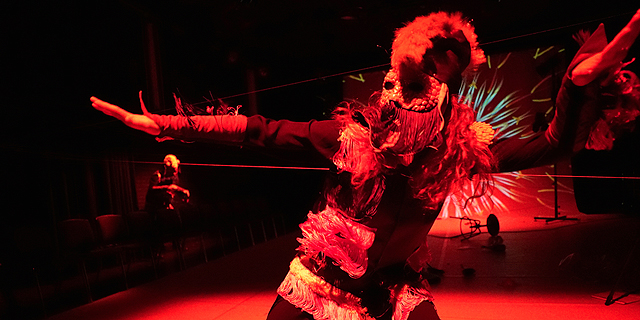 THE SOUL CATCHER tours to
Momentum
Theatre in Odense (DK)
22-23 Sept 2020
. THE SOUL CATCHER is a seductive and deeply disturbing performance about psychological abuse, manipulation and power - in a powerful mix of performance, dance, spoken word and electronic music. THE SOUL CATCHER is produced by Kassandra Production in a co-production with theatre Bora Bora.
The press wrote:
"The performance is sharp and unsentimental. It is a mix of performance, dance, spoken words and seasoned with hard electronic music. The three actors do not compromise their expression but deliver a solid performance. The performance fully lives up to my high expectations , which over time I got to the creator of the work, Annika B. Lewis and also got a great gift at the top of the hat, as the theme was both presented as autofiction and fantastic portrayed. Bravo for courage and artistic pondus."
– Kulturnyt
Learn more about Kassandra at
madeintheweb.com
WELD COMPANY


- Presenting

WELD SIDE STORY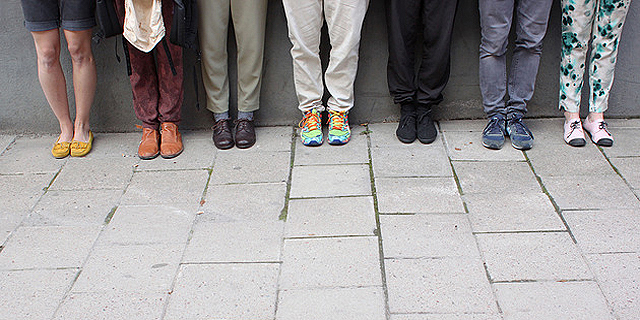 WELD SIDE STORY is an umbrella project by Weld Company and the content of Weld Company's fall season 2020. WELD SIDE STORY is a toolbox for artistic ideas and investigation of many aspects and dimensions. Choreography, lectures, talks and film and invited guests.
12 Oct 2020 - 6 Dec 2020
. More info
here
.
Find out more about Weld Company at
madeintheweb.com
All the best from the team at MADEIN-THEWEB.COM and all our joint members.
FOLLOW US


on
Facebook
&
Twitter
MADE IN the web
www.madein-theweb.com a website displaying Nordic performing arts intended for an international audience.
MADE IN the web is an initiative created by Loco World with the intention to increase the visibility for Nordic performing arts. Loco World/MADEIN is an organisation supporten by the Swedish Arts Counsil for its international activities.

MADE IN the web
Loco World, Järnvägsgatan 36, SE-131 54 Nacka, Sweden
Phone: +46 (0)73 324 11 14, email:info@madein-theweb.com, internet: www.madein-theweb.com