Dear all, subscribers, colleagues and friends all over the World,

Our 64th Newsletter reaches you in most disturbing times. Theaters, venues, independent projects and festivals all over the world are not able to greet their audiences as they normally do. Artists are provided from their most basic need-to meet their audience. People all around the globe are not able to interact as they normally do. We do not know how long this situation will last. But artists are highly competent in dealing with incertainty. To live with the unknown. It is what we do and it is our ground for creativity. We will endure this crisis, as we as human has done so many times before. Meanwhile we try to adapt to the new situation and keep on being creative and work with the tools we have. Please get the latest news from the Nordic Countries from some of our MADEIN members in April.


Åsa Edgren, CEO and Managing Director Loco World, Stockholm, Sweden.
VIRPI PAHKINEN

DANCE COMPANY
- Performing at the opening day of the Tanzmesse NRW
DEEP TIME
, for six dancers and soprano, has the honour of performing in the official program on
26 Aug 2020
- the opening day of the messe - at black box FFT Düsseldorf Juta. Choreographer/dancer Virpi Pahkinen and manager Gita Mallik will be present for the remaining week.
On
5 July 2020
Virpi Pahkinen is scheduled to perform solos to live koto music by Chieko Mori, at Theater X in Tokyo, Japan. More info
here
.
A new documentary series
This Is My Flip Side
follows artists in their creative processes. In two episodes we track Virpi choreographing the 26 dancers in MONOLIT/POLYGON at Kulturhuset Stadsteatern in Stockholm (SE) and creating solos and duets for solo/duet program FOLD. Watch
here
.
Still available to watch: A unique live-streaming of Virpi solodancing to Ulf Norberg improvising on the magnificent church organ at Hedvig Eleonora church in Stockholm. Catch it
here
until
10 May 2020
.
Find out more about Virpi Pahkinen Dance Company at
madeintheweb.com
NORR

DANS
- Dance for home delivery, an experience outside the window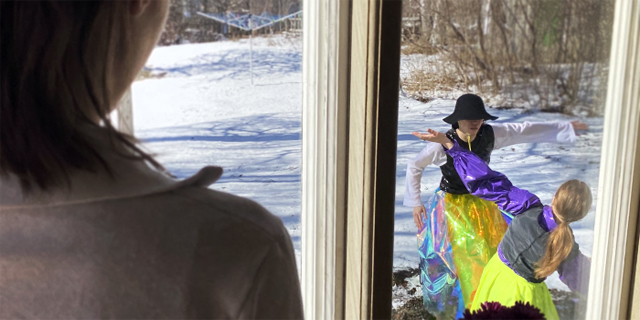 The dance company Norrdans in Härnösand is usually touring in Sweden's four northernmost counties. At present, the company has had to cancel all performances until the summer. When people can't come to the dance performances, creative solutions are needed. Norrdans delivers contemporary dance to people during self-isolation at home - for free. Coronavirus high risk groups in the county of Västernorrland (SE) are now invited to contact Norrdans. The dance experience consists of a five minute long solo or duet outside the living room windows or below the balcony, which hopefully brings joy for a long time! More info
here
.
Learn more about Norrdans at
madeintheweb
TERO

SAARINEN

COMPANY
- KULLERVO is now available online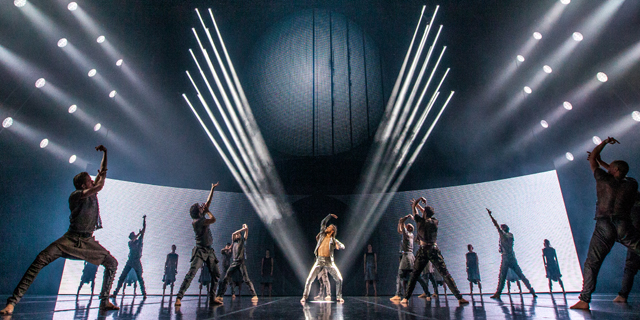 Tero Saarinen's riveting take on Sibelius and
The Kalevala
is now available for global online viewing via Finnish National Opera's
website
. Commissioned by the Finnish National Opera,
KULLERVO
features nearly 100 performers on stage. The FNO and Tero Saarinen Company co-production originally premiered in 2015.
KULLERVO is based on an early masterpiece by iconic Finnish composer Jean Sibelius and a timeless story featured in the Finnish national epic,
The Kalevala
. In his contemporary take on the tale of a young man who seduces his sister, kills his enemies, and falls on his own sword, director-choreographer Tero Saarinen fuses dance with opera and live music.
TSC is also working on sharing broader digital distribution of dance films and recordings as well as planning other digital content such as online training for a variety of target groups. Fastest way to receive updates is via website: terosaarinen.com and social media channels:
FB @terosaarinencompany
|
IG @terosaarinenco
|
T @terosaarinenco
Learn more about Tero Saarinen Company at
madeintheweb.com
REGIONTEATER

VÄST
- The grand premiere with Gothenburg Symphony Orchestra moved online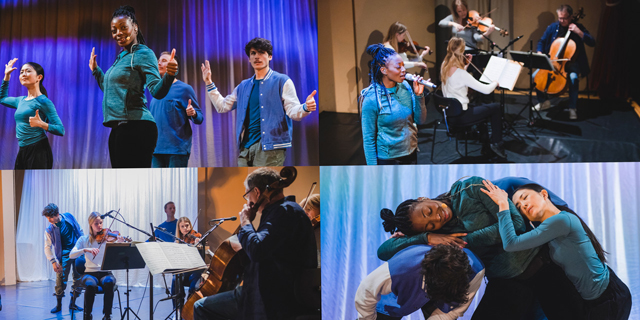 photo: Francis Löfvenholm
Regionteater Väst and Gothenburg Sympony Orchestra's premiere of SEX was originally set to play for an audience consisting of thousands of teenagers, but because of the Covid-19 pandemic the play was filmed and moved online. This collaboration is choreographed by Monika Milocco and on stage we see dances from Regionteater Väst, a string quartet from
Gothenburg Symphony Orchestra
and the artist Aurelia Dey.
The grand premiere took place on
1 April 2020
and can be seen for free at
GSOplay.se
.
Find out more about Regionteater Väst at
madeintheweb.com
CLAIRE

PARSONS

CO.
-
Filming the latest work SOON SWOON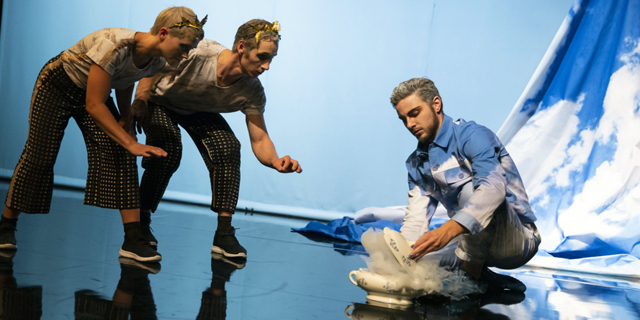 Claire Parsons Co. has been busy filming the company's latest show SOON SWOON, that premiered in September last year. The film is created in collaboration with
Dansistan / Cirkusistan
, a network of stages in Stockholm. The VR version is inititated and funded by The City Cultural Council of Stockholm. The film as well as the VR version will initially be streamed primarily to schools and young audiences. Participating dancers are Mira Björkman, Viktor Gyllenberg and Lucas Carlsson/David Nondorf. Filmmaker is Ali Quraishi.
Read more about Claire Parsons Co. at
madeintheweb.com
SU-EN

BUTOH COMPANY


-
Preparing, rehearsing and repairing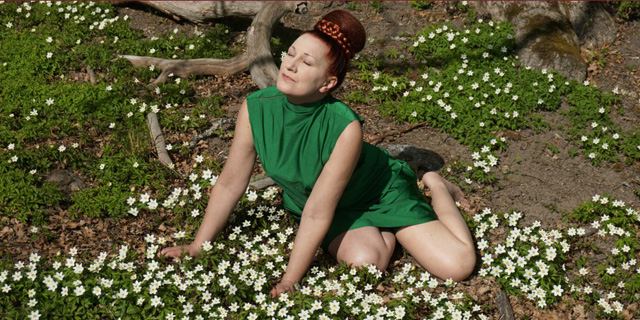 SU-EN Butoh Company now spends time to rehearse for the upcoming performances in the autumn as well as daily work around Haglund Skola, repairing costumes and stage art. The company aims to initiate projects in which the collaborators can contribute from a distance. Some projects and documented performances will be streamed through various platforms.
The film BUTOH AND THE WORLD is still being edited and scheduled to premiere in the beginning of 2021. Meanwhile you can enjoy performances through stills and video at
the company's website
.
Find out more about SU-EN Butoh Company at
madeintheweb.com
CONVOI

EXCEPTIONNEL


- The next creation is a collaboration with KALOS Productions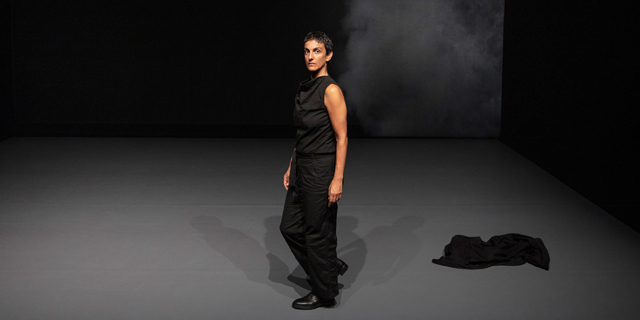 Convoi Exceptionnel is spending this peculiar time reflecting on the future and preparing for the next creation: MOVING A MEMORY in collaboration with
KALOS Productions
(HK). The team and partnerships are all set, and artistic leader of Convoi Exceptionnel Jon R. Skulberg and creative producer Lene Bang are very excited to be working alongside choreographer and dancer Wayson Poon (HK), visual artist Maiken Bent (DK), Dancers are Kingsan Lo (HK) Linette Stamp Christensen (DK). Musician Paul Yip. Producer Carrol Ho (HK). Co-producers Passage Festival (DK) and New Vision Festival (HK).
The 2020 tour of
FOR EVER FOUR SEASONS
will be rescheduled and the company is looking very much forward to meeting the audiences. Convoi Exceptionnel wishes to express gratitude towards collaborators artists, presenters, funders alike who make extraordinary efforts in extraordinary times!
Find out more about Convoi Exceptionnel at
madeintheweb.com
Loco World has a new website. Check it out
here
.
All the best from Åsa Edgren & Titti Grahl/Loco World MADEIN-THEWEB.COM, and all our joint members.

FOLLOW US


on
Facebook
&
Twitter
MADE IN the web
www.madein-theweb.com a website displaying Nordic performing arts intended for an international audience.
MADE IN the web is an initiative created by Loco World with the intention to increase the visibility for Nordic performing arts. Loco World/MADEIN is an organisation supporten by the Swedish Arts Counsil for its international activities.

MADE IN the web
Loco World, Järnvägsgatan 36, SE-131 54 Nacka, Sweden
Phone: +46 (0)73 324 11 14, email:info@madein-theweb.com, internet: www.madein-theweb.com