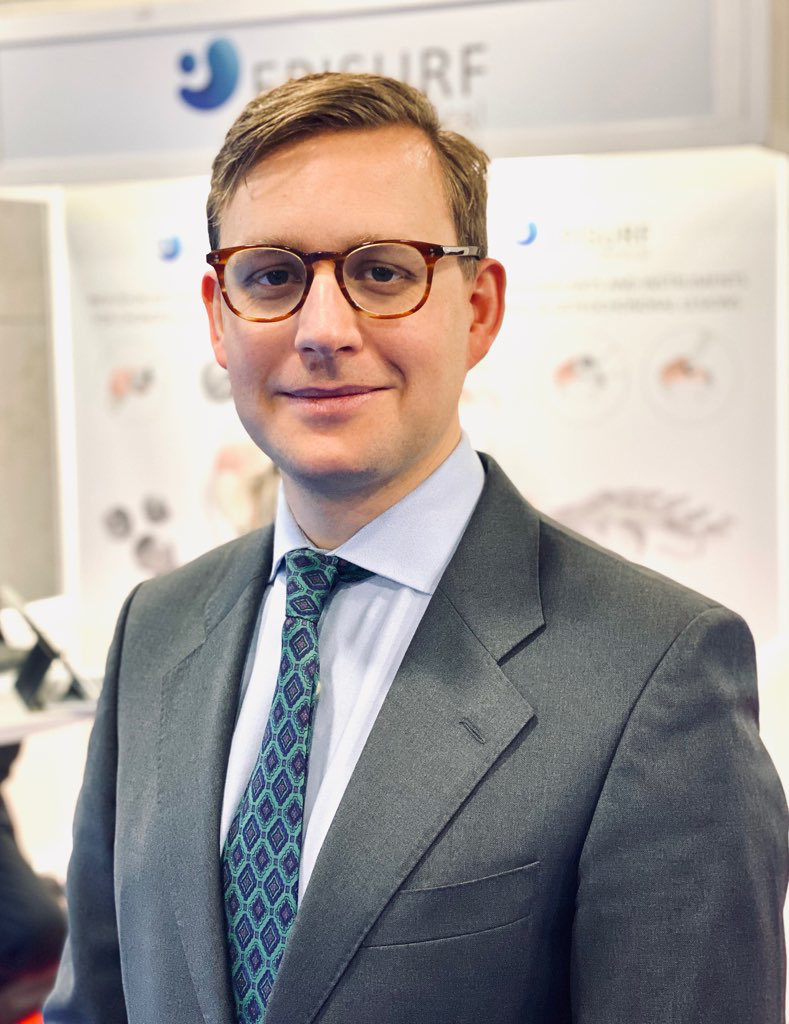 The big news in this newsletter is, of course, the CE-approval of our unique ankle implant and associated osteotomy guide. For several years, we have been working on this project, and I am pleased with the outcome. We are finally able to offer an excellent treatment alternative also for ankle lesions. Please read more about the Episealer® Talus implant below.

During the last months, clinical results from the use of the Episealer Knee implant have been presented at several clinical congresses in Europe. In December, we reached a milestone when our founder, Prof. Leif Ryd, presented the Episealer technology at the Orthopaedic Summit 2019: Evolving Techniques meeting in Las Vegas. This was the first time the Episealer technology was presented at a US clinical congress. In this newsletter, you can find more information about the most recent clinical updates.
More than 600 patients have been treated in Europe, and the clinical results are very promising. Our company is growing, and more and more patients can benefit from our implant technology. Thank you for your interest in our company.
Pål Ryfors
Chief Executive Officer, Episurf Medical
Episurf is proud to present the latest addition to our Episealer family, Episealer Talus, which received CE approval last week. We can now offer solutions not only for patients suffering from (osteo-)chondral lesions in the knee but also for those with difficult to treat ankle injuries.
Just as the Episealer Knee implants, Episealer Talus is an individualised resurfacing implant. Using the patient's MR and/or CT images, the implant and surgical instruments are designed to perfectly fit the patient's anatomy and lesion. It re-creates the original surface of the talus bone by replacing the damaged tissue(s) while keeping the rest of the talus intact.
Episealer Talus can be used on both the medial and lateral side of the talar dome.
"There is a great demand for this implant, as there are few alternatives for lesions in the ankle. In many cases, patients with these injuries are forced to undergo joint fusion. It feels fantastic to finally be able to offer our solution. This is an example that Episurf's technology in principle can be applied to all joints"
comments Leif Ryd, Senior Medical Advisor, Episurf Medical.
Read more here.

To facilitate access to the medial side of the Talus, Episurf has developed the Talus Osteotomy Guide, an individualised osteotomy guide. Using the patient's CT and/or MR images, it is designed to uniquely fit on the patient's distal tibia.

The Talus Osteotomy Guide assists in detaching the medial malleolus and thereby reducing the risk of damaging surrounding tissues and talar cartilage. Two drill holes will guide you in creating the fixation holes to re-attach the medial malleolus after the surgery.

The Talus Osteotomy Guide can be ordered as a stand-alone product or in combination with the Episealer Talus implant for medial positions.
Episealer, a Patient-Specific Implant for Focal Cartilage Lesions - a 24-month follow-up

Mr Tim Spalding, University Hospitals Coventry and Warwickshire, United Kingdom, presented the latest interim update of the ongoing European multicenter study at the ICRS 2019 World Congress in Vancouver, Canada, October 2019.
n=88 at 12 months' follow-up (n=67 at 24 months)
39 male - 49 female
Average age at surgery: 49 years (range 27-69)
Medial condyle: 71; lateral condyle: 6; trochlea: 11
Episurf endeavours to be present at regional, national and international meetings. For a complete overview of the meetings we are attending,
click here
.

Some highlights:
11

th

Symposium Sport, Medizin und Mee(h)r
7-9 February 2020 (Kiel, Germany)
13

th

Endoprothesenkongress Berlin
13-15 February 2020 (Berlin, Germany)
19

th

ESSKA Congress
6-9 May 2020 (Milan, Italy)
In line with the European General Data Protection Regulation (GDPR), Episurf Medical has updated its Privacy Policy. To read our policy, please click on the link below.

If you no longer wish to receive our newsletter, please click the 'unsubscribe' link at the bottom of this newsletter.