Time flies and the summer is around the corner! This means that it is time for our annual Episealer
®
Masterclass. The interest for this year's edition was even higher than expected and we ran out of seats in just a few weeks! Do not worry if you did not get a chance to participate this time; we are already preparing for our next Masterclass.
In this newsletter, we are delighted to introduce PD Dr. med. Jens Anders, Head of the department of orthopaedics at Kliniken Dr. Erler, Nuremberg, Germany. He will be sharing with us why he decided to incorporate Episealer in his practice.
You can also read about a recently published pre-clinical study confirming the concept of
"Chondrointegration" and we are proud to present the latest results from the ongoing multi-centre study.
We hope you will find our updates interesting. See you soon at our Masterclass or any of the upcoming congresses!

Fredrik Zetterberg
Marketing Director, Episurf Medical
New pre-clinical study proves the concept of "Chondrointegration"
The study "Therapy of osteochondral defects: chondrointegration of metal implants improves after hydroxyapatite coating" by H. Schell et al.
(Julius Wolff Institut, Charité University Hospital, Berlin, Germany), shows the effect of hydroxyapatite coating on cartilage.
"
This exciting article about the concept "chondrointegration", which is a unique feature of the Episealer implant, implies that chondrointegration becomes accepted in the field of cartilage surgery. In this comparative sheep study, it has been shown that cartilage adheres to the hydroxyapatite which is used for coating of the Episealer implant. This encourages sealing of the cartilage lesion, resulting in protection of the deeper parts of the joint from aggressive joint fluid, which, in turn, should give better longevity of the implant"
says Prof. Leif Ryd, Senior Medical Advisor, Episurf Medical.
Episealer, a Patient-Specific Implant for Focal Cartilage Lesions - a 24-month follow-up
Dr. med. Johannes Holz, OrthoCentrum Hamburg, presented the latest interim update of the ongoing European multicenter study at DKG's (Deutsche Kniegesellschaft) 7th annual congress, November 2018:
"Clinical results of an individualised mini-metal implant for focal cartilage lesions in the knee".
n=70 at 12 months' follow-up (n=39 at 24 months)

Average age at surgery: 48 years (range 27-67)

Medial condyle: 57 - lateral condyle: 5 - trochlea: 8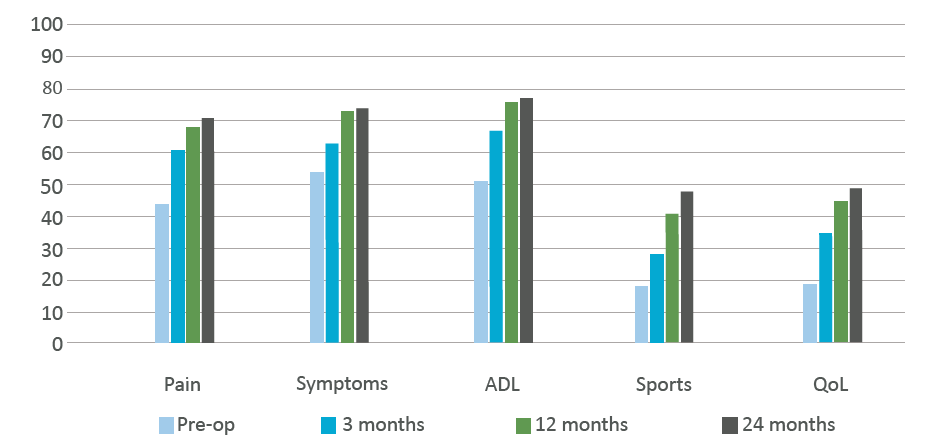 Mean KOOS scores preoperatively and at 3, 12 and 24 months' follow-up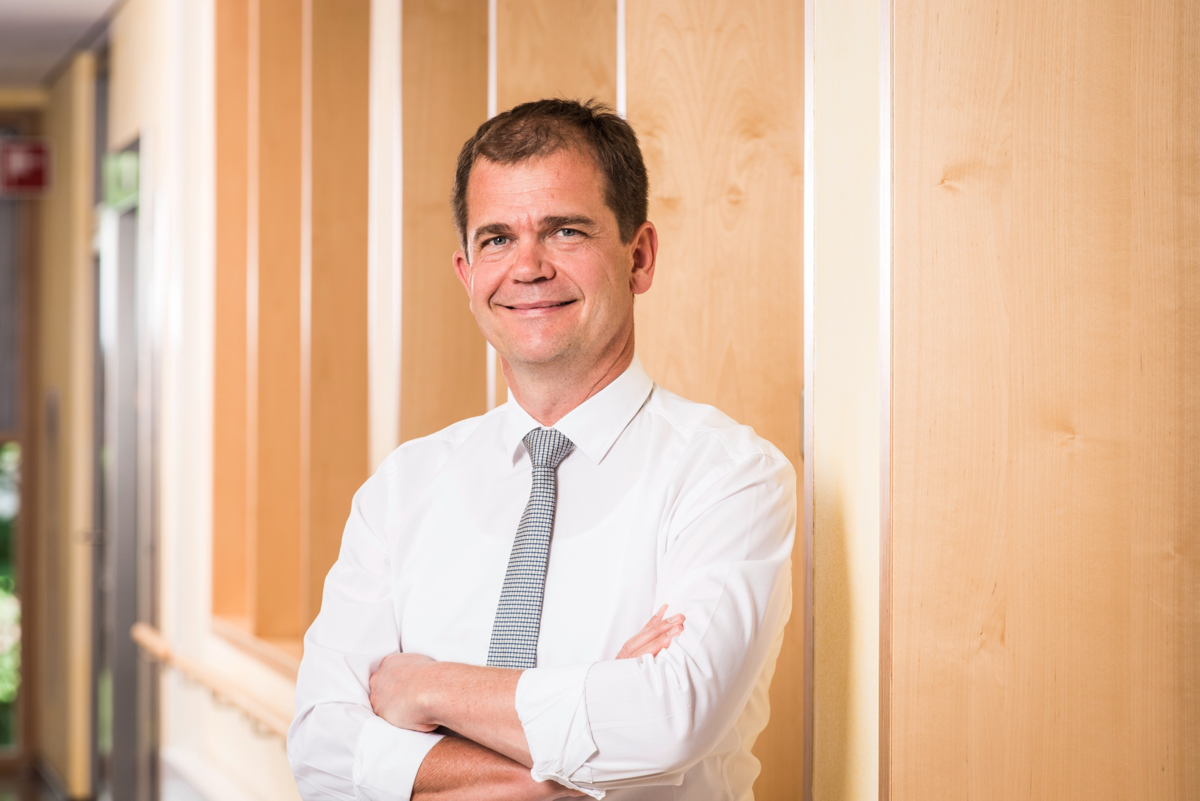 - Dr Anders, your department performed its first Episealer surgery 22 months ago, what convinced you to start using Episealer?
Due to a lack of treatment options for middle-aged patients with isolated extensive osteochondral defects on the femoral condyles, we were looking for alternative treatment methods. In this particular case, we did not find the indication was right for hemiarthroplasty or total knee replacement. Nonetheless, ongoing pain and insufficiency suggested an operative treatment.
- Did you consider any other treatment alternatives for this patient?
Unfortunately, until today there is no advancement in biological procedures for this kind of indication. Osteochondral graft transfer and autologous cartilage repair are still considered problematic, so we did not find any other alternative.
- What made you decide to use Episealer?
Episealer is a well-balanced treatment process. Starting with a special diagnostic MRI, we first discussed the indications with the Episurf Medical team. After a positive decision, the patient was informed and the production process of the individualised implant initiated. The surgery itself is well supported by a properly designed 'Final Design' document and an Episurf representative present. All in all, it is a very safe surgical procedure.
- With soon two years' experience of using Episealer, how do you find Episealer suits your clinic today?
We are now following up 7 patients; all have excellent clinical outcomes. No infections were seen and there was no need for additional procedures. Episealer is a modern and innovative treatment option for patients with isolated extensive osteochondral defects on the femoral condyles. The pre-operative planning process with visualisation of the size and depth of the defect guarantees a perfect and individualised implant fit. With a minimally invasive approach, excellent postoperative clinical results are achieved. We are therefore able to close the therapeutical treatment gap to hemi- or total arthroplasty in these particular cases.
As previously announced, Episurf will hold its 3

rd

Episealer Masterclass on 13-14 June 2019 in Stockholm.
The interest for this year's event was enormous and the event is now fully booked. We are admitting guests on the waiting list and a place will be offered as soon as places will become available. Contact your local Episurf representative for more information and registration.
Faculty includes: Ass. Prof. Karl Eriksson, Dr. Pieter Emans, Dr. med. Johannes Holz, Priv.-Doz. Dr. med. Clemens Kösters and Ms Laura Asplin.
VIP Episealer Masterclass
If you would like us to arrange a VIP masterclass for you and your colleagues in your region, to create the opportunity to discuss with our faculty members how Episealer can help your patients, just let your Episurf representative know!
Image: Henrik Trygg/mediabank.visitstockholm.com
Episurf endeavours to be present at regional, national and international meetings. For a complete overview of the meetings we are attending,
click here
.

Some highlights:
Kniegelenknahe Osteotomien Kloster Banz
9-10 May (Kloster Banz, Lichtenfels, Germany)
8th Berliner Knorpelsymposium
10-11 May (Humboldt Carré, Berlin, Germany)
Ormedicum
25-31 May (A-ROSA, Kitzbühel, Germany)
Regensburger Sporttage
4-6 June (Asklepios Klinikum Bad Abbach, Regensburg, Germany)
ICRS Focus Meeting – One Step Cartilage Repair
5-7 June (Hotel Cicerone, Rome, Italy)
Swedish Orthopaedic Society Annual Meeting (SOF)
26-30 August (Louis De Geer Konsert och Kongress. Norrköping, Sweden)
In line with the European General Data Protection Regulation (GDPR), Episurf Medical has updated its Privacy Policy. To read our policy, please click on the link below.

If you no longer wish to receive our newsletter, please click the 'unsubscribe' link at the bottom of this newsletter.