Dear friend of Episurf,
I hope you have had time to enjoy some time off during the holiday season. At Episurf Medical, we ended the year reaching a significant milestone for the company. The USA FDA approved our application to initiate a clinical trial in the US. The clinical trial will be run as a randomised, controlled trial, enrolling about 180 patients in the US and Europe. If you want to know more, please do not hesitate to contact your local Episurf representative.
Well over 400 patients have now been treated with the Episealer
®
implant, and several patients have now gone longer than five years since surgery. We were happy to see the significant amount of clinical presentations held in 2018. Results indicate that the patients are truly being helped and that they can return to a normal life. Our company vision is precisely that - help people back to their former way of life, and in 2019, we look forward to making continued progress together with you, our customers.
Pål Ryfors
CEO Episurf Medical
Episealer, a Patient-Specific Implant for Focal Cartilage Lesions - a 24-month follow-up
Dr. med. Johannes Holz, OrthoCentrum Hamburg, presented the latest interim update of the ongoing European multicenter study at DKG's (Deutsche Kniegesellschaft) 7th annual congress, November 2018:
"Clinical results of an individualised mini-metal implant for focal cartilage lesions in the knee".
n=70 at 12 months' follow-up (n=39 at 24 months)

Average age at surgery: 48 years (range 27-67)

Medial condyle: 57 - lateral condyle: 5 - trochlea: 8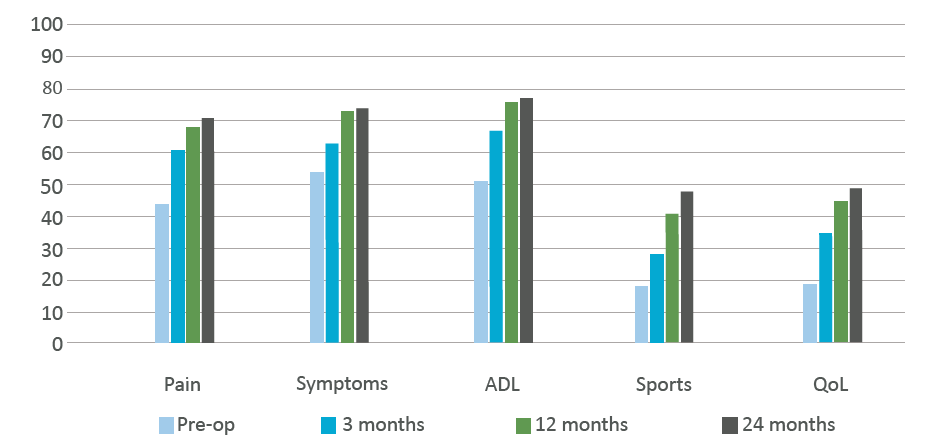 Mean KOOS scores preoperatively and at 3, 12 and 24 months' follow-up
- Dr. Kösters, congratulations on the award for your presentation! How would you summarise the results of this follow-up?
Thank you very much! The 2-year follow-up of our Episurf patients shows promising results. The clinical and functional KOOS score was over all improved 2 years after surgery as well as the results for Pain and Patient Satisfaction.
- You implanted your first Episealer in 2016, what convinced you to start using this technique?
I was convinced by the Episealer technique because it was a new option to treat middle-aged patients who already had had previous unsatisfactory cartilage surgery. Furthermore, the high accuracy and the patient-specific design were good arguments to use this technique.
- With soon three year experience of Episealer, how do you find Episealer suits your practice today?
Episealer is for me a very important treatment option in the field of preserving knee surgery!
As previously announced, Episurf will hold its 3
rd
Episealer Masterclass on 13-14 June 2019 in Stockholm.
The Masterclass is an ideal opportunity to interact with a distinguished faculty, to understand more about our Episealer technology and how this is changing the lives of cartilage patients today. Through interactions with orthopaedic peers and engineering professionals, Episurf will guide you through a unique experience, enabling you to understand more about how our technology can offer hope in treating chondral and osteochondral defects.
Faculty includes: Ass. Prof. Karl Eriksson, Dr. Pieter Emans, Dr. med. Johannes Holz and Priv.-Doz. Dr. med. Clemens Kösters.
At the time of writing, half of the available places are already booked. If you would like to join us or would like to know more, contact your local Episurf representative.
Image: Henrik Trygg/mediabank.visitstockholm.com
Episurf endeavours to be present at regional, national and international meetings. For a complete overview of the meetings we are attending,
click here
.

Some highlights:
In line with the European General Data Protection Regulation (GDPR), Episurf Medical has updated its Privacy Policy. To read our policy, please click on the link below.

If you no longer wish to receive our newsletter, please click the 'unsubscribe' link at the bottom of this newsletter.